HCM City to hold New Year countdown show
Last update: 00:05 | 25/12/2017
Local and international artists will gather for a world-class lights show featuring traditional and contemporary music scheduled for New Year's Eve 2018 on Nguyen Hue Pedestrian Street in downtown HCM City.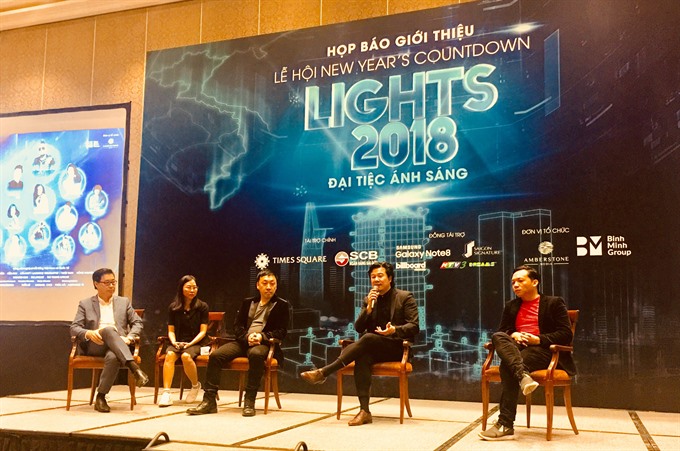 Singer Thanh Bùi (second from right), a Vietnamese-Australian, speaks at a press conference held on Thursday in HCM City to announce the New Year Countdown Lights 2018 show. 
The show will reflect a modern and civilised HCM City, forging ahead to the future while preserving its traditional identities through folk art and music.
The event is expected to include local artists such as Thanh Bùi, Phương Vy, Ngô Hồng Quang and Kiều Anh, among others.
International artists will include Alp De Ap, The Lyricist, Jessica Reynoso, Laurence Tremblay-Vu and Joel Hanna, according to the organiser.  
Popular music producer Michael Choi, who has worked with world-famous stars, is the music director. 
Filled with colourful lights and brilliant music, Nguyễn Huệ Pedestrian Street is expected to attract both local and foreign visitors to welcome the transition to a new year.
The show will feature artist Apl De Ap, a Filipino-American musician, singer, rapper, and music producer. Apl De Ap is a member of the band Black Eyed Peas, a popular American hip-hop band which has won six Grammy prizes.
Apl De Ap and the Black Eyed Peas performed for Justin Timberlake's and Christina Aguilera's Justified/Stripped Tour, followed by Aguilera's Stripped World Tour.
After gaining great success in the world music market, especially in the US, he decided to return to the Philippines to support young talents in Southeast Asia.
During the show, Apl De Ap will be performing his hit songs, such as Where's the Love, I Got the Feeling and Be, among others. Jessica Reynoso will perform with him.
Director Tuấn Lê has won many awards and was honoured in Germany where he has lived since he was 14 years old.
He is the first Vietnamese artist to join the Cirque du Soleil as a solo artist. He has also directed many famous works for Teatro Zinzanni and Cirque du Soleil. He was honoured as the first Asian artist to receive the best artist award from the International Jugglers' Association.
Choreographer Nguyễn Phúc Hải is currently the head of the dance group of the HCM City Ballet Symphony Orchestra.
He graduated from Việt Nam Dance College in 1994 and graduated from the Military University of Culture and Arts of HCM City, majoring in dancing choreography, in 2011.
Circus artist Laurence Tremblay-Vu is a multidisciplinary circus artist specialising in highwire, tightwire and aerial rope.
In 2010, he performed at the Olympic Opening Ceremony in Vancouver, where he began his circus career at an international level. Since then, he has travelled around the world for his performances at Cirque du Soleil, GOP Variete, Robert Lepage, and Cirque Starlight.
Called "one of the most exciting dancers to ever step on the world stage," Joel Hanna is a world-renowned dancer and choreographer known for his athletic and boundary-breaking mixture of tap dance, musical percussion, Irish dance, and martial arts.
Hanna has lived something of an entertainment fairy tale, performing for dignitaries like Queen Elizabeth II, the president of Slovakia and United Nations diplomats at the opening of the World Youth Assembly.
A darling of theatre critics, Hanna has been praised for his panache and bravado on stage. His choreography in Pastures of Plenty, a tribute commissioned by the Woody Guthrie Foundation, was selected by the New York Times as its Pick of the Year in 2012.  
Lê Nhật Nam developed his circus and pole skills while studying in France where he graduated with a Master's of Science in organisation and project management with a major in quality. He discovered circus by chance in 2009, when he was just 22 years old.
Speaking at a press conference held Thursday in the city, singer Thanh Bùi, a Vietnamese-Australian, said that Vietnamese artists around the world wanted to learn more about their roots and aspired to make contributions to their homeland's development.
"If we want to bring Việt Nam to the world, we first need to invite overseas Vietnamese artists to come back and open up opportunities for them to understand the country's cultural values. This year's New Year Countdown Lights 2018 show is a good occasion for me to do that."
"Apl De Ap is an example. After gaining success, he returned to the Philippines to support young talents in his hometown. That's why I decided to invite him to participate in this meaningful festival," he said. — VNS