Some weekend activities in HCM City
Last update: 17:00 | 01/12/2017
Those having little time for a long weekend trip should check out the following destinations in HCMC for weekend entertainment.
168 Truong Van Bang Street, District 2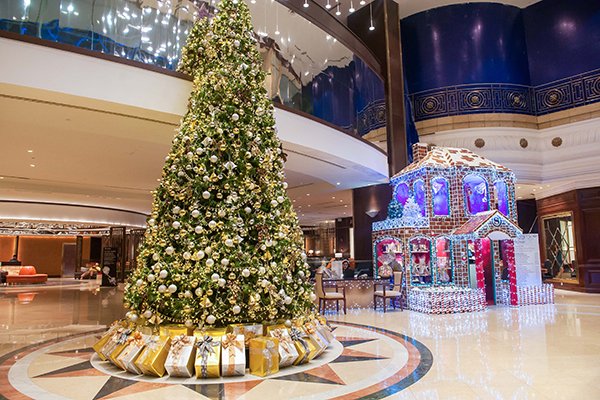 Sheraton Saigon Hotel & Towers will host a Christmas tree lighting ceremony to mark the start of the 2017 Christmas season this Friday 
The Prisma Night Run, a competition in combination with music performance, sounds and visual effects, will make a comeback in HCMC's District 2 this Saturday.
Organized by Pulse Active, a HCMC-based professional organizer of renowned sport events such as HCMC Marathon, Le Fruit Off-Road Triathlon and Color Me Run.
The organized told the Daily in an email that Dutch DJ/producer Quintino who was ranked 30th in the global top 100 DJs voted by DJMAG magazine and shot to fame in the world of electronic dance music (EDM) after his debut song "Epic" will show up at this year's event to entertain participants at the finish line.
Soul Live Project, 214-216 Pasteur Street, District 3
The Soul Live Project in District 3, HCMC will stage the Tony award-winning Broadway play "Lend me a tenor" which is held for the first time by Saigon's English-language Dragonfly Theater in the city.
The play, directed by Aaron Toronto, co-founder of the Dragonfly Theater, tells a story about the escapade of world-famous tenor singer Tito Merelli, who is unintentionally drugged and takes a long nap before an important performance.
Merelli is thought to be dead, so the opera manager persuades his assistant to impersonate as Merelli so that the show can go on.  Everything goes smoothly but the singer suddenly wakes up and the play unfolds a series of unexpected situations and brings hearty laughter to spectators.  
The 40-year-old American director Aaron Toronto, who came to Vietnam in 2002 and has settled down here to build his career since 2004, said he is overjoyed to showcase the award-winning play. 
Established in 2011, the Dragonfly Theater has heaped praise from local audiences and the expat community through the critically-acclaimed performances including The Importance of Being Earnest (2011), The Last 5 Years (2012), The Little Prince (2012), and Dangerous Liaison (2013).
The upcoming play will be performed at 7.30 p.m. on December 1, 2 and 3 in English with Vietnamese subtitles. Tickets for the forthcoming show are on sale at https://ticketbox.vn/event/lmat-67124/43412, with prices starting from VND150,000 (US$6.6).  
The Soul Live Project is located at 214-216 Pasteur Street in District 3.
HCMC Conservatory of Music, 112 Nguyen Du Street, District 1
Within the framework of the European Music Festival, the world-renowned piano battle Andreas Kern and Paul Cibis from Germany will show up at the HCMC Conservatory of Music for a classical music show at 8 p.m. on December 1.
The 17-day festival will wrap up this Saturday, December 2 with a performance by Hungarian singer/songwriter Veronika Harcsa.
Veronika Harcsa graduated from the Liszt Academy of Music in Budapest in 2008, and acquired her Master degree in 2014 at the Royal Conservatory of Brussels. Her current project is a duo with guitar player Bálint Gyémánt.
She has always been invited to major music festivals in 25 countries around the world and won numerous awards such as "Best Voice" at the 2007 Budapest Fringe Festival and "Hungarian Jazz Album of the Year" at the Fonogram Hungarian Music Awards.   
Institute of Cultural Exchange with France (Idecaf), 28 Le Thanh Ton Street, District 1
This weekend, parents should take their kids to Idecaf to watch a French school-theme movie "Le Nouveau" (English name: The New Kid) directed by Rudi Rosenberg at 3 p.m. this Saturday.
The movie covers a topic on school issues and childhood innocence, telling a story about Benoit, a newbie at school, who is bullied by a gang of arrogant boys in his class and find ways to get on well with new friends. 
Movie tickets are on sale at Idecaf at the price of VND50,000. Students of Idecaf pay only VND40,000.
The film is dubbed in Vietnamese with English subtitles.
Those interested can visit www.institutfrancais-vietnam.com/vi/ho-chi-minh/chuong-trinh-ho-chi-minh/dien-anh-chuong-trinh-ho-chi-minh/ma-moi-di-hoc-4/.
Sheraton Saigon Hotel & Towers, 88 Dong Khoi Street, District 1
Sheraton Saigon Hotel & Towers will host a Christmas tree lighting ceremony to mark the start of the 2017 Christmas season this Friday and give a helping hand to children at local shelters.
This year, the hotel will be decorated in the festive theme of gold and silver colors with a huge Christmas tree and a life-sized gingerbread house situated in the hotel lobby.
A representative of the five-star hotel told the Daily that around 100 guests from Thu Duc Youth Village will come to the hotel to attend a Christmas charity event on the day. The event is part of the hotel's activities to show its commitment to corporate social responsibility and join hands with society to share joy with poor students during the festive season.
SGT