Upcoming Events in Hanoi & HCMC
Last update: 10:52 | 30/11/2017
Vietnamese indie band tour brings it to city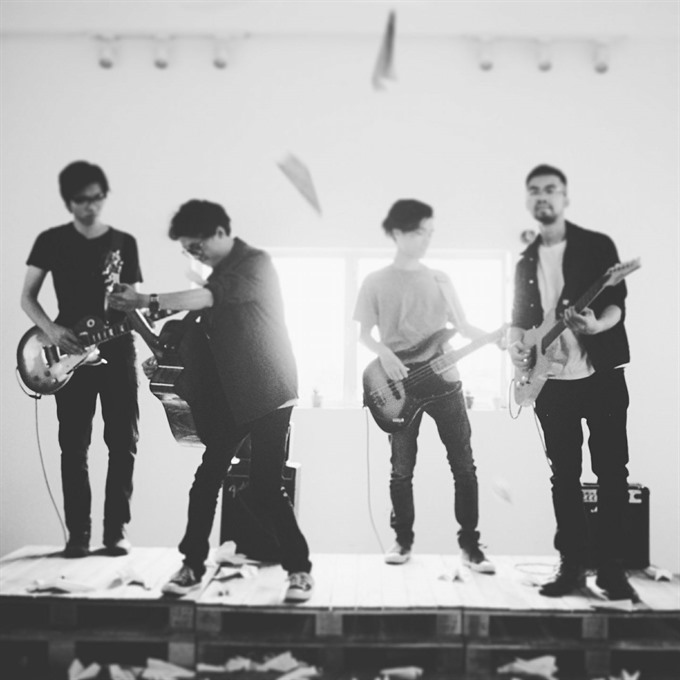 Vietnamese indie band Ca Hoi Hoang will perform in HCM City on December 9 as part of its nationwide tour Hurry.
Vietnamese indie band Ca Hoi Hoang will perform in HCM City on December 9 as part of its nationwide tour Hurry. Photo courtesy of the artists
The four-member band will play rock songs from its second album Paper Dream, released in July, on Vietnamese youngsters' desires.
Cá Hồi Hoang was formed in 2013 and released its debut album Chapter II in 2014.
The concert will be at 7pm at the Soul Live Project Complex, 216 Pasteur Street, District 3. Tickets costing from VNĐ150,000 onwards can be bought at http://bit.ly/cahoihoang-sg. 
Art for You offers affordable works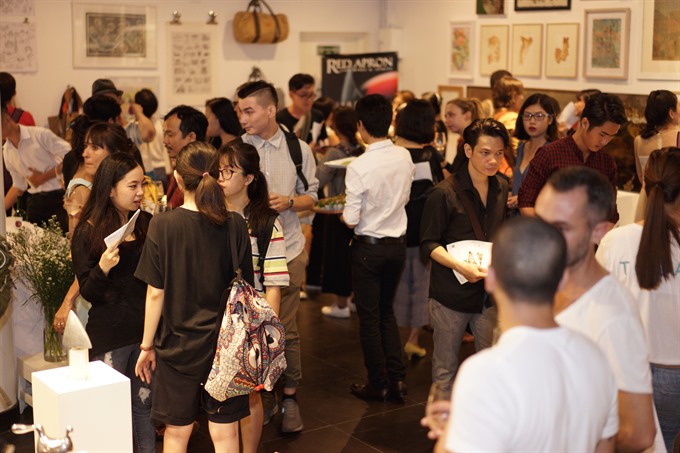 Art lovers can find works at affordable prices at the event. — Photo courtesy of Manzi Art Space
A special art fair will be held from November 30 to December 4 at Manzi Art Space, 14 Phan Huy Ich, Hanoi, to offer affordable works to the public.
The biannual Art for You event was founded three years ago by Manzi Art Space and Work Room Four. On display will be a collection of sketches, photographs, illustrations, paintings and sculptures by 150 artists nationwide.
Many artworks will be repriced for the five-day fair to fit within a price range of US$25 to $900.
German band to rock the city

German death metal band IMPLORE will perform at La Fenetre Soleil on December 7.
German death metal band IMPLORE will perform at La Fenetre Soleil on December 7. — Photo from the band's Facebook page
The three-member band, based in Berlin but with roots in Spain and Italy, will perform songs from their second album, "Subjugate," released last September.
Formed in 2013, IMPLORE released its debut album "Depopulation" in 2015. 
It has performed 200 live concerts in Europe and North and South America besides taking part in numerous festivals.
The show will begin at 8pm. La Fenetre Soleil is at 44 Ly Tu Trong Street in District 1.
Xmas Art Market 2017 to be held in District 2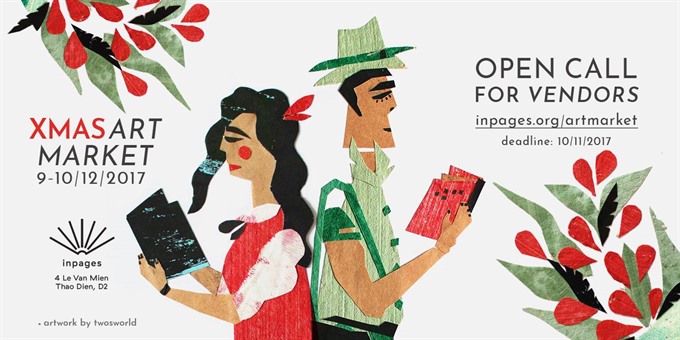 VinGallery will host its annual Xmas Art Market at Inpages bookstore on December 9-10.
VinGallery will host its annual Xmas Art Market at Inpages bookstore on December 9-10. Photo from the organsier's Facebook page
This year it will showcase the creation of handmade notebooks by the best notebook makers and stationery groups in the country.
The event will feature other artworks too besides Christmas music and food and drinks.
The market will be open from 2pm to 9pm at the bookstore at 4 Le Van Mien Street in District 2.
Nutcracker heralds the Christmas season
Christmas is coming, and so is HBSO's Nutcracker, Tchaikovsky's famous 1892 ballet associated with the festive season all around the world.
The story, sometimes difficult to follow, concerns an aristocratic Russian family who stage a party on Christmas Eve. A character called Drosselmeyer brings some dolls as presents for the family's daughter, Clara, including a wooden nutcracker, a small device used for cracking nuts. After the party guests have gone home the clock strikes midnight and Clara sees her dolls come to life, including the nutcracker which eventually becomes transposed into a handsome Prince. Mice, gingerbread soldiers and the famous Sugar Plum Fairy also feature in this new, fantasy world.
The next scene takes place in a moonlit pine forest with snow falling. The scene then changes to a fabulous Land of Sweets, and dancers representing culinary delights from around the world – coffee from Arabia, chocolate from Spain and tea from China – perform for the benefit of their young visitor.
The most famous item is the Grand Pas de Deux (great dance for two). Tchaikovsky is reputed to have been challenged to write a melody that only consisted of a descending scale and this was the result. In fact Verdi had already composed just such a melody for his heroine Gilda in his opera Rigoletto, and it can be heard in her aria 'Caro nome' (dear name).
The fact that HBSO are staging this ballet for three performances on December 8, 9 and 10 testifies to its popularity with Saigon theater-goers. The Norwegian conductor Magnus Loddgard returns to conduct. He conducted Nutcracker in Saigon in 2012, and also Die Zauberflote (The Magic Flute) here in 2013 and 2014.
This will be a fully-staged performance, with a huge array of dancers, elaborate scenery and the whole HBSO Symphony Orchestra. Such shows are on such a scale that the front row of the stalls seats often has to be removed to make way for the musicians.
The HBSO Ballet is one of the organization's greatest strengths. It is very strong in all areas, and one of its two regular choreographers, Nguyen Phuc Hung, is acting as assistant choreographer on this occasion. The original choreographer, and the person who imagined the entire production, is another Norwegian, Johanne Jakhelln Constant. She was also responsible for two other magnificent ballet productions in Saigon, Cinderella and Coppelia.
Nutcracker is also widely known by its French title, Casse noisette. French is the commonest language in use for ballet terminology, and interestingly was also the official language of Russia's imperial court at the time of this ballet's composition.
The Nutcracker is frequently seen as a ballet of special interest to children. This is only partly true. It's certainly the case that battles between mice and gingerbread soldiers, and the coming to life of a damaged nutcracker, may be more readily understood by imaginations not yet dominated by adult ideas of "reality". But it's also the case that the beautiful scenery – the resplendent bourgeois reception room, the snowy pine forest, the land of the sweets – plus the often very familiar music and the huge array of dancers on display, can appeal to all ages.
Tchaikovsky is the pre-eminent composer of ballet music. Swan Lake and Sleeping Beauty are both also great dance classics, and have proved immune to the depredations of time. Prokofiev's Cinderella and Delibes' Coppelia may also be hugely popular, but note for note it's Tchaikovsky who emerges as the undisputed king of ballet composition. This, in other words, is a production not to be missed.
Origami to go on show in town
An Origami & Application exhibition will take place at the HCMC Youth Cultural House in HCMC's District 1 on December 2-3.
Visitors can see the diversity and dynamics of Origami at the event, which is being held by AXA Studio with two themes: "Nature World" and "Origami Application in life".
There will be two workshops where participants can fold several typical models and learn about their meaning when applied to life.
Origami is the art of paper folding, which is often associated with Japanese culture. In modern usage, the word "Origami" is used as an inclusive term for all folding practices regardless of their culture of origin. The goal is to transform a flat square sheet of paper into a finished sculpture through folding and sculpting techniques.
Origami is also applicable in life, especially for scientific applications such as manufacturing machinery and equipment.
VNS/SGT