Exhibition unites two contemporary painters
Last update: 11:45 | 14/11/2017
VietNamNet Bridge – A new exhibition at the Ha Noi Museum features work by two painters whose contrasting themes and styles portray the world's diversity.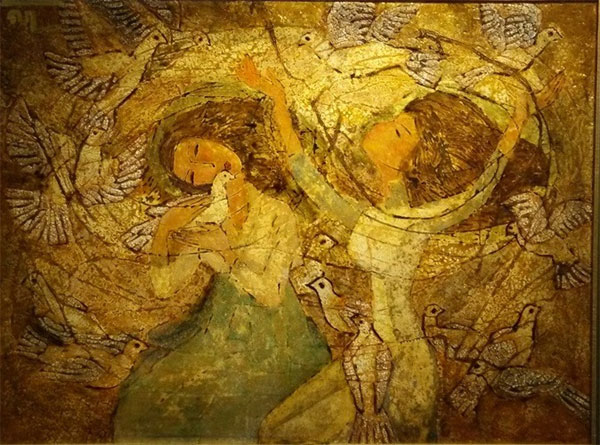 In motion: Young Ladies by Le Van Thin.
Titled Du và Doi (Lilt and Fierceness), the exhibition showcases more than 300 artworks by Le Van Thin and Ngo Xuan Binh created with various materials: lacquer, oil, do (poohnah) paper and mixed media.
Opening on Saturday, this is the biggest contemporary art exhibition the Ha Noi Museum has ever had. It's also the biggest exhibition in Binh's career with 200 artworks of different materials and scales.
The exhibition aims to bridge the concepts of traditionalism and modernity in order to demonstrate temporal continuity in the human experience.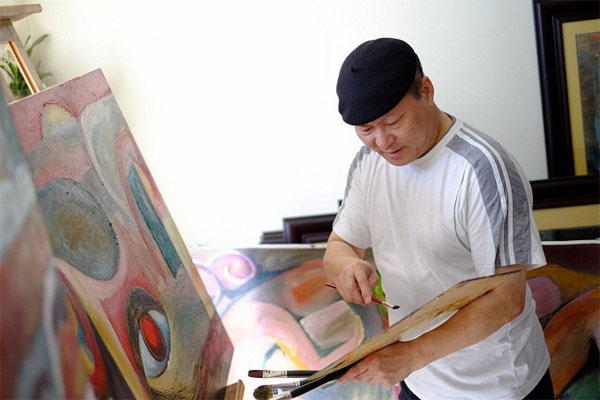 At work: Artist Ngo Xuan Binh with a painting at his home. — Photo baomoi.com
The exhibit is a chance for audiences to see and appreciate artworks by the two outstanding artists, as well as to preserve and promote Vietnamese contemporary art to local and international audiences.
"Thin and I find different inspirations and themes to work," Binh said. "We named the exhibition Du and Doi in which Du (lilting and tuneful) includes Thin's paintings and Doi (fierce) are my paintings. Together we describe the diversified beauty of life."
Art critic Tran Trung Chinh remarked that perhaps the journey of rhythm is the major theme that imbues most of Thin's lacquer paintings.
"The streets, houses and even the crowds of women in his paintings are the moments of silence which are all arranged to perform the journey of rhythm," he said. "Visitors may hear the rhythm of crackling branches, the stillness of seashell patterns, the stirring eggshell inlay of lily and the gentle breaths of the white lotus in his paintings."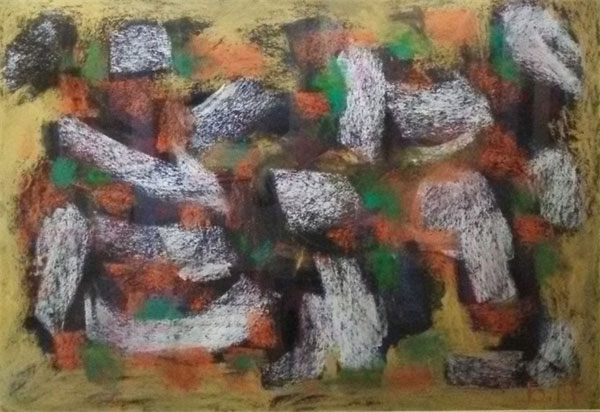 Vivid: Thang Hoa (Sublimation) by Ngo Xuan Binh.
Meanwhile, Binh's paintings consist of his fierce energy, said Chinh.
"The shapeless colour forms provoke a stirring in each spectator of each painting," he said.
Binh was born in 1957 in the central province of Nghe An and lived in Russia for over 10 years. He is also known as the creator of Nhat Nam martial arts school and a practitioner of Vietnamese traditional medicine. In recent years, he has become one of the country's most well-known artists, with exhibitions in Minsk and Moscow. He also received many international art awards. He is one of two foreign people given the title of Honourary Member by the Russian Academy of Arts.
Thin was born in 1952 and currently works as a lecturer at the Ha Noi Open University. He is famous for his white lacquer paintings using silver leaves, egg shells and seashells. Artist Ly Truc Son has said that his recent works, which honour the beauty of nature and humans, are "very unique and distinctive" with a style that "absolutely cannot be duplicated".
The exhibition will run until February 27 at the Ha Noi Museum, Pham Hung Street, Nam Tu Liem District.
VNS