Japanese, VN soloists to play concert
Last update: 11:01 | 14/11/2017
The HCM City Ballet Symphony Orchestra and Opera (HBSO) will hold the "A Night of Concertos" concert at the Opera House this week, featuring Japanese and Vietnamese soloists.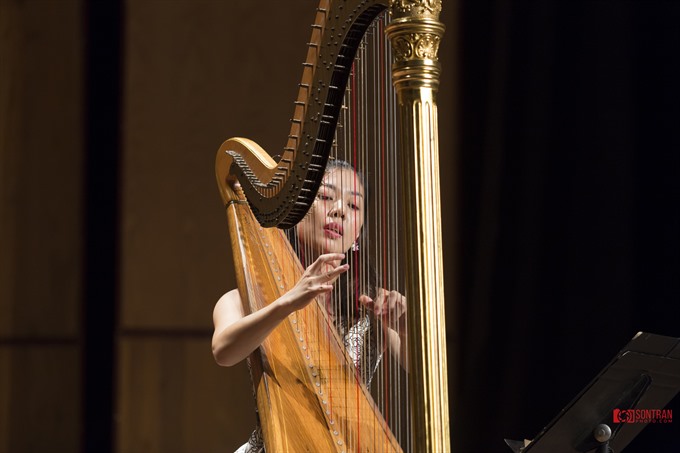 Harpist Nana Ishizaki will perform at the "A Night of Concertos" concert at the Opera House on Sunday, featuring Japanese and Vietnamese soloists. — Photo courtesy of HBSO
Japanese flutist Kaoru Kamiishi and harpist Nana Ishizaki will present Mozart's Concerto for Flute and Harp in C Major, K 299.
Kamiishi collaborated with many world-famous orchestras and was former soloist for the Opera Duisburg Orchestra and Philharmonisches Orchester Hagen in Germany, while Ishizaki won numerous competitions for harp in Japan.
Both of them have been regular performers for HBSO programmes in recent years.
Japanese oboist Kosei Maekawa will pair with Vietnamese oboist Pham Khanh Toan in Concerto for 2 Oboes in C Major, op 9, No 2 by Italian composer Tomaso Albinoni.
Maekawa, a veteran musician and founding member of Tokyo Oriatoria Symphony, has worked with many Japanese national orchestras for decades.
Violinists Tang Thanh Nam and Le Minh Hien will perform Concerto for 2 Violins in A Minor, RV522 by Vivaldi, while clarinetists Dao Nhat Quang and Nguyen Tuan Loc will play Concerto for 2 Clarinets in E-Flat Major by Krommer.
These artists will also appear in The Arrival of the Queen of Sheba, an excerpt from Handel's oratorio Solomon, HW67. The work is for two oboes, strings and cembalo.
The concert will feature the HBSO Chamber Orchestra and conductor Trần Nhật Minh, who graduated with a Master's of Music in conducting at Moscow's Tchaikovsky Conservatory.
"A Night of Concertos" will begin at 8pm on Sunday (November 19) at the HCM City Opera House, 7 Lam Sơn Square in District 1. Tickets are available at the venue's box office or at www.ticketbox.vn. — VNS