What to do in Saigon at weekends
Last update: 15:56 | 03/11/2017
HCMC, the country's most dynamic and vibrant economic center, is a must-see place for international tourists to Vietnam because of the age-old landmarks and a wide variety of entertainment and food services, as well as fun activities. Following are some destinations recommended for tourists.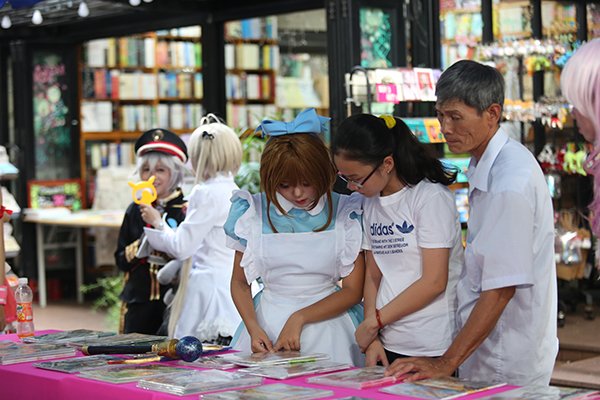 Visitors browse for books on Nguyen Van Binh book street in downtown HCMC. This weekend, visitors can drop by the book street to join numerous activities during the Russian Book Week 
Tan Trao Street, Phu My Hung Urban Zone, District 7
Those interested in sporting activities should head to Tan Trao Street in Phu My Hung Urban Zone in District 7 to participate in the Terry Fox Run at 8 a.m. this Sunday morning, November 5.
Organized by the Canadian Chamber of Commerce in Vietnam (CanCham), the annual event is aimed to honor Terry's dream of seeking a cure for cancer.
The 5-kilometer run, walk, wheel or ride is calling for the participation of sport enthusiasts and young people to raise funds for cancer research.
All the proceeds from the event will be used for cancer research projects in Vietnam.
Nguyen Van Binh book street, Ben Nghe Ward, District 1
The book street on Nguyen Van Binh road next to two of the city's landmarks, the Central Post Office and the Notre Dame Cathedral, is a place for cultural and entertainment activities in the city. This weekend, book enthusiasts can spend a little time passing by the book street to join numerous activities during the Russian Book Week.
According to the HCMC Book Street Management Board, the book week from November 1 to 8 marks 100 years of the October Revolution.
Students from Hoa Binh Primary School in District 1 are expected to perform a short play adapted from the popular Russian novel for kids, namely "Doctor Aibolit" by Korney Chukovsky at 9 a.m. this Saturday.
Two translators, Pham Ngoc Thach and Tran Tien Cao Dang, will show up at the book street at 9 a.m. this Sunday morning to talk with audiences about how to translate Russian literature.
During the book week, more than 200 book titles in fields such as children, fine art, science, technology and literature will go on display at an exhibition themed "Memories of Russia".
CGV Hung Vuong Plaza, 126 Hung Vuong Street, District 5
The movie "Suburbicon" (or "Bi an vung ngoai o" in Vietnamese) directed by George Clooney, will be screened at 6:30 p.m. this Saturday at CGV Hung Vuong on the seventh floor of the Parkson Hung Vuong Plaza.
The 104-minute movie, set in the 1950s of American society, tells a story about Gardner Lodge whose wife is cruelly murdered by a gang of criminals in Suburbicon town, known as a peaceful suburban community. His duty is to seek the truth about who killed his wife and expose the dark sides of the town to light. 
The movie starring Matt Damon, Julianne Moore, Noah Jupe and Oscar Isaac will be screened in English with Vietnamese subtitle. Children under 18 years old are not allowed to watch the film.
Further information about the film can be found at https://www.cgv.vn/default/bi-an-vung-ngoai-o.html.
Sheraton Saigon Hotel & Towers, 88 Dong Khoi Street, District 1
Food connoisseurs should not miss a chance to enjoy a Sunday Brunch at Saigon Café on level 1 of the Sheraton Saigon Hotel & Towers from 11:30 a.m. to 3 p.m. this Sunday.
Brunch lovers will be offered choices of premium fresh seafood, mouth-watering pan-Asian cuisine, Vietnamese specialties, and Western, Japanese and Indian delights.
Guests will have a chance to savor a selection of sweet desserts and teppanyaki ice-cream station.
SGT