In pictures: Largest cemetery for whales in Vietnam
Last update: 08:00 | 26/10/2013
VietNamNet Bridge - Covering approximately 3.000m2, there are hundreds of graves of whales. Fishermen worship whales like dead men. This is the largest cemetery for whales in Vietnam.
Located on the coast of Phuoc Hai fishing village in Phuoc Hai town, Dat Do district, Ba Ria - Vung Tau province, Ngoc Lang Nam Hai, is considered the biggest whale cemetery in Vietnam.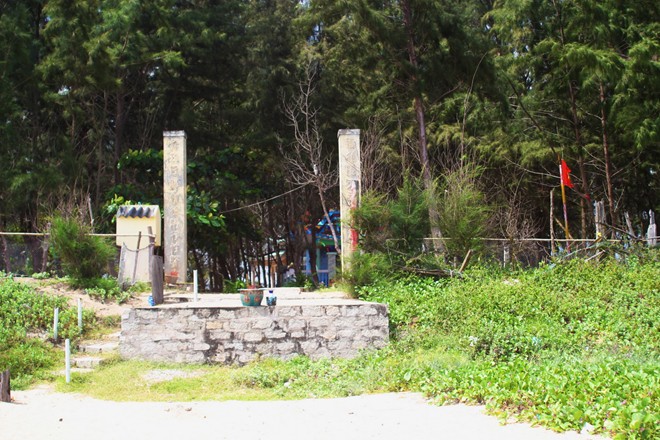 The cemetery is located on a sand hill, on an area of about 3.000m2. The cemetery has five parts: The temple for whales, the temple for Avalokitesvara Bodhisattva, the temple for the Land God, the temple for four gods and the cemetery for whales.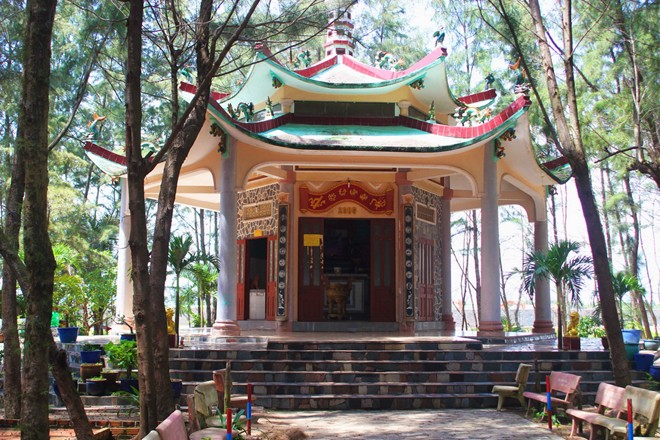 The temple for whales.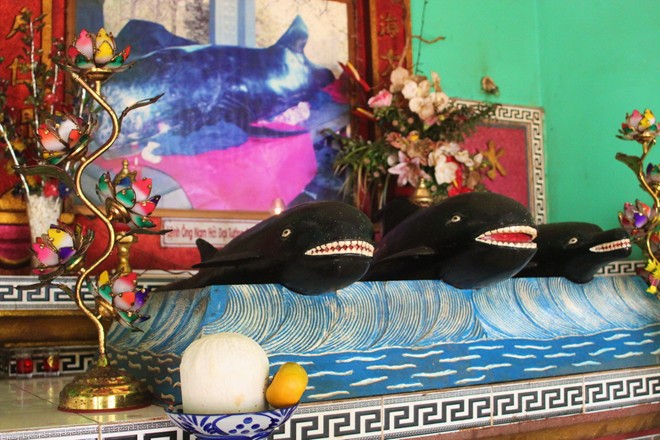 On the main altar in the temple for whales are a picture and three statues of whales.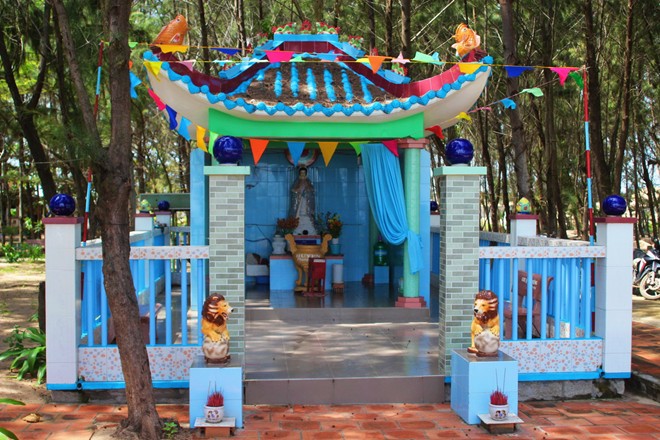 The temple of Avalokitesvara Bodhisattva, who is believed to usually help fishermen in the sea, together with whales.
There are a hundred of tombs and stone steles for whales.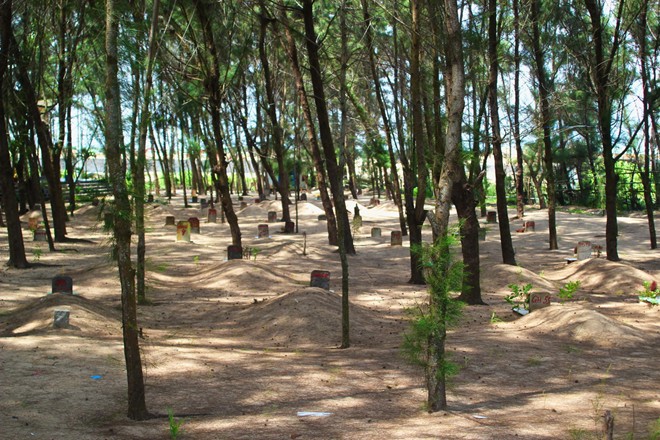 Local fishermen said whenever they see a dead whale, they will pull the animal to the shore for burial. They believe that they will be lucky if they see a dead whale.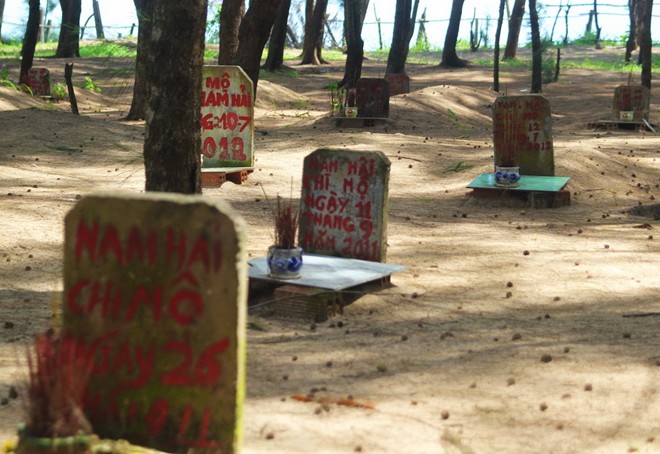 The dead whale is always buried with rituals for humans. Each tomb has a stone stele noting the day of death of the whale.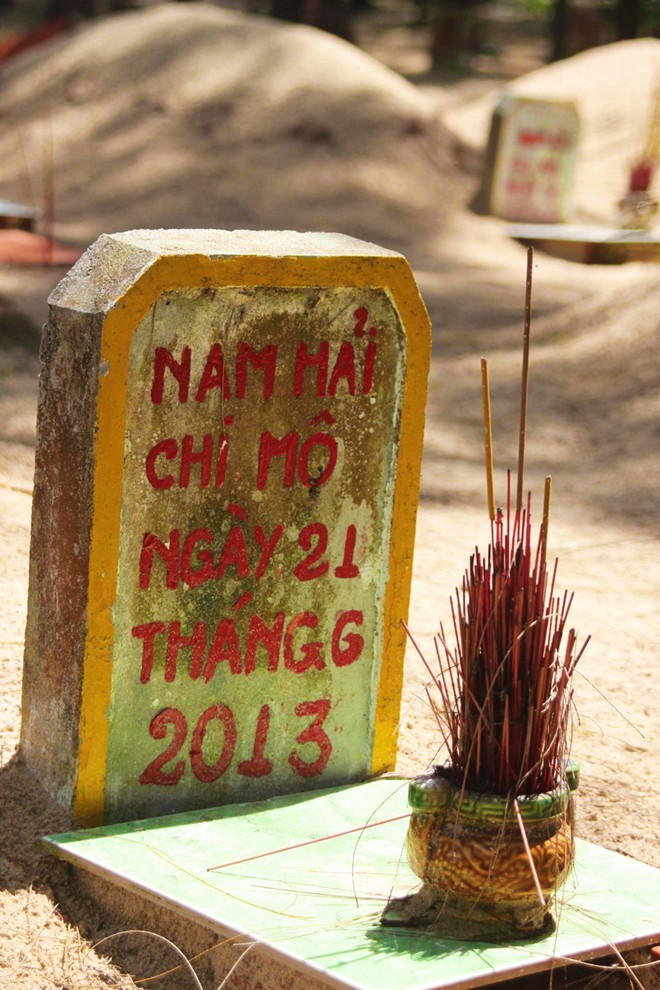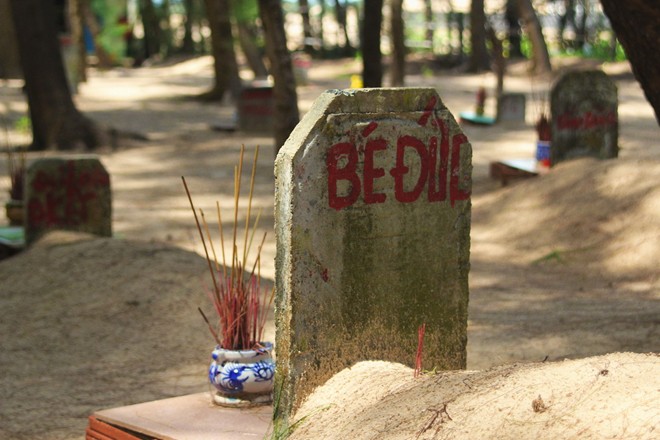 The name of the eldest son of the fisherman who discovers the dead whale is also noted on the stele since this man will be in mourning for the whale, as for his father, for three consecutive years.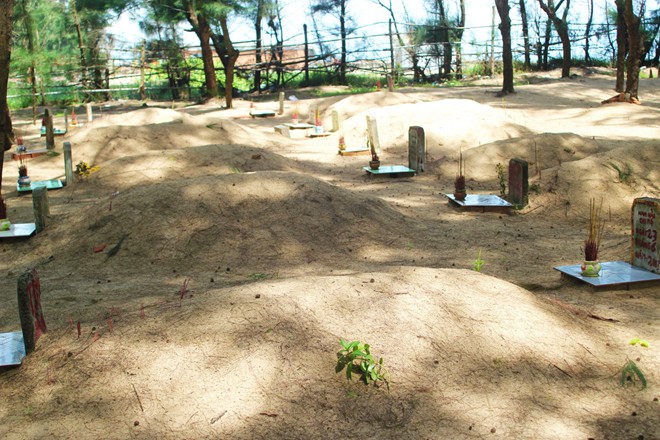 Many whale tombs were built in 2010 and they look like sand heaps.
There are a few tombs with only stone steles remained.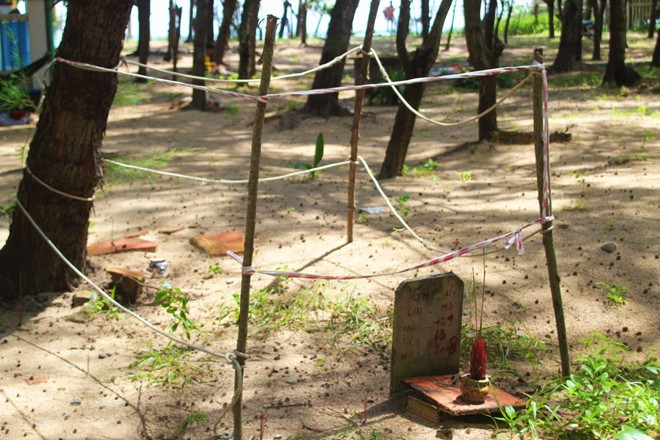 A grave outside the cemetery.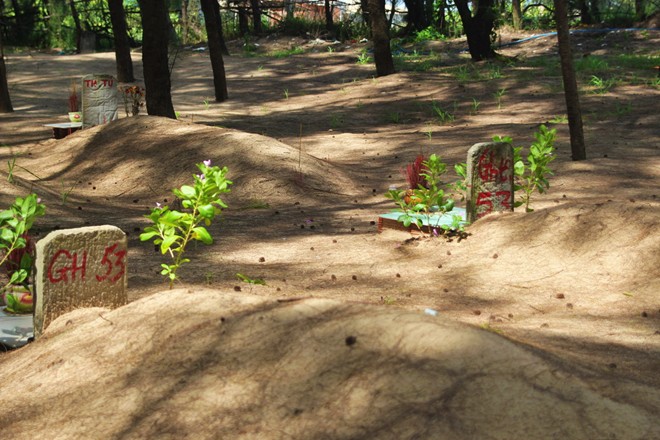 Several fishermen discovered some dead whales so many steles have the name of the same man. In picture: The ownership of boat No. 53 buried two whales on 14.5.2013 and 4.9.2013.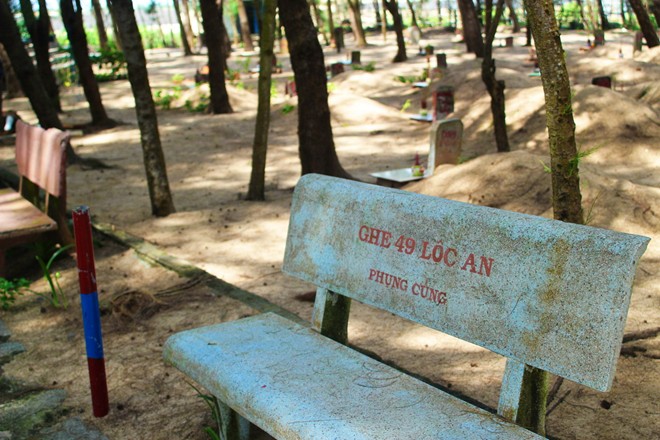 Benches for visitors, donated by fishermen.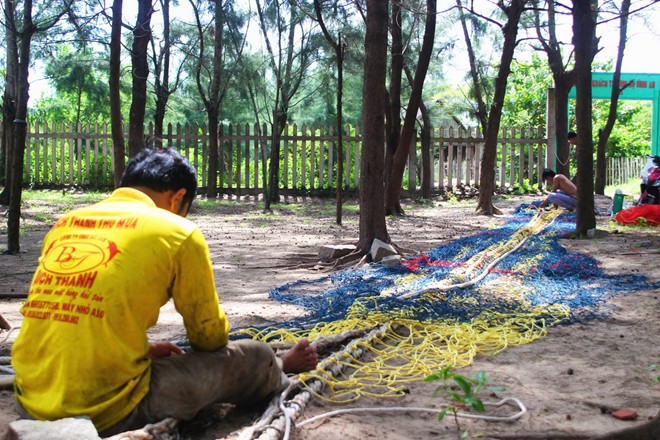 Some fishermen prepare nets right in the cemetery.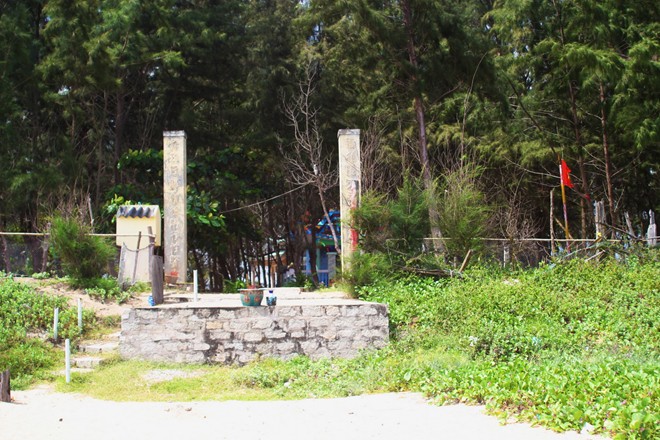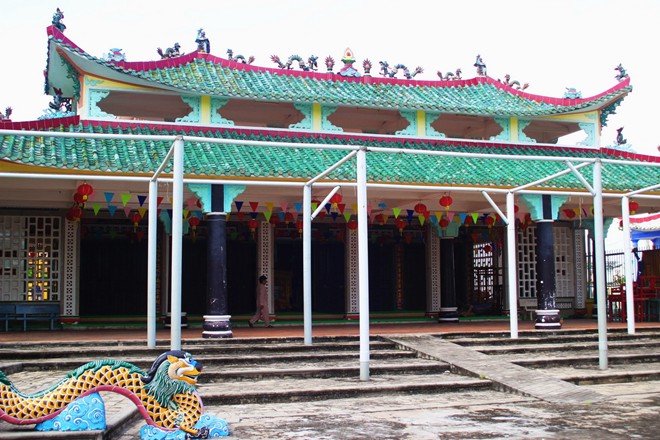 After three years, the bones of whales will be brought to Dinh Ong Nam Hai Temple, about 1km from this cemetery.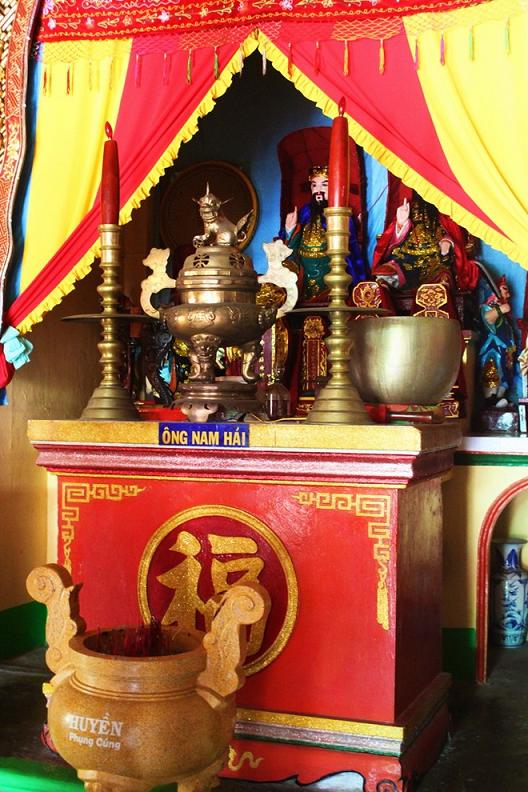 Dinh Ong Nam Hai Temple worships various gods, including the whale, with a big altar in the center.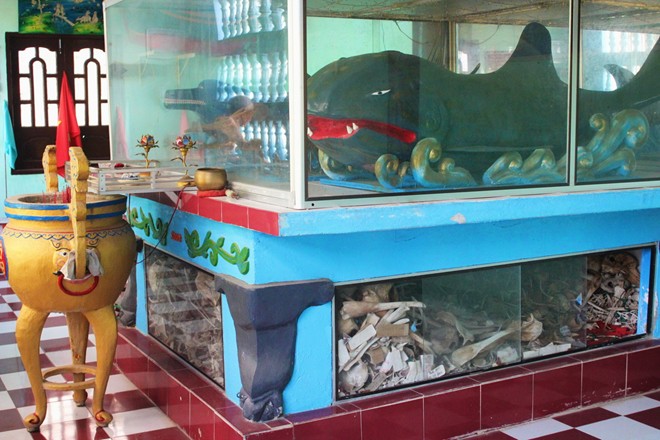 Behind the gate of the temple is the house containing the ash of hundreds of whales. People come here to worship whales on 16th of the second month in lunar calendar.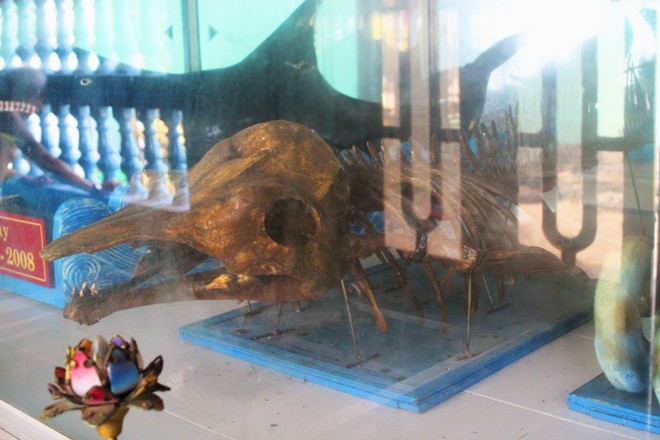 On the altar of the ash house is the intact skeleton of a whale that was dead a long time ago.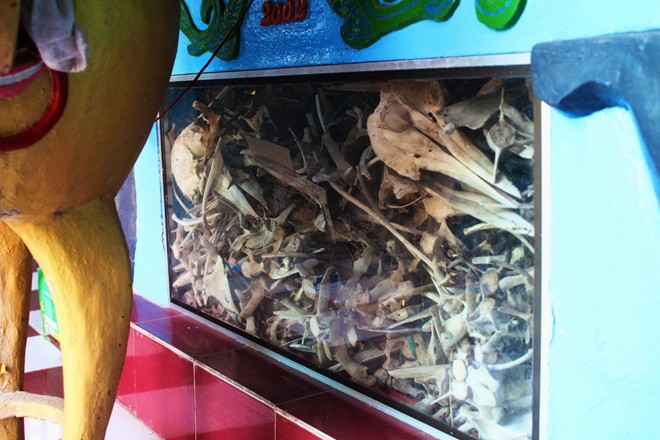 The remains of whales brought from the whale cemetery are put under the altar in the ash house. It is reported that annually fishermen in Phuoc Hai find dozens of dead whales. Because of lacking space for whale remains, local people several times cremated whale bones.
A giant spinal segment of whale of about 30cm in diameter at Dinh Ong Nam Hai Temple.
Tri Thuc