Last update: 15:32 | 09/05/2018
Through millions of years of geological formation, sedimentary rocks piled on top of one another, creating an arc around the coast, forming the Ganh Yen (Quang Ngai) landscape. Over the years, Ganh Yen has kept its beauty – a pure beauty by the sea.
The spectacular combination of clouds, mountain, blue seas, and black rocks creates a beautiful vista. This landscape still preserves the wild beauty of the earth's tectonic nature. 
About 2km long, each stone-bank of Ganh Yen is shaped differently. The pointed stones face out towards the water like the point of a spike projecting into the East Sea.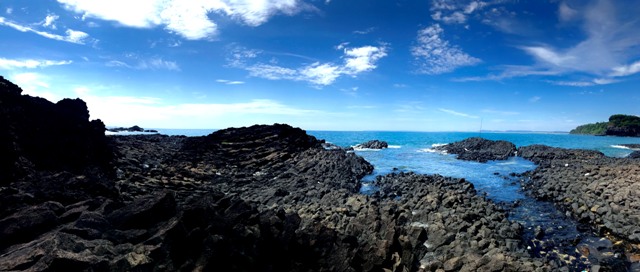 35km north of Quang Ngai city, Ganh Yen is located in Thanh Thuy village, Binh Hai commune, Binh Son district. Like Ly Son, Ganh Yen's rocky areas are sedimentary strata formed from volcanic eruptions. According to experts and scientists, Ganh Yen site formed from volcanic deposits, dating back millions of years.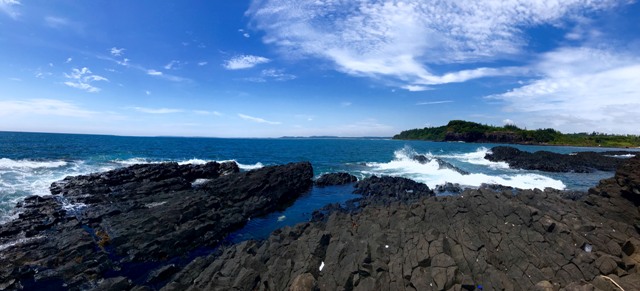 Among the many stone cliffs are countless small rock niches, where Yen birds (swifts) usually make their nests. Therefore, residents named the area Ganh Yen. Ganh Yen is located in the Binh Chau - Ly Son natural geological population, which will be proposed for UNESCO recognition as a global geological park.
Along with growing onions and garlic on the beach, residents of Ganh Yen go out to sea, catch seaweed, fish, crab, and squid.
Visiting Ganh Yen, tourists can go diving to explore the coral. Not only boasting geological beauty on the shore, Ganh Yen also has a diverse marine ecosystem. At the bottom of the sea, there are large coral reefs and vegetational cover, as well as wild crabs, and fish.
Aiming to attract tourists to Ganh Yen, Binh Son district launched a 3D mural village.
Nhan Dan