Let's try some specialties of Yen Bai
Last update: 10:37 | 25/10/2017
VietNamNet Bridge – Yen Bai forest is not only rich in fauna and flora but also abundant in specialites, such as rare bamboo shoots locally known as mang Sat (finger bamboo shoots) and nhong ong rung (the chrysalis of forest wax baby bees).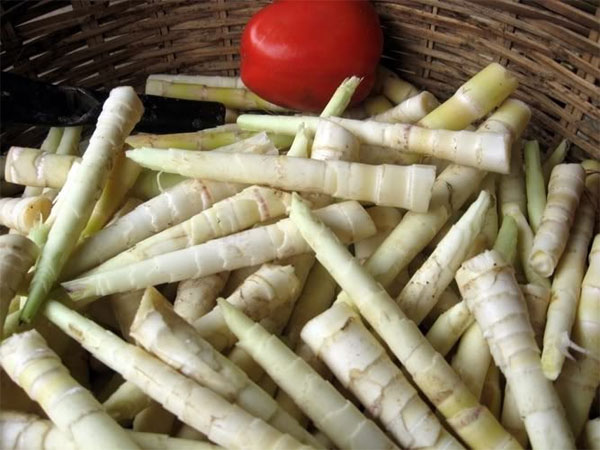 Wild shoots: The white and soft Sat shoots are specialties of Yen Bai.
Mang Sat grows wild along streams and in dense forests. Its is straight and small as an adult's finger. For northwestern people, it has been a popular dish for hundreds of years. 
Yen Bai local La Thi Lien, 66, recalls following her parents to collect the shoots from the age of six. "In the past, the shoots were more common, so we did not have to go deep into the forest to pick it. 
"In just two hours in the morning, we could picked a full basket to take home," said Liên, noting that when the outside of the plant was removed, it revealed a thick, white and soft growth.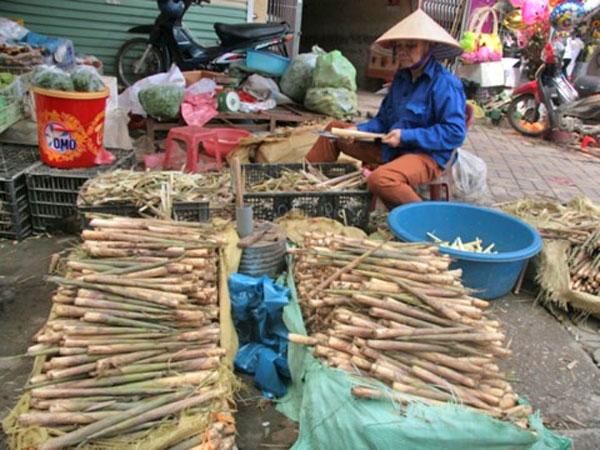 On sale: The Sat bamboo shoots are available at Yen Bai Market.
Lien said her mother cooked many dishes from the shoots. These included fried finger shoots with pork ribs, boiled shoots dipped in shrimp paste or salted sesame, fermented shoots cooked with duck. But the most tasty dish was grilled shoots on wood charcoal.
"No words can express our feeling when we take off each grill cover and dip the shoot in chili shrimp paste. The grilled shoot is so sweet and delicious, but retains its wild flavor," said Lien, adding that she also liked boiled shoots, dipping them in another special sauce made by her mother. 
Her mother knows how to mix ginger, garlic, erygium, and sugar and a spoonful of powder of menghundor seed to increase the taste of the shoots, Lien said.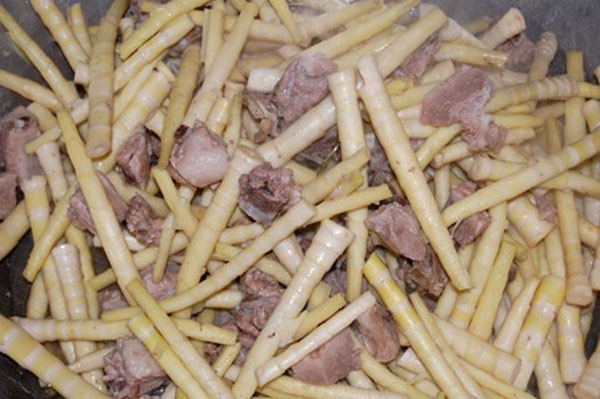 In the pot: Sat bamboo shoots simmer with pork ribs. Photos dulichyenbai.com
Shoots simmered with pork ribs are also a popular dish that grabs guests when they visit. Liên said the bamboo shoots were cut in 5cm chunks and fried with pork ribs for 10 minutes. A little water, garlic and tomato was added and the dish left to stew for an hour and then served with fresh onion and erygium.
The food has become one of the a favourite dishes of many gourmets for its crispy and light sweet flavor, said writer Nguyen Van Toai who often goes to Yen Bai to write stories. He said the shoots were an organic vegetable rich in vitamins D and A. 
Yen Bai herbalist Dam Ngoc Yen said the shoots' sweetness and cold flavour helped to cool the body, relieving inflammation and diarrheoa. 
"I've been using the shoots to treat many normal ailments," said Yen, adding that northwestern people were trying to develop and preserve the bamboo. 
Bee chrysalis (nhong ong rung xao la chanh) 
Wild honey, a specialty of Yen Bai's Mu Cang Chai District, is valuable for treating many ailments, but a dish made of chrysalis forest bees is an enjoyable delicacy for guests visiting Yen Bai this month.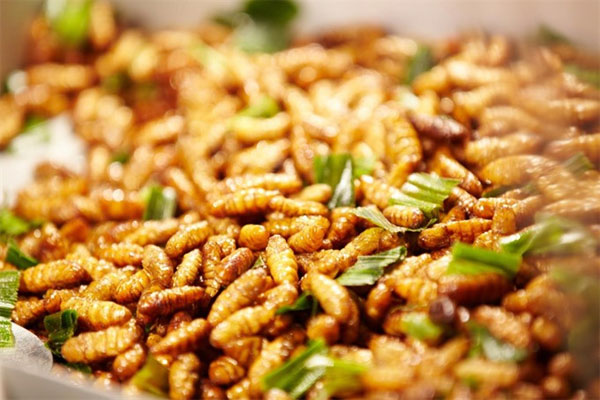 Unusual: A delicious feast of chrysalis of forest bees is among the delicacies of Yen Bai. — Photo dacsan4u.com
Nong Ich Lai, 50, a beehive hunter, said the end of the eighth lunar month and beginning of the ninth lunar month was the most favourable period for collecting the fat and tasty forest bees, a rare item that his wife cooked for special guests. 
The chrysalis bees can be cooked in many dishes, such as fries — when they turn into crispy bees — or soaking them in sticky rice powder and then frying them with fat or with thick and fleshy Indian taro. 
But among the dishes, fried chrysalis bees with lemon leaves is the most tasty and delicious food that almost visitors and guests have agreed that the nutty dish brings them very good appetizing and that they enjoy it so much.  
Lai said his friends and himself were interested in sipping the fried chrysalis bees, cooked by his wife, with a shot of traditional wine fermented from sticky rice. 
Ha Nguyen
VNS