ASEAN flavours abound in food-obsessed Sai Gon
Last update: 09:00 | 15/08/2017
VietNamNet Bridge – HCM City, the country's commercial hub, is a food paradise not only for Vietnamese but for people from all over the world, including tourists and diverse communities of expatriates who contribute to the life and varied cuisines of the city.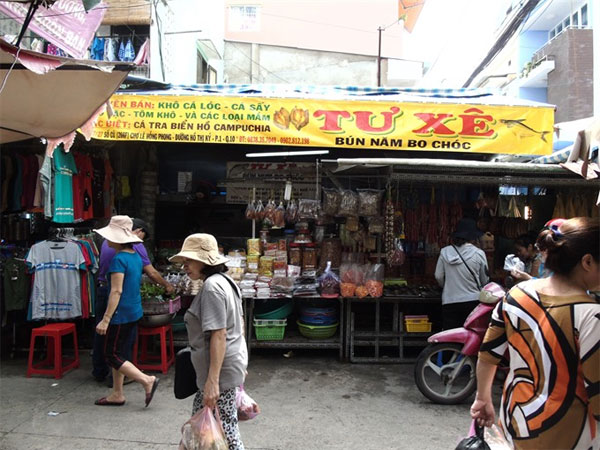 Something's fishy: Tu Xe's shop offers nubuchok (a noodle soup with broth cooked from Cambodian salted and fermented fish paste) at VND30,000 a bowl, a popualr choice for labourers. — Photo: Le Anh Vu/VNS
Many of the foreigners in the city hail from ASEAN-member countries such as Thailand, Laos, Cambodia and Singapore. With them, they've brought their expertise in making home-cooked meals favoured not only by their compatriots but also by local Vietnamese.
Thai Express: not just a chain
On placards or on menus, the word "Thai" always evokes scrumptiousness. From specialities like Tom Yum (hot and sour Thai soup) and Pad Thai (stir-fried rice noodles) to curries and hotpots, Thai dishes have universal appeal.
While there are many Thai restaurants in the city, some of them offer dishes with a Vietnamese twist. The restaurant chain Thai Express, for example, offers traditional Thai dishes made by both Thai and Vietnamese chefs at reasonable prices.
At the Thai Express branch in Takashimaya, one of the city's biggest shopping malls, kids can play dominoes, chess or legos to their heart's content in a big entertainment area with comfortable seats.
The menu offers dishes tailored to suit the palate of both children and adults, with more than 30 options like Thai fried noodles and noodle soup, stir-fried rice with curry, and shrimp with shredded mango and peanuts.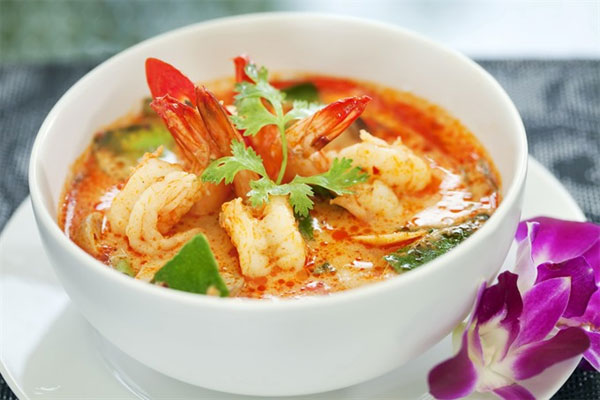 Adapted: Thai restaurants in HCM City offer dishes cooked to Vietnamese taste, not too hot or spicy, but very colourful. — Photo courtesy of the Sheraton Saigon Hotel & Towers
Two of the most popular dishes are Tom Yum fried noodles and Kuluay Kang Tod (banana fritters with coconut ice cream and sesame). The name of Tom Yum, a classic Thai dish, refers to the use of oil and the spicy-sour Thai flavour.
At Thai Express, the Tom Yum fried noodles at VND90,000 (US$3.9), are served with colourful array of red, green and white vegetables. The dish is cooked with chicken filets in addition to lemongrass, kafir leaves, carrots, fish cake, tofu and bunga kantan (torch ginger flowers). Its light and sweet yet savoury taste attracts the most demanding diners.
"We welcome both locals and foreigners, including Thais who visit or work in the city," Le Thi Lan Anh, a waitress at Thai Express. "Our dishes are colourful and not too hot and spicy, which caters to the local taste."   
Kuluay Kang Tod at VND90,000 includes four sweet and salty fritters served with two scoops of coconut ice cream. While the fritters are hot, the ice cream is cold, a delicious combination. 
Although it is a chain, Thai Express has a great reputation, receiving the honorary title "Thai Select" awarded by the Royal Thai Government to Thai restaurants overseas that serve authentic Thai dishes.
Catering to homesick Cambodians
Cambodian cuisine is familiar to most HCM City residents, particularly people from the Mekong River Delta provinces of Soc Trang, Tra Vinh and Bac Lieu, home of nearly 1.3 million ethnic Khmer.
Similar to Vietnamese, Khmer dishes are based on rice and pork as well as fish, shrimp, frogs and snails, with additions of coconut, banana, mango, lemongrass, chilli and palm sugar. 
In the city, Khmer food is available widely at restaurants or street vendor stands. Dozens of small restaurants located in alleys in districts Tan Binh, 3, 5 and 6 are owned and staffed by mostly Khmer who love talking about their favourite recipes, including those made with curry and coconut milk, selling for only VND20,000 (less than $1).
For those who want to dine at a more refined place, the Angkor Encore Plus, a luxury restaurant in District 1, offers well-known Cambodian dishes using traditional cooking techniques.
One of its famous dishes is amok, fish steamed and served in a banana leaf with coconut cream on top.
The classic dish adds kroeung, a type of Khmer curry paste made from lemongrass, turmeric root, garlic, shallots, galangal, fingerroot or ginger. At the restaurant, the amok is served with brown or white rice on the side, with julienned red bell pepper and lime leaf ribbons.
Angkor's beef red curry, another favourite, is less spicy than the curries of Thailand and India, and features beef, eggplant, green beans, potatoes, fresh coconut milk, lemongrass and kroeung. Baguettes, a remnant of the French influence on Cambodia, are served alongside the dish.
Amok can often be seen at Cambodian weddings, family gatherings and religious holidays like Pchum Ben, or Ancestor's Day, when Cambodians make the dish to share with monks in honour of the departed.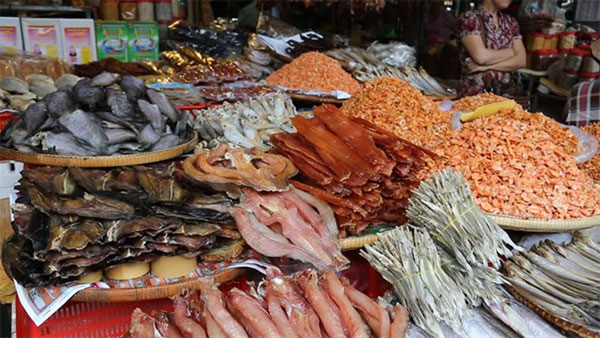 Dry seafood: The Le Hong Phong Market, popularly known as the Cambodian Market, has 200 vendors, mostly Vietnamese or Cambodians who moved to HCM City in the 1970s.— Photo: Le Anh Vu/VNS
In HCM City, locals often visit Le Hong Phong Market, popularly known as the Cambodian Market, in District 10 to buy specialties and goods imported from Cambodia.
The market has nearly 200 sellers, with 70 per cent of them Cambodian-Vietnamese or Cambodians who moved to HCM City in the 1970s and set up business.
Many popular products, such as salted fish paste and fish caught at Tonlé Sap Lake in Phnom Penh, and Cambodian sausage made of pork with chilli are offered. Besides food, clothing, jewellery and meditation oils are also sold.  
Sweet Cambodian porridge with coconut sugar and flavoured durian, selling for only VND10,000 per bowl, is a popular choice for labourers. For a hearty breakfast or dinner, noodle soups are VND30,000.
"I import fish paste and ingredients from Cambodia to make my dish authentic," said Tu Xe, owner of a shop selling her native land's signature dish, nubuchok (a noodle soup with broth cooked from Cambodian salted and fermented fish paste).  
Xe has been operating her always-crowded shop for 40 years.
"We offer not only goods but also a traditional slice of Cambodian culture and lifestyle," said Xẹ, adding that most of her customers are homesick Cambodian-Vietnamese.
Frog porridge: Singapore specialty
Frog porridge, with its unusual taste and cheap price, is a favourite dish of young HCM City residents who often visit Singapore to shop during sale promotions or take a short holiday.
Chef Ho Ly Sau of Sentosa Food, a restaurant in District 10, offers frog porridge cooked Singaporean style with a peppery and sweet taste for VND85,000 ($5).
Rice, frog, pandan leaves, fresh chilli, spring onion and oyster sauce are the main ingredients.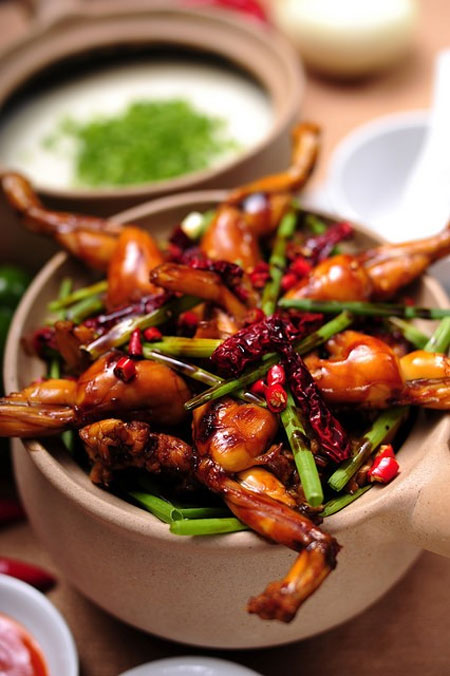 Thigh fry: Cheap and tasty, Singaporean frog porridge is favoured by many young people. — PhotomonngonSaigon.com
Chef Sau cooks the frog gently in oyster sauce, then transfers it to a clay pot on high heat, adds chilli, and then stirs well until the frog is cooked and fragrant, using spring onions and sliced finger chilli on top of the meat.  
"The local residents eat the dish for dinner with raw vegetables, such as bean sprouts and ginger," he said.
For other Singaporean specialities, visit restaurants downtown, including Geylang Lor 9 on Dong Du Street and Lion City on Le Anh Xuan Street, both in District 1.
And for frog lovers of any cuisine, look no further than Ech Xanh Restaurant in District 3's Ly Chinh Thang Street, which offers a menu of over 100 frog dishes. 
With HCM City's variety of Thai, Cambodian and Singaporean culinary treats, and thousands of other restaurants serving cuisine from ASEAN-member countries, you'll never run out of dining options. HCM City and its food scene will not disappoint: from budget to luxe, the city awaits to serve you with gusto and heart. 
Thu Anh
VNS