Vietnam to start Asian futsal campaign
Last update: 16:10 | 28/04/2018
The Việt Nam team left yesterday for Thailand for the Asian Women's Futsal Championship to be held in Bangkok next month.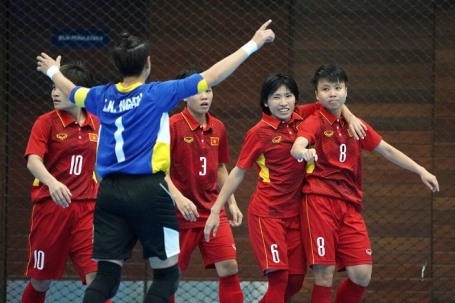 Việt Nam to play Chinese Taipei in their first match at the Asian Women's Futsal Championship. -- Photo tinthethao.com.vn
"We have some new faces on the team, and the Asian event will mark their international debut. No doubt they will be nervous. However, after a careful preparation period and friendly matches in China, we are improving. We know who we are and will aim for the best result," said coach Trương Quốc Tuấn.
Tuấn was confident in his players' abilities.
"We trust them. They are doing well with the strategies of the coaching board. There are still several issues that need improvement, and we will deal with them in these last few days," he said.
Today, Việt Nam will have its last friendly match against the hosts ahead of the championship.
"It will be an important match for us. We consider it an official match to familiarise my players with the real atmosphere in the championship's stadium ground," Tuấn said.
A total of 15 teams will participate in the tournament. They have been divided into four groups,  with the group winners and the best runners-up advancing to the quarter-finals.
Việt Nam, in its second shot at the tournament, are in Group B with Malaysia, Chinese Taipei and Bangladesh.
In their first match on May 2, they will play Chinese Taipei. In the first edition, they finished in the groups stage in 2015.
Iran are the defending champions after defeating Japan 1-0 in the 2015 final. — VNS