Nguyen places fifth in chess championship
Last update: 12:56 | 01/01/2018
VietNamNet Bridge – Pham Le Thao Nguyen finished in fifth place at the 2017 King Salman World Rapid and Blitz Chess Championships' rapid event December 28 in Riyadh, Saudi Arabia.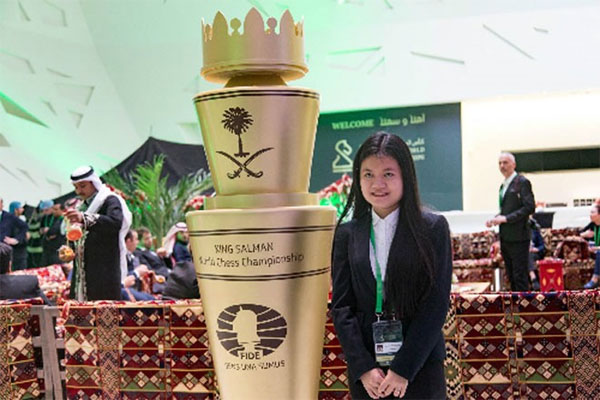 Pham Le Thao Nguyen ranks fifth at the rapid chess event of the world tournament in Saudi Arabia. — Photo khampha.vn
After three days of competition, Nguyen had seven wins, six draws and two losses. She earned 10 points and shared the fifth place with five other masters in the women's category.
On December 28, Nguyen's loss in her second match to Chinese Grandmaster (GM) Lei Tingjie ended her hope of entering the top three.
However, the Vietnamese International Master (IM) came back strongly and beat IM Abdumalik Zhansaya of Kazakhstan and Women's Grandmaster (WGM) Mamedjarova Turkan of Azerbaijan.
Her two draws were against Russian IM Marina Nechaeva and WGM Huang Qian from China.
Nguyen brought home a bonus of US$9,440 and 66 points for her world position. It is expected that Nguyen will jump to No 19 when the International Chess Federation announces January's rankings in the next few days.
Her teammates WGM Hoang Thi Bao Tram, Vo Thi Kim Phụng and Nguyen Thi Mai Hung sat at the 46th, 58th and 70th positions, respectively.
The winner was China's GM Ju Wenjun with 11 points. She was followed by Lei and Elisabeth Paehtz of Georgia.
In the Open class, Vietnam's best hope, GM Le Quang Liem, did not have a good result. He grabbed three more points after five matches on the last day.
But this did not help him gain a high position. With a total of nine points, Liem was No 30. Although Liem received a bonus of $1,250 for the position, he lost 19 points and will drop to No 20 next month.
The other Vietnamese, GM Nguyen Ngoc Truong Son, ranked No 43 with 8.5 points.
Indian GM Anand Viswanathan topped the ranking with 10.5 points. GM Vladimir Fedoseev and Ian Nepomniachtchi, both of Russia, came second and third, respectively.
Source: VNS