Running strong on self-belief, determination
Last update: 09:08 | 31/12/2017
VietNamNet Bridge – Braving all weather conditions, difficulties and risks, 39-year-old Nguyen Trung Kien has won his compatriots' admiration, running nearly 1,800km from Hanoi to HCM City in 26 days, at an average of 70km per day, becoming the fastest trans-Vietnam runner in the country. He tells Thanh Nga that a breathing technique that he was taught has helped his running and his approach to life.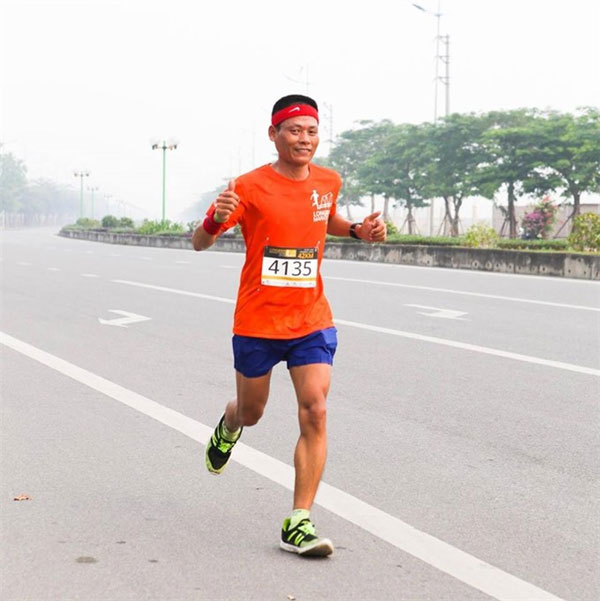 Nguyen Trung Kien has become the fastest trans-Vietnam runner in the country. — Photo courtesy of Nguyen Trung Kien
You did an unimaginable thing of completing the trans-Vietnam run in only 26 days. How did you do that?
Everyone will be very afraid and can't imagine that people can run alone from the north to the south. Actually, there are many people in the world just like me, and they run better than me. I believe that if other people can do it, so can I. Belief gives me the will to overcome challenges.
Via this run, what message do you want to send to everyone?
Practising is better than speaking. You should believe in your ability to change yourself. You should exercise more to have a sound mind and body because the mind will be best developed based on a strong and flexible body.
What did you do to prepare for your journey?
The trans-Vietnam running journey was a dream of mine, in particular, and of many people, in general. When I began running three years ago, I imagined and wished to run through the country.
In 2014, after only one month of running in the mornings, I set a target of running more than 300km during five days from the President Ho Chi Minh Mausoleum in Hanoi to his homeland in the central province of Nghe An, and I completed it. This first challenge gave me the most fantastic feeling of my life.
Following this, I trained more seriously and learnt more about running. I was lucky enough to meet a teacher who taught me a breathing method to be applied to running, and to life.
After that I overcame many other challenges to test my abilities. For example, I ran 26 days continuously early this year. Each day, I covered a 21km distance. I also ran 160km within 24 hours in July.
Via these challenges, I knew what I could do.
Did you face any difficulties and risks during your journey?
As I set up a plan to prepare for this ordeal, I forecast most of the difficulties on the road. The scorching sun or severe storm didn't frighten me. However, I was shocked and caught a cold on the second day of my journey. But I kept calm to refresh my spirit and complete my run.
How about the advantages?
The biggest advantage and surprise came to me right after the second day of my journey. My school friends from course K39 of the National Economics University (NEU) communicated with me to encourage and welcome me to the central province of Thanh Hoa. That was the third day of my race. This was a driving force for me to fulfill my dream.
What was your most noteworthy memory in this run?
In the early morning on the second day, it was rainy from Ha Nam to Ninh Binh provinces. My heart skipped a beat when a dog, who freed itself from the chain of its owner sitting along the roadside, ran after me. I think at that time my heart was racing at some 220 times per minute (smiling).
Then in the evening in Ninh Binh, I developed a cramp until the next morning. These things nearly crushed me in the first few days.
There were many other issues; I can't tell you all of them now. But I was very happy when I reached the final destination, Reunification Palace in HCM City, as I completed the journey with a cheery spirit and in good health.
My friends from the NEU and running groups in HCM City welcomed me enthusiastically there. I hadn't met most of them before.
After completing your goal, did you have any injuries?
I couldn't prevent injuries. Because of moving continuously, my left ankle was swollen. My weight reduced by nearly 5kg.
Does your love for running affect your work and family?
It doesn't negatively affect my work and family. In fact, it helps improve my relationships and to glue my family ties. My family knows my journey and supports me.
What tournaments did you take part in?
I participated in the 15-hour Loop Ultra Trail held in Hanoi in July last year and ranked third. I also took part in the Viet Nam Mountain Marathon in Sa Pa in the northern mountainous province of Lao Cai in the men's 70km in September, where I finished sixth in the rankings but was No 1 among the Vietnamese.
At the Long Bien Marathon last October, I ran in the marathon category and finished third with a time of three hours and 29 minutes. At the Ha Long Bay Heritage Marathon last November, I came in seventh place with a time of three hours and four minutes.
A week after my trans-Vietnam run in HCM City, I also registered to compete at the Techcombank HCM City International Marathon to test my health and recovery. I was very happy to know that I still ran well.
Can you tell me a little bit about yourself?
I had a hard childhood but fortunately, I graduated from the NEU. At present, I trade in consumer goods.
Besides, I often guide running groups on Saturday and Sunday mornings. It is a joy as I can share my knowledge and study about running.
What's your plan for next year?
I will take part in several tournaments to qualify for the Boston Marathon 2019. I also plan to set more individual challenges. 
VNS