VN's top shooter Hoang Xuan Vinh fails to qualify at World Cup final
Last update: 16:59 | 27/10/2017
Olympic gold medallist, Hoang Xuan Vinh, failed in the qualifying round of the men's 10m-air pistol at the International Shooting Sport Federation (ISSF) World Cup Final.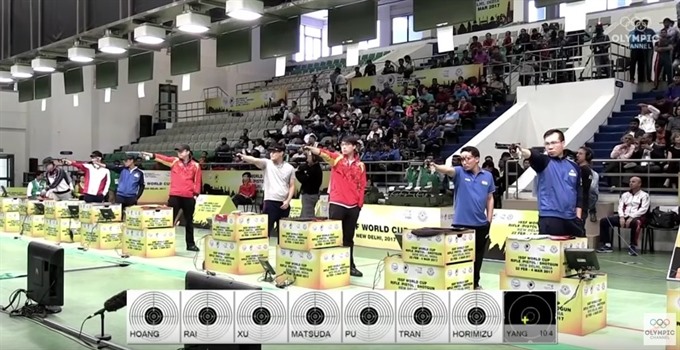 Hoang Xuan Vinh (right) competes at the World Cup Final held in New Delhi, India on October 26. – Photo ISSF
The event was held in New Delhi, India, on October 26.
Vinh grabbed a gold medal at the Rio Olympics last year and he also won the silver medal in this category at the World Cup held in India in February. Hence, he was selected to be the No 1 seed at the event.
However, Vinh ranked last out of 10 shooters who took part, with 568 points.
The other Vietnamese representative, Trần Quốc Cường, topped the qualification with 586 points. But Cường only ranked sixth in the finals, with 177.4 points.
The gold medal went to Japanese, Tomoyuki Matsuda, with 241.8 points, breaking the old world record of 206.6 points.
It is the second loss for Vinh, after the Southeast Asian Games in Malaysia in August, where he only grabbed a silver medal in his strong category.
Although he lost in the Final World Cup, Vinh is still the World's No 1 shooter in the 10m-air pistol by the ISSF. — VNS