Korean coach vows to lead HAGL to promised land
Last update: 14:30 | 26/10/2017
VietNamNet Bridge – South Korean coach Jung Hae-sung promised to turn V.League 1 side Hoàng Anh Gia Lai into the best team in Southeast Asia as he signed a contract to become the club's technical director in HCM City on Wednesday.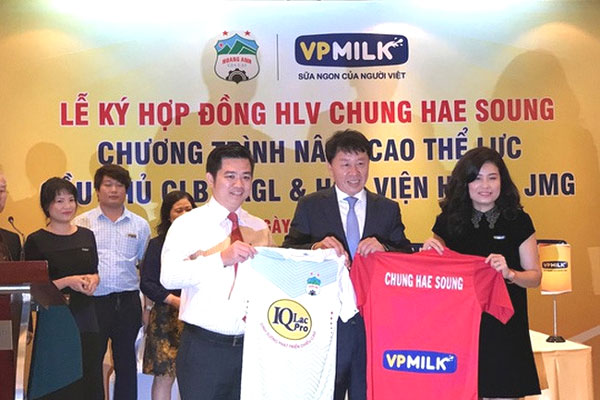 Jung Hae-sung(centre) poses with HAGL team's sponsors at the signing ceremony on Wednesday. — Photo mediacdn.vn
"I promise to guide HAGL to be the most outstanding team in the Southeast Asian region. With my enthusiasm, I alongside my players will be unified. HAGL is the last team in my career. I will find weak points of the team to turn them into strong points," said Jung.
Current head coach Duong Minh Ninh will continue in his role.
Jung said he would lead the mountainous team to finish between fifth and seventh in the league next year, with the title the goal in 2019.
Jung was chief assistant coach of the South Korean national team at the Sydney Olympics in 2000. After that, Jung was assistant coach of Guus Hiddink's South Korea national team competing in the 2002 South Korea-Japan World Cup, where the Koreans reached the semi-finals.
He also coached under Huh Jung-moo at the 2010 World Cup in South Africa.
HAGL are 12th out of 14 teams in the national premier league, mired in a relegation battle.
The team will face defending champions Ha Noi FC in the league on October 27.
VNS