Wings, Buffaloes win first matches at VBA event
Last update: 15:13 | 10/08/2016
VietNamNet Bridge – HCM City Wings and Hanoi Buffaloes won their first matches in the Viet Nam Basketball Association (VBA) League.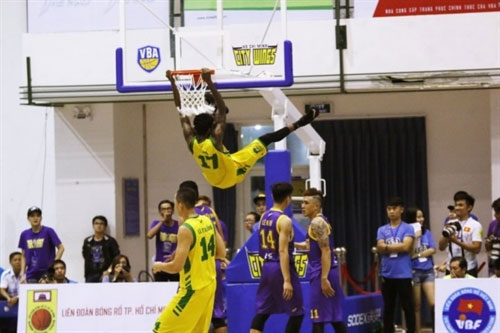 Can Tho Catfish's Tavarion Nix (No 17) scores a point for his team during a match against HCM City Wings in the first round of the Viet Nam Basketball Association League on August 7. HCM City Wings win 61-53
On Sunday, the Wings defeated Can Tho Catfish 61-53, while the Buffaloes started with a bang beating the national first professional squad Saigon Heat 64-56 on their home turf.
The Wings, under Justin Young and Jaywuan Hill, set up their domination almost from the beginning of the match before the Catfish went on from behind to lead 53-52 in the fourth set.
Coach Mika Turunen asked for a time-out for the hosts at the Ho Xuan Huong Gymnasium. When they got back on court the Wings kept their cool and overturned the situation with nine points in a row to storm to victory.
The Wings will travel to play on Catfish's home turf today, Aug 10.
At the Bach Khoa Gymnasium, the Buffaloes created many surprises for their fans, coming from behind to win against Saigon Heat, a member of the ASEAN Basketball League since 2014.
Saigon Heat will visit Da Nang Dragons today before hosting HCM City Wings three days later at their CIS Arena.
The Buffaloes will welcome Da Nang Dragons on August 14.
The VBA is the first professional league in Viet Nam. In its first season there are five teams who will compete in round robin two leg format, competing from August 6 to November 11.
VNS