Jet-ski safety concerns after fatal Danang accident
Last update: 15:28 | 09/08/2018
The Ministry of Culture, Sports and Tourism have asked Danang authorities to investigate the cause of a jet-ski accident which killed a tourist at a local beach.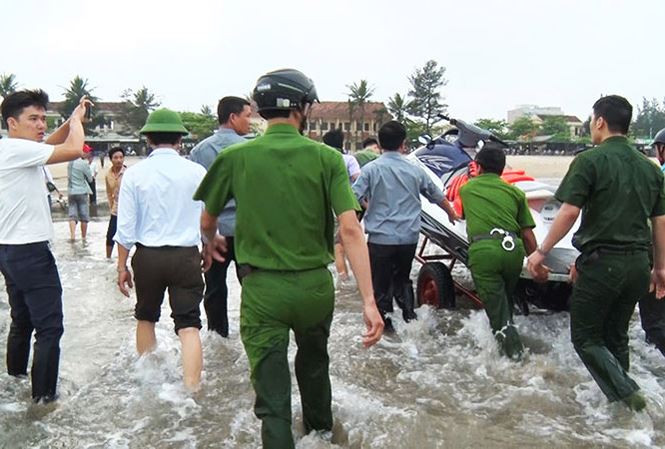 One tourist killed in a jet-ski accident
At 5.25 pm on August 2, a 16-year-old boy from Hanoi drove a jet-ski by My Khe Beach in Danang and collided with another jet-ski driver who was carrying a girl going in the opposite direction. The boy was severely injured and died shortly after.
The girl was also injured and transferred to the local hospital.
The fatal accident has raised concerns over the safety practices for water services across Vietnam.
The spokesperson for the Ministry of Culture, Sports and Tourism Nguyen Thai Binh said jet-ski, surfboard and parachute-pulled canoe are on the list of dangerous tourism services in accordance to the Resolution 168 that specifies some details in the Tourism Law. 
The resolution clearly states safety measures and warnings about weather and other factors that may harm the customers. Service providers must have search and rescue plan and keep constant contact with the customers. After being informed about the accident, the ministry has asked related agencies to review the implementation of the resolution.
Tran Anh Tuan, vice head of Cua Lo Commune Department of Culture and Tourism, said, "Even though it's necessary, this service only meets a very small needs. We have inspected, issued warnings and fines of VND45m (USD2,000) last year, about VND10m (USD430) since early 2018 and seized seven jet-skis for operating in banned areas."
On January 11, Chairman of Cua Lo, Doan Tien Dung, sent an official document to Nghe An People's Committee, stating that some service providers lack required equipment and let customers drive into the swimming areas.
There are two providers in Cua Lo with eight jet-skis. Cua Lo Commune authorities said they once asked Nghe An provincial authorities to not renew the operating license for jet-ski service providers. In 2014, a jet-ski user lost control and injured a local in Muong 1 Village. 
Jet-skiing is a new sport in Vietnam and attracting many users. The Quang Ninh Department of Tourism said the licenses were issued by the Department of Transport who denied this and said they were under the authority of the Department of Culture and Sports.
Meanwhile, the Department of Culture and Sports said it was easy to acquire a licence. The providers only need to submit an application and a summary of their operation. The department staff will carry out a field survey to ensure that all requirements are met.
Dtinews/ Tien Phong