Last update: 08:15 | 10/08/2018
Hanoi advised to replan urban zoning to ease traffic pressure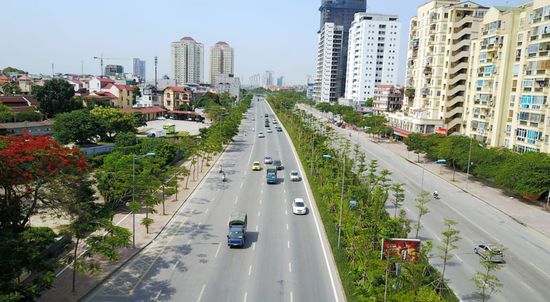 Ring road 2 will reduce traffic load in the center of the capital. 

Traffic congestion is one of the biggest challenges facing Hanoi, especially in the inner city.
Hanoi should focus on strategic planning, including redesigning urban zoning to give more space available for traffic which has become much heavier since the city's administrative boundary expansion ten years ago, experts have said.
Transport expert Nguyen Manh Thang analyzed that when the boundaries were expanded, Hanoi's land fund becomes larger, but the population and means of transport also swell.
Ten years after the expansion of administrative boundaries, Hanoi's area has increased more than three times, its population has exceeded seven million and there are nearly six million means of transport in circulation in the city. Besides, a large number of migrants and vehicles from neighboring provinces add pressure on the city's road network.
 
Land, human resources, economy are the conditions to rearrange the space, urban architecture, traffic development, but the results are still limited. Meanwhile, the impact of population growth and transportation growth has become a headache in Hanoi, said Thang.
Given narrower land fund, Hanoi needs to aim to develop underground space and stretch the traffic density outside the city's center to reduce traffic pressure, Phan Truong Thanh, an expert in urban management, suggested. 
To radically solve the traffic jam problem, Hanoi should combine the two groups of "hard" and "soft" solutions, Thanh said.
"Soft" solution is to use both administrative and economic measures to curb the rise and gradually reduce the use of personal vehicles, while encouraging dwellers to use public transport, Thanh added.
Restriction of personal vehicles not only helps increase the traffic space, but also limits traffic congestion and protects the environment, Thanh emphasized.
In addition, there should be solutions to redesign the overall architecture, expand the traffic space through the reduction of urban density by encouraging people to move to the suburds, Thanh said.
Thanh identified that Hanoi can exploit urban land fund for transport in two directions. Firstly, for the inner areas, the city should focus on exploiting underground space with investment, construction of subway lines, underground parking lots. 
Secondly, Hanoi should quickly complete the relocation of some headquarters of agencies, departments, schools, hospitals out of the city center.
Many experts also noted that the city needs to quickly establish satellite towns with technical and transport infrastructure that is capable of meeting trade, internal and inter-regional connectivity.
These satellite towns play important role in both even distribution of population density and transport load reduction. They also have stimulated synchronism and parallel development between the inner and outskirts of Hanoi, according to experts.
After the ten-year expansion, Hanoi has made strong breakthroughs, reaching the scale of a civilized and modern city. However, to sustainably develop, it is necessary to inevitably solve the issue of traffic jam, expand the traffic space, connect well from inside to outside, contribute to boosting socio-economic efficiency, experts stressed.

US helps Vietnam strengthen readiness to tackle nuclear incidents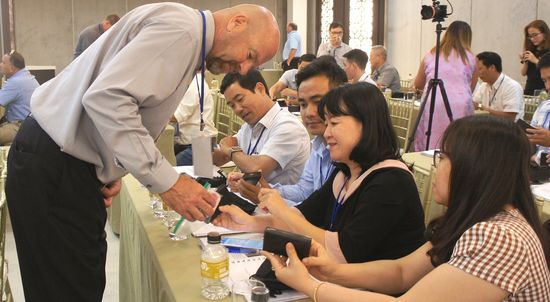 The US experts instruct practitioners to use radioactive detectors.
Guided by US experts, the response forces for nuclear incidents in Vietnam's central provinces have been trained in knowledge and skills to deal with nuclear radiation incidents.
Vietnam's Department of Radiation and Nuclear Safety under the Ministry of Science and Technology, the US's Department of Energy in collaboration with Da Nang city's Department of Science and Technology on August 6 organized a training course to help forces in Da Nang and other central provinces better cop with nuclear incidents. 

The training course on radiation treatment solutions and emergency radiological assessment focused on lost radioactive sources or uncontrolled radioactive sources and materials, according to the government portal.
Uncontrolled nuclear material is a particular concern in causing irradiation to the public or used for bad intentions, criminal actions, even terrorism.
The training course includes lectures, demonstrations, practical training and field work with radioactive detectors and low radioactive sources.
During the training session from August 6 to 10, trainees from the Steering Committee for responding to nuclear radiation nuclear accidents, large-scale radiation facilities in Vietnam's central provinces will be equipped with basic knowledge of radiation, nuclear and radiation security threats, control and direction, personal protective equipment, radioactive contamination detectors and methods of radioactive source recovery.
A team of experts from the US Department of Energy has provided the training course with more than 40 radionuclide detection and response systems, including personal devices, equipment on automobiles, radioisotope identification equipment and health physiological equipment.
Jaipur Foot Artificial Limb Fitment Camp opened in Phu Tho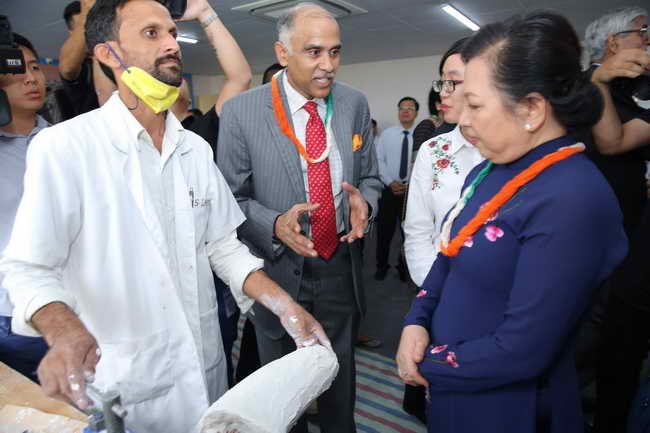 Representatives of the Embassy of India in Vietnam, BMVSS and Phu Tho Province visit the Jaipur Foot Artificial Limb Fitment Camp after the opening ceremony
The Embassy of India in Vietnam and the Jaipur-based non-profit organization Bhagwan Mahaveer Viklang Sahayata Samiti (BMVSS) have launched the second phase of the Jaipur Foot Artificial Limb Fitment Camp in Phu Tho Province.
The opening ceremony was attended by Indian Ambassador to Vietnam Parvathaneni Harish, Vice President of Phu Tho Province People's Council Duong Hoang Huong, and representatives of the provincial departments of Health, Foreign Affairs, and Labor-War Invalids-Social Affairs.
According to Duong Hoang Huong, the project is implemented under the India-Vietnam Joint Statement issued during Vietnamese President Tran Dai Quang's visit to India in March 2018.
He asked the provincial Department of Labors, Invalids and Social Affairs, the Department of Foreign Affairs, Phu Tho Province General Hospital and related departments and units in the province to closely coordinate with the Embassy of India and the sponsors to successfully organize the artificial limb fitment camp.
Speaking at the opening ceremony, Indian Ambassador Parvathaneni Harish said the idea of organizing those fitment camps for the disabled was raised up and supported by Vietnamese first lady Nguyen Thi Hien when she visited the Jaipur Foot Center of the BMVSS and expressed her desire to have the same camp in Vietnam.
Parvathaneni Harish said the Indian Government is very happy when Vietnam becomes the first foreign country to have the Jaipur Foot Artificial Limb Fitment Camp under an agreement signed by the Ministry of Foreign Affairs of India and BMVSS in November 2017.
In the first phase, 267 people with disability had benefited from the project. In this second phase, over 500 people with disability will be provided with artificial limbs, and Phu Tho Province General Hospital has been selected as the field site for the fitment camp.
In addition to providing equipment, technicians, doctors and medical staff during the 20-day camp, the hospital will be responsible for organizing and monitoring periodic health check-ups for the people who get prosthesis in the camp.
Founded in 1975, BMVSS is now the world's largest organization for the handicapped in terms of fitment of artificial limbs and calipers.
BMVSS has rehabilitated more than 1.55 million amputees and polio patients by fitting and providing artificial limbs, calipers, and other appliances, mostly in India and also in 27 countries across the world.
Australia donates water treatment systems to rural areas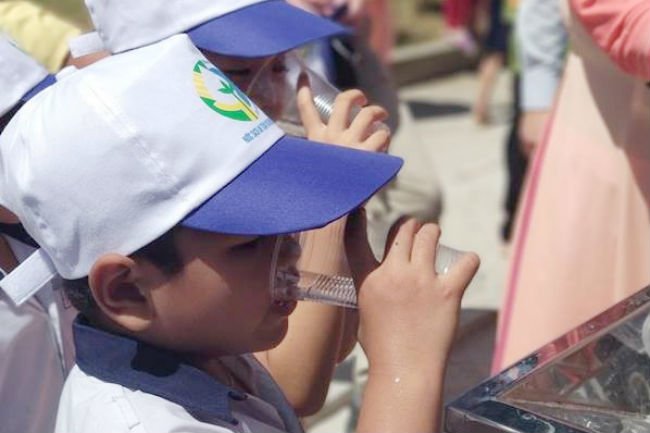 From now on, students at My Hoa 1 Primary School in Dong Thap Province can drink water right from the tap 
The Australian Government has donated water treatment systems to schools in several remote areas in Dong Thap, Khanh Hoa and Son La provinces to provide safe drinking water to rural communities.
The provision of safe water contributes significantly to the realization of the right to education. Children that drink unsafe water are at high risk of getting ill and, therefore, leaving school, according to the Australian Embassy in Vietnam.
Specifically, Australia has supported the installation and handover of a water kiosk that will provide clean tap water to teachers and school children at My Hoa 1 Primary School in Thap Muoi District, Dong Thap Province.
The system features low-cost technology from Australian companies and the private sector's participation to deliver clean water to rural communities. The project was facilitated by the Australian Water Association in partnership with the Dong Thap provincial government.
The launch ceremony on August 2, 2018 also had an Australian-supported water delegation from Cambodia coming to learn about new technologies that can be applied in the neighboring country.
The Australian Government also plays a supporting role in facilitating the exchange of expertise between the Australian, Vietnamese and Cambodian water sectors.
The Australian Water Association, with funding from the Australian Government, had earlier piloted the use of SkyJuice ultrafiltration membrane technology in Chieng Mai Commune, Son La Province.
Water kiosks which can provide up to 10,000 liters per day have been installed at Chieng Mai Primary School and Chieng Mai People's Committee community hall to provide safe drinking water to the Chieng Mai population (around 4,700 people).
Due to the high construction costs involved with piping water long distances to a small number of customers, it is not easy to provide piped water to rural population in the remote mountainous areas.
Rural people usually use non-treated stream water in gravity systems or buy bottled water for drinking. However, water from local streams often doesn't meet the standard of quality for drinking set by the Ministry of Health.
The SkyJuice technology is capable of solving these problems as it is low cost and easy to operate and maintain.
Australian technology has also helped improve the lives of teachers and students at Le Van Tam Primary School in Khanh Vinh District of Khanh Hoa Province, where teachers and students at the school had never had access to safe drinking water directly from their taps. This is now made possible thanks to an Australian produced SkyHydrant unit that can treat ground water using chemical-free filtration.
International conference held to celebrate 25th anniversary of Rencontres du VN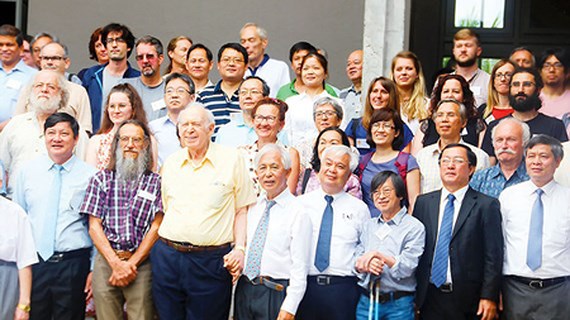 Scientists and young people taking part in an international conference in the ICISE, located in Quy Hoa Valley
The international conference 'Windows on the Universe: 25th Anniversary of the Rencontres du Vietnam' was held yesterday in Quy Nhon City of the central province of Binh Dinh. The conference was organized by the Rencontres du Vietnam in the International Center for Interdisciplinary Science and Education (ICISE), located in Quy Hoa Valley of the city.
On behalf of the Rencontres du Vietnam, Professor Tran Thanh Van reported that in the last 25 years, the organization has held 5 scientific conferences in Hanoi and one in Ho Chi Minh City. Since 2011, it has continuously hosted many more international conferences in Quy Nhon City, welcoming over 4,000 international professors, doctors, and scientists. The main aim of the ICISE is to offer opportunities for scientific exchanges between local scientists and their foreign counterparts.
According to Prof. Jacques Dumarchez, representative of the organization board of Rencontres du Vietnam, thanks to the Rencontres de Moriond, he had a great chance to meet Prof. Tran Thanh Van and his wife. Admiring the devotion of the couple for international science and for Vietnamese one in particular, he agreed to contribute to the building of a similar model in Vietnam.
Prof. Dumarchez also shared that to help the ICISE reach new heights, they will need to organize more scientific conferences and to welcome more international scientists so that the domestic counterparts can keep in touch with latest knowledge and broaden their horizons. Despite expected difficulties, he insisted that he wholeheartedly supported Prof. Van's work since it was such a meaningful project.
As said by Prof. Dam Thanh Son from Chicago University of the USA, representative of scientists in the field of Particle Physics, since 1993, there have been positive changes in the position of Vietnam in the international ranking chart, signaling a great improvement of physics knowledge in Vietnam. Our country now possesses a fast growing economy, providing more chances for physics students to study abroad.
Prof. Son commented that despite the good news, Vietnam still needs more research institutes and universities of international level. The ICISE is an excellent model that offers hopes for a brilliant future for scientific development in Vietnam.
Mr. Pham Cong Tac, Deputy Minister of Science and Technology affirmed that in the last 25 years, the Rencontres du Vietnam has enormously contributed to the scientific development in Vietnam.
10 years ago, the nation created a special fund for this development. Recently, the Prime Minister has also approved many research projects on physics, mathematics, and other basic science subjects like chemistry, earth science, ocean science. This means that the Vietnamese government always pays great attention to scientific research and development.
Taking part in the event were 180 scientists from 30 nations in the world, including Professor Jerome Friendman from the Massachusetts Institute of Technology, Nobel winner of Physics in 1990.
In a related event, the groundbreaking ceremony of the Proscience Hotel was held yesterday in Area 2, located in Ghenh Rang Ward of Quy Nhon City, next to the ICISE.
The hotel, invested by Proscience Ltd. Co. with Tieu Nhu Phuong as its representative, will have a surface area of 1.36ha, with 124 rooms. It is designed and consulted by architect Milou from France. The hotel is supposed to be in use in 2020.
According to Professor Tran Thanh Van, this is a non-profit hotel to support scientific activities in the ICISE.
Binh Dinh Province aims at building scientific –educational urban area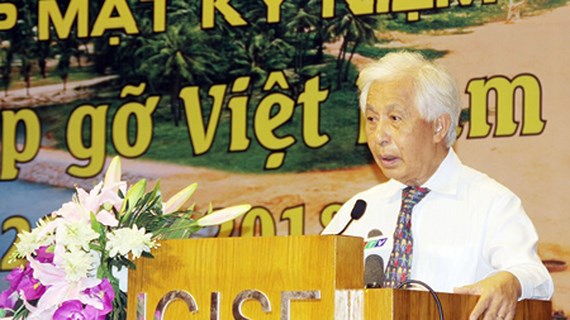 Professor Tran Thanh Van, Chairman of the Rencontres du Vietnam, is delivering his speech at the anniversary
The Rencontres du Vietnam cooperated with the central province of Binh Dinh to organize the 10th anniversary of Rencontres du Vietnam in the province. The event was held on August 5 in the International Center for Interdisciplinary Science and Education (ICISE), located in Quy Hoa Valley of Ghenh Rang Ward in Quy Nhon City of Binh Dinh Province.
All participants, consisting of domestic leaders, professors, and scientists, reviewed past activities of the organization as well as showed appreciation to Professor Tran Thanh Van and his wife, who have ignited the passion of science in the area.
According to Prof. Tran Thanh Van, the ICISE has held 40 supreme international conferences and managed 16 scientific schools. It has welcomed more than 3,500 scientists globally, including 12 Nomel winners, 2 Fields winners, 2 Kavli winners (a high-leveled award in the field of astronomy), 1 Shaw winner, and 1 Kalinga winner.
Besides the series of conferences, thanks to its close collaboration with the International Institute of Science, the ICISE has begun constructing the Institute of Scientific Research and Interdisciplinary Education.
At the moment, the center has two young research teams on astrophysics, theoretical physics, and neutrino physics. In the upcoming time, the center is going to establish more research groups for other fields.
"We have already had stable scientist teams who have strong connections with domestic as well as international networks. It is these people who will feed the fire for a sustainable development of the ICISE", affirmed Prof. Van.
Expressing his special thanks to his spouse, Prof. Le Kim Ngoc, and showing his appreciation to the support from the government and the local authorities in Binh Dinh Province, Prof. Van promised that he and his team will try their best to transform Quy Hoa Valley into one of the most attractive areas for scientific activities in the nation and to make Quy Nhon City the scientific pearl of Vietnam.
Mr. Phan Thanh Binh, Chairman of the Culture, Education, Youth and Children Committee, commented that after 10 years, the ICISE has achieved many positive results. He also announced that there was much to do to turn Quy Nhon City into a scientific center of Vietnam where there would be high-quality researches and high-level scientists. He hoped that the area would become a place to professionally train scientists and create a team that can win a Nobel Prize.
Chairman of the Binh Dinh Province People's Committee Ho Quoc Dung showed his appreciation to what Prof. Tran Thanh Van and his wife have done for Vietnamese scientific development.
In the near future, the province is planning to transform Quy Hoa Valley into the first scientific – educational urban area of Vietnam. In this 242-ha area, besides the current ICISE, there will be TMA Innovation Park, a software park of FPT Software Ltd. Co., a startup village, an innovative area, a scientific complex with a center for the universe miniature, a center for scientific discoveries, a public astronomical observatory, many scientific research institutes, and a school to train high-quality engineers.
Bac Kan province works to digitalise ancient documents of local minority groups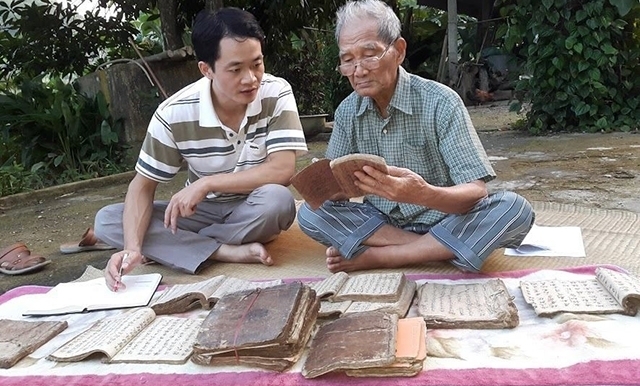 Writer Nong Viet Toai (R) is among few men who can read and thoroughly grasp the contents of ancient documents in Bac Kan province  
The northern mountainous province of Bac Kan is home to seven ethnic groups, most of them being minority tribes, communities of which have preserved cultural heritages for generations, particularly ancient documents, bibliographies, antiques and relics. Over recent years, the local authorities have taken proper measures to collect and digitise the documents for preservation and promotion.
The ancient bibliographies in Bac Kan has been handed down from generations to generations, many of them being hundreds of years old. The documents record the traditional rites of passage, such as the 'cap sac' rite, which is held to declare the coming-of-age of Dao men within the community, ceremonies to pray for peace and bumper crops, and funerals.
Each ethnic group in Bac Kan has their own bibliography, which are kept in different families as one handwritten copy.
The guardians of the ancient documents are elders and patriarchs of the families in the village, who are masters of ancient languages and transcripts and experienced in traditional ceremonies.
A majority of the documents were written in Han (Chinese script) and Nom (Vietnamese ideographic script); however, the number of those who are fluent in the scripts is becoming fewer in the village as many of the guardians have grown old and passed away.
For example, there is now nobody in Vi Huong commune, Bach Thong district who can read and understand the ancient transcript engraved in the local bell.
The family of Be Dinh Giai, an old Tay ethnic man in Bann Nhi hamlet, Bang Lang commune, Cho Don district, now possesses three bibliographies, including a collection of 80 wedding poems, a collection of 100 Then folk songs for ceremonies to dispel bad luck, and Tong Tran – Cuc Hoa and Pham Tai – Ngoc Hoa folk stories, which have been preserved since 1913.
According to Giai, his family consider the books a valuable treasure, which reflect the ritual practices of Tay ethnic people, but only the elders can thoroughly understand the contents.
Many other ancient documents with a high degree of erudition written in Han and Nom scripts are being preserved by families at remote areas.
Trieu Xuan Hoa, a Dao ethnic man in Vi Huong commune, Bach Thong district, is the seventh generation of guardians of 'Cho Shong', a book of the Dao people's ethical lessons.
The book teaches the moral standards and code of conduct that Dao people should be equipped with in life, from simple gestures of walking, speaking, and standing to the acts of supporting elders and children.
However, as the book was written in Nom script, few people can read it, thus youngsters in the community are less in favour of studying the book, which is now kept for display.
Trieu Quang Phuc from Quang Bach commune, Cho Don district worried that most of the men who can read and understand the ancestors' ancient documents are becoming older, thus the collection and preservation of the documents is necessary to help younger generations learn more about the traditional rituals and practices.
Being fully aware of the situation, Bac Kan provincial People's Committee recently invested VND250 million for the provincial library to collect and digitise the ancient documents in the locality.
With sponsorship from the Bill and Melinda Gates Fund, the provincial library has been facilitated with a server, projector, scanners, cameras, 40 computers and peripheral devices to help in taking photos, scanning and digitising the documents.
So far, the library staff members have collected 88 objects, and 64 ancient bibliographies with nearly 3,500 pages. The collected documents are of varied materials of cloth, wood, do (poonah) paper, and metal, and are transcribed in assorted languages, patterns and symbols.
According to Deputy Director of the provincial library, Mai Thi Nga, further research has been carried out on the origins, practice and development of the customs of ethnic groups in Bac Kan as well as their spiritual and cultural life.
The data is formatted and backups are regularly created with digital library software, creating a source of information and communication for future research.
The library leaders have also take measures to translate the collected documents to popularise the content of the documents among the public, helping to raise their awareness of the treasured tangible heritages of the ancestors.
Waste Land documentary to be screened at The Learning Hub
In its fifth Meaningful Movie Night program, The Learning Hub in Hanoi's Hoan Kiem District will present Waste Land documentary on August 13, from 7:30 p.m. to 10 p.m.
Co-directed by Lucy Walker, Karen Harley, the documentary takes viewers to the outskirts of Rio de Janeiro where the biggest landfill site in the world is located.
This really looks like an alien landscape, and certainly not a place where anyone would want to visit in any period of time. However, many people have seen an opportunity in the garbage and make a living by sifting through it and finding things which may be of value.
The 2010 Waste Land film follows a number of women and men who make a living of the landfill to get a picture of their lives and learn who they are. The star and writer of the documentary, Vik Muniz, wanted to highlight the beauty of the human spirit in times of extreme hardship.
Filmed over nearly three years, Waste Land shows how renowned artist Vik Muniz journeys from his home in Brooklyn to his native Brazil and the world's largest garbage dump, Jardim Gramacho, located on the outskirts of Rio de Janeiro.
There he photographs an eclectic band of "catadores" -- self-designated pickers of recyclable materials. Muniz's initial objective was to "paint" the catadores with garbage. However, his collaboration with these inspiring characters as they recreate photographic images of themselves out of garbage reveals both the dignity and despair of the catadores as they begin to re-imagine their lives.
Ticket price for the screening is VND20,000, including some snacks, The Learning Hub announces on its Facebook fan page.
Photo contest on Vietnam – Japan friendship kicks off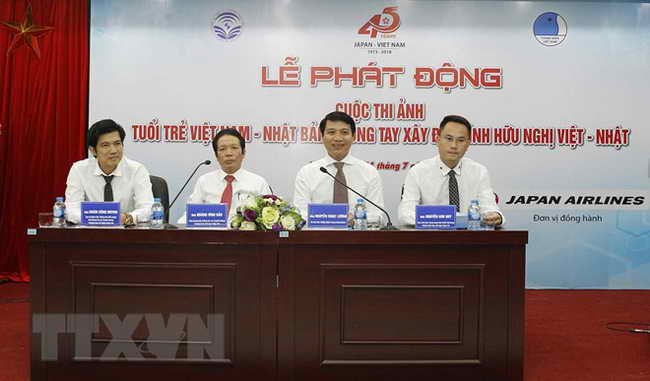 A ceremony is held on July 31 to announce the photo contest
On the occasion of the 45th anniversary of diplomatic ties between Vietnam and Japan, the Ministry of Information and Communications and the Central Committee of Vietnam Communist Youth Federation launched a photo contest themed "Vietnamese and Japanese Youths Join Hands in Fostering Friendship" on July 31, 2018.
The contest is open to all youths, amateur and professional photographers and reporters from Vietnam and Japan, with an aim to promote young people's understanding of the bilateral ties and friendship between the two countries as well as give Japanese people a deeper insight into Vietnam's land and people in the integration process.
The photos should capture the solidarity, friendship and cooperation between Vietnam and Japan, diplomatic activities, cultural exchanges, economic and political events taking place in both countries, beautiful images of the land, peoples, customs, and the special cultural characteristics and socio-economic achievements of the two nations.
Each photo must have a caption written in Vietnamese and Japanese or English to describe the featured event and characters.
Criteria to pick out the best photos include the photo's content which represents the relationship between Vietnam and Japan, originality, humanistic sense, emotional connection and significant impacts on the society.
The contest offers one first, two second, five third and five consolidation prizes with total prize money of VND90 million, according to the Vietnam News Agency.
Photos should be sent to the Central Committee of Vietnam Communist Youth Federation office at 64 Ba Trieu Street, Hoan Kiem District, Hanoi and to cuocthianh45namvietnamnhatban@gmail.com no later than September 30, 2018.
First plogging event takes place in Hanoi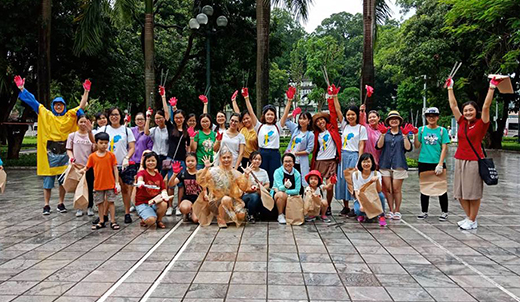 Participants in the first plogging activity in Hanoi. Photo: Swedish Embassy in Hanoi
Plogging (jog and pick litter) - a fresh Scandinavian fitness trend - has made its way to Hanoi for the first time.

The Sweden Alumni Network Vietnam (SANV) on August 5, 2018 proceeded with the first plogging event in Hanoi despite heavy rain, helping raise awareness of locals in environmental protection.

The ploggers passed by a number of streets such as Thanh Nien, Hoang Dieu and Quan Thanh. After that they joined a fika – the Swedish traditional tea-break - at The Bluebird's Nest café in Dang Dung street, which is one of the first plastic straw free coffee shops in Hanoi, to share their first time plogging experience, talk about plastics and hear some tips to live with zero waste as well as figure out the best way for plastics use.

In his message to the participants of the event, Swedish Ambassador Pereric Högberg stressed that it is a brilliant idea to organize the first plogging in Hanoi. "As a committed runner, I have always picked up trash along my running path for about 30 years. What a nice action to keep the sidewalks and public areas clean and tidy for your children, your neighbors or the ones who jog or walk after you and to make Hanoi a better living place for all".
Plogging is a combination of "jogging" and "picking" popularly practiced by Swedish exercisers who feel not right seeing trash on their route but not picking up while jogging. Unlike previous garbage picking events, this "rubbish way to get fit" has spread out to other countries in Europe and making its way to U.S and Thailand thanks to social media.

Besides the encouragement for fitness activities, this event is to raise awareness of citizens about plastics usage.

"We aim to convince people that we must reduce the consumption of plastic bags, single use plastic containers which are excessively disposed into our environment. We can also clean our street, campus by exercising," said Hao Le, a Sweden alumnus.

In April 2018, the first fika discussing organic food was held along with the campaign "7 Day Challenge" launched by the Embassy of Sweden in Hanoi with the United Nations and Live&Learn as partners. SANV wanted to deliver a message to its members to promote organic habit, acknowledge the massiveness of classification around us, in the lake, the river, in the ocean effecting marine life underneath.