1,000 expired coaches burden VNR
Last update: 18:05 | 12/07/2018
VietNamNet Bridge – Việt Nam Railways (VNR) is attempting to replace more than 1,000 train locomotives and coaches, but experts say the money would be better spent elsewhere.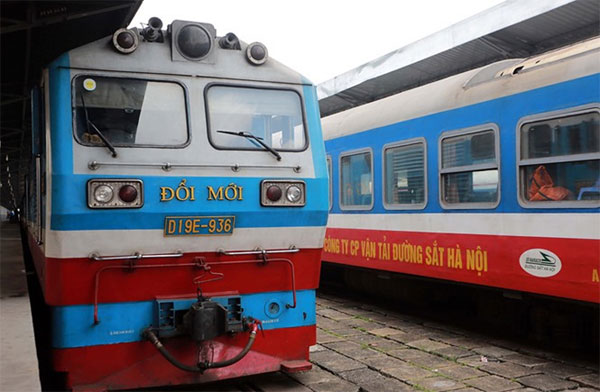 The replacement of 1,000 train coaches will create a huge waste to VNR, experts suggested. — Photo thanhnien.vn
The new Law of Railway regulates the lifespan of a locomotive and a coach is 40 years and for a freight car coach, it is 45 years.
Nguyễn Lê Ninh, a member of the Council of Scientific, Technical and environmental Consultancy under the HCM City Fatherland Front told Thanh niên (Young People) newspaper that a lifespan was not necessary to decide the operational ability of any locomotive, coach or freight car.
Just like cars or other vehicles, locomotives and coaches can still run properly after a regulated expiration date.
Also, not all locomotives and coaches are frequently in use and good maintenance can increase their lifespan.
Among those 1,000 expired locomotives and coaches, some are still usable. The job of VNR, according to Ninh, is to evaluate, choose, dismantle and reassemble good ones for further use.
"To measure the operation time of a coach, operation distance should be used. In theory, VNR is in charge of recording the information. However, due to their neglect, they cannot track how long a coach has been used," he said.
Nguyễn Minh Khuê, former deputy head of Việt Nam Railway Authority, said some coaches left from the French colonial era (pre 1954) which were in good condition could still be used.
Therefore, operation distance instead of lifespan should be the standard to evaluate a coach.
Ninh recommended VNR invest into upgrading the railway track gauge, from 1m to 1.435m for better transportation capacity. Spending money to replace equipment for the old infrastructure is wasteful, he said.
Phạm Văn Hùng from the Institute of Transport Science and Technology said the VNR should calculate the number of locomotives, coaches and freight cars that need replacing.
"It is unreasonable to replace 1,000 locomotives and coaches at a time while the demand is not that high," Hùng said.
"VNR always complains about its financial shortage, but the amount of State budget allocated to this agency is not small. Moreover, the Government has created several favourable conditions to accelerate public-private-partnerships in the sector. Therefore, VNR has to improve infrastructure to satisfy people's demands," he added.
In another development, the Vinh – Sài Gòn signal mordenisation project with the investment of nearly VNĐ2.5 billion (US$110,000) is facing several problems.
According to the Sài Gòn Railway Exploitation Branch, 12 out of 23 stations using the 6502 big station relay interlocking system, also known as 6502 system, set up by China Railway Sixth Group Company, are dealing with issues that cannot be solved by domestic experts.
The 2015 national standards on railway exploitation prohibits stations from receiving two trains at the same time and from receiving and sending off two trains in the same direction at the same time.
The 6502 system, however, allows stations to abolish those prohibitions.
A VNR officer who used to be in charge of railway safety told Tuổi trẻ (Youth) newspaper that to deal with the system's disadvantages, the agency directs its staff to receive trains manually. This method, however, is recommended by the contractor only if the system is damaged.
According to the Sài Gòn Railway Transportation Company, at Sông Lũy Station in Bình Thuận Province, previously, two trains of up to 14 coaches could easily avoid hitting each other. However, since the operation of the 6502 system, only trains of less than 13 coaches can.
Responding to the issues, Hà Trọng Thắng, director of Sài Gòn Railway Exploitation Branch, said that the system was too dependent on human operation.
The Chinese constructor did not transfer the axle counter software which detects the passing of a train between two points on a track, so if VNR wants to improve the system, they will have to hire experts from China.
This will create a financial burden for the agency.
Đặng Sỹ Mạnh, deputy director of VNR, said that it would contact the Chinese partner to move axle counters to ultilise them on the length of receiving tracks at five stations including Hố Nai, Trảng Bom, Cà Ná, Sông Mao and Sông Lồng Sông.
"In the long term, we will work with the Ministry of Transport to allocate capital to improve the signal system," he said.
Source: VNS