Binh Dan Hospital's doctors remove 4-kilo abdominal tumour
Last update: 17:32 | 12/07/2018
VietNamNet Bridge – Doctors at Binh Dan Hospital in HCM City performed surgery to remove a 4-kilo tumour in the abdomen of a 64-year-old woman late last month, the hospital said in a press release on Monday, July 9.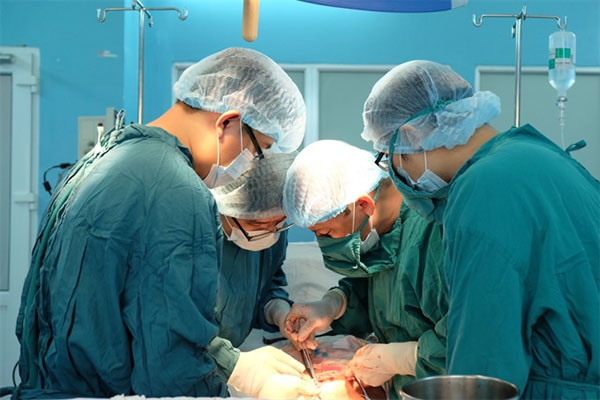 Doctors at HCM City's Binh Dan Hospital recently removed a 4-kilo tumour from the abdomen of a 64-year-old woman. Photo courtesy of the hospital.
The surgery prevented the tumour from growing and blocking other organs, which could lead to bleeding and be life-threatening.
The woman from the city's Cu Chi District had symptoms of fatigue and difficulties in digestion. A CAT scan at her local hospital showed that she had a large tumor 20 centimetres in diameter.
The patient was transferred to Binh Dan Hospital for further examination and treatment late last month.
Doctors said she had a gastrointestinal stromal tumour, which needed immediate surgery. After two hours of surgery, they removed the tumour.
According to Dr Nguyen Phu Huu of the hospital's digestive surgery department, such a tumour is rare, but each year the department performs surgery on 20 patients with similar tumours.
The tumour can start in the stomach, small intestine or anywhere along the gastrointestinal tract, and affect other abdominal organs if left untreated.
Since the risk of the tumour recurring can be up to 50 per cent, doctors also conducted a histopathological diagnosis and treated the patient further.
New therapy for this kind of tumour identifies the mutated gene, which helps doctors make a decision on what kind of medicine to use for treatment.
Source: VNS