Last update: 08:10 | 02/06/2018
Court cancels child abuser's probation verdict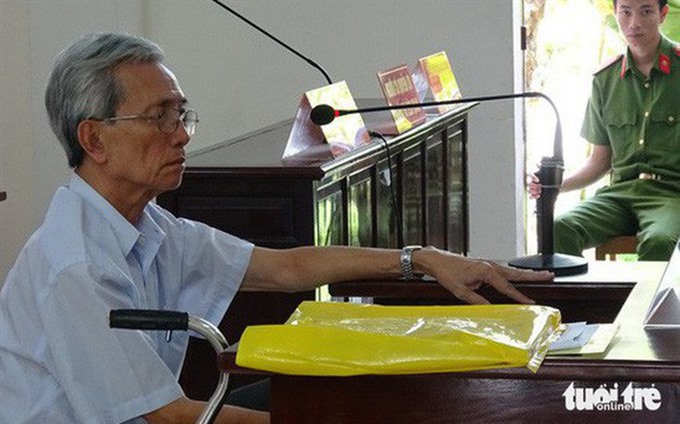 HCM City's Supreme Court yesterday decided to cancel the 18-month probation verdict of the court of appeal of Bà Rịa-Vũng Tàu Province for Nguyễn Khắc Thuỷ on charges of sexually abusing children aged six and 11 on May 11.— Photo tuoitre.vn
HCM City's Supreme Court yesterday decided to cancel the 18-month probation verdict of the court of appeal of Bà Rịa-Vũng Tàu Province for Nguyễn Khắc Thuỷ on charges of sexually abusing children aged six and 11 on May 11.
The court also determined to keep the verdict that the People's Court of Bà Rịa-Vũng Tàu Province gave to 78-year-old Thuỷ at its first trial, sentencing Thuỷ to three years in prison for sexually abusing children in July 2017.
The move came after the probation verdict, issued in an appeal court, sparked anger around the country. Many thought the verdict was not harsh enough for the pain Thuỷ caused the children.
The appeal court was convened after Thuỷ submitted an appeal against the charge.
Books on Vietnam handed over to Netherlands' Leiden University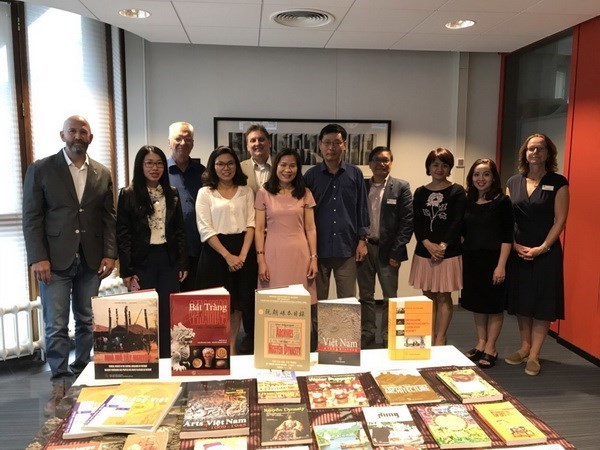 The books of Vietnam presented to Leiden University Library 
The Vietnam Embassy in the Netherlands has presented 41 titles of books and five DVDs on Vietnam to the Leiden University Library.
At a ceremony marking the event, Vietnamese Ambassador to the Netherlands Ngo Thi Hoa said the books in English will diversify the library's documents on Vietnam, helping international students and scholars understand more about the country's culture and people.
She highlighted the handover of the books as a practical activity in celebration of 45 years of diplomatic relations between Vietnam and the Netherlands in 2018.
Marco de Niet, deputy director of the library, said the books came not long after the Asian Library of Leiden University was established, and it needs documents for its Vietnamese space.
He said the library is keeping one of the biggest collections on Southeast Asia in the world, adding that its Vietnamese collection now consists of three million objects.
The new books will be a good source of reference for readers to learn about Vietnam and its relations with the world, he noted.
After the ceremony, a meeting took place between representatives of the university and the embassy and a visiting delegation of the Vietnam Film Institute. Leiden University said it plans to work with the embassy in organising activities of Vietnam Year 2019 at its Leiden Asia Centre next year.
Religions actively participate in environmental protection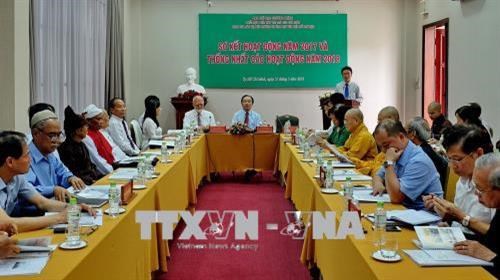 Vice Chairman of the Vietnam Fatherland Front Central Committee Ngo Sach Thuc highlighted the role of religions in protecting the environment and responding to climate change at a conference in Ho Chi Minh City on May 31.
Addressing the conference of the steering board for a coordination programme to promote the role of religions in protecting the environment and responding to climate change, Thuc affirmed the event was a chance to discuss and share effective measures taken by religions.
He stressed the formation of self-governing groups on environment by the Fatherland Fronts in several localities, which, he said, helps encourage the involvement of the entire society in environmental protection and climate change adaptation.
According to him, after the three-year implementation of the coordination programme, 61 out of 63 localities have signed coordination programmes and plans between the fatherland fronts, natural resources and environment sectors and local religious institutions.
To date, 322 models related to the involvement of religions in environmental protection and climate change response have been built.
The Vietnam Buddhist Sangha has put the coordination programme into its annual Buddhist operation programme, while combining the dissemination of the Party's policies and the State's laws on environmental protection and climate change adaptation in Buddhist lectures and extra-curricula programmes in Buddhism-related schools.
The Protestant Church has implemented the coordination programme in each its chapter, and encouraged Protestant followers to actively participate in the programme. Meanwhile, the Church of Jesus Christ of Latter-day Saints Vietnam has carried out several activities, including building rainwater tanks totalling 100,000 USD in Ben Tre, Long An and Vinh Long, and providing a 30,000 USD relief aid for drought in Quang Ngai.
Vietnam recognises 41 religious institutions of 14 religions with over 25 million followers, accounting for 27 percent of the population, over 80,000 dignitaries and nearly 26,000 religious practice facilities.
Religious institutions have contributed importantly to charitable activities and disaster relief, as well as environmental protection and climate change response activities.
According to a survey of 21 out of 41 religious institutions in Vietnam, nearly 80 percent of the respondents said they had participated in protecting the environment and responding to climate change.
Quang Nam hands over flood-proof houses to affected families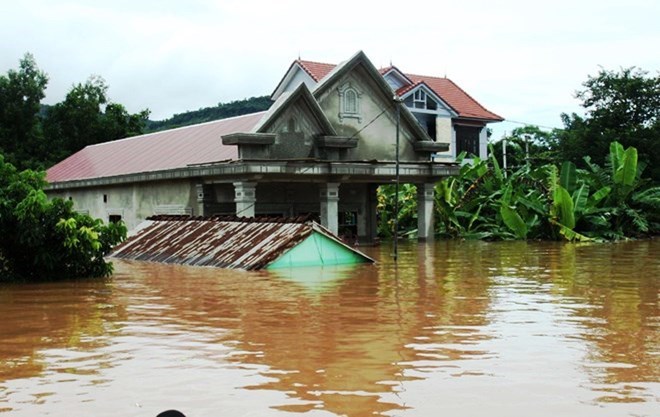 The central coastal province of Quang Nam has handed over five flood-resistant houses to families in Binh Dao commune, Thang Binh district, on May 31, which was seriously affected by typhoon Damrey in November 2017.
The houses are among the 80 ones built from March 16 this year. 
The project is part of an aid package of the Government of the Republic of Korea to assist typhoon-hit poor Vietnamese families' re-building efforts. 
It aims to build 300 houses in the three central provinces of Khanh Hoa, Phu Yen and Quang Nam.
The project is jointly carried out by the UN Development Programme (UNDP), the General Department of Disaster Prevention and Control under the Ministry of Agriculture and Rural Development, the Vietnam Red Cross as well as the Red Cross Societies and Women's Unions in the localities. 
Vo Tan Sanh, Chairman of the Red Cross Society in Binh Dao, said floods usually occur in the commune.
The association has proposed building four flood-proof houses for needy families in the commune with the fund of 200 million VND (8,810 USD).
Nguyen Thi Lan, Chairwoman of the Red Cross Society in Thang Binh, said the RoK-funded project benefits 17 households in her district and helps locals improve their lives.
More flood resistant houses will be built for poor people in the coming time.
Vietnam is one of the five countries hardest hit by natural disasters. Over the past two decades, natural disasters left over 400 people dead and missing each year, caused economic losses of about 1-1.5 percent of GDP, and affected people's living environment and conditions, as well as socio-economic activities and sustainable development of the country. 
In 2017, a record number of 16 typhoons and four low pressures occurred in the East Sea. Natural disasters cost the lives of 386 people in the year, damaged more than 600,000 houses and caused economic losses of about 60 trillion VND (2.64 billion USD), with the worst being typhoons Doksuri and Damrey.
Damrey, the 12th storm developed in the East Sea in 2017, hit Vietnam on November 4, affecting more than 4.3 million people and damaging hundreds of thousands of houses.
Stamps issued to promote anti-smoking efforts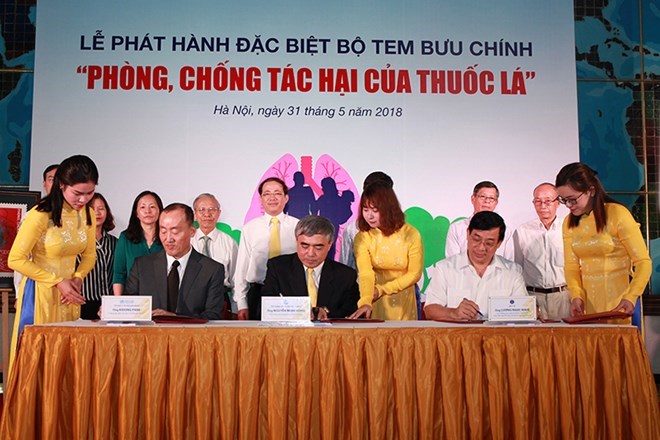 At the launching ceremony 
A set of anti-smoking postal stamps was jointly issued by the Ministry of Information and Communications and the Ministry of Health at a ceremony in Hanoi on May 31. 
The stamps, designed by painter Pham Trung Ha of the Vietnam Post Corporation, feature two contrary images, a healthy lung of a non-smoker and a black lung of smokers and passive smokers. 
The message on the stamps read "Do not smoke for the health of you and your beloved ones."
Addressing the event, Deputy Minister of Information and Communications Nguyen Minh Hong underlined the health effects of cigarettes and smoking, citing data of the World Health Organisation that there are about 7 million deaths from smoking-related diseases, including about 900,000 deaths resulted by passive smoking, in the world each year.
Vietnam is among the 15 countries with the world's highest smoking prevalence among male adults when one in every two male adults is a smoker. 
Around 40,000 people die of smoking-related diseases in the country every year, and many of the diseases like cancers, cardiovascular diseases and chronic obstructive pulmonary disease are leading death causes in Vietnam, he noted.
Hong said the stamps will be a multidimensional message helping with the implementation of the national strategy on anti-tobacco harms until 2020 and the law on prevention and control of tobacco harms. 
Germany helps Tra Vinh build modern cooperative models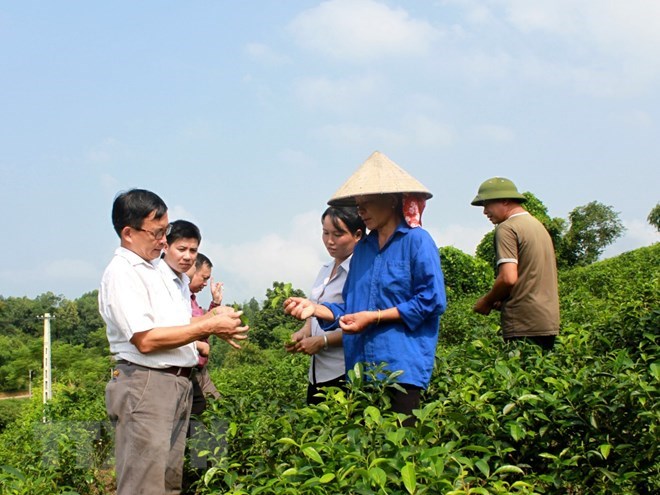 The German Cooperative and Reiffeisen Conferderation (DGRV) will carry our various programmes to help the Cooperative Alliance of Tra Vinh province improve capacity and raise awareness of a modern cooperative model.
To this effect, a memorandum of understanding was inked between the two parties on May 31.
Accordingly, the DGRV will support Tra Vinh Cooperative Alliance in improving its staff's capacity to build business models and policies as well as setting up value chain and financial management methods.
There will be also training courses and seminars on the principles of the cooperative, effective business models, marketing plans and accounting principles.
At the signing ceremony, Helmut Pabst, Director of the DGRV programme in Vietnam, said that with available resources, the DGRV committed to helping local cooperative sector overcome all challenges.
Vice Chairman of the provincial People's Committee Kim Ngoc Thai thanked Helmut Pabst for choosing Tra Vinh to carry out the DGRV programme. 
The province is currently home to 129 cooperatives with more than 25,000 members. Seventy eight cooperatives are operating in the agricultural sector while the remaining focus on non-agricultural fields, he noted.
The management of and consultations for local cooperatives are the main difficulties of the provincial Cooperative Alliance, he said, adding that the DGRV programme is significant to improve the efficiency of the alliance.
Deputy PM stresses public sanitation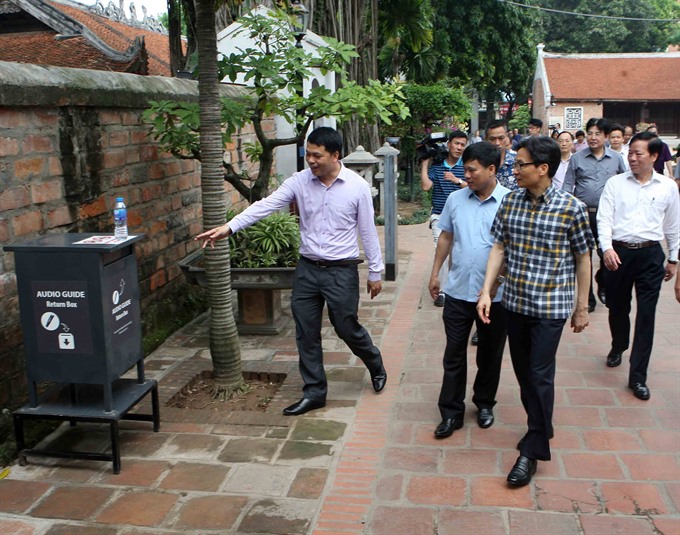 Deputy PM Vũ Đức Đam (far right) during his inspection of the Temple of Literature in Hà Nội. — VGP Photo
Deputy Prime Minister Vũ Đức Đam visited several schools, medical facilities and tourist sites in Hà Nội on May 31 as part of the Government's routine inspection aimed at improving sanitation standards in public places around the city.
The deputy PM visited the Temple of Literature, the Thăng Long Imperial Citadel, Đặng Trần Côn Primary School, Thanh Xuân Bắc Kindergarten School, Thanh Xuân Secondary School and Thanh  Xuân Ward's local clinic.
Đam talked to people working at the sites, saying that sanitation standards play an important role in building a society's image, especially among visitors. Sanitation in public places is, therefore, no small matter, but something that management of such facilities must pay attention to.
"Some places even hire janitors to work around the clock, but it's still not up to standard. It is clear that people's attitude in keeping places clean is the most important factor in play here," Đam said.
He urged Hà Nội, as well as other localities, to make public sanitation a priority, especially in schools, hospitals and tourism sites.
While acknowledging there have been improvements in recent years in public schools' sanitation standards, the deputy PM said in many schools it still remains almost a dreaded topic among students.
He said teachers must set themselves as examples for students to follow and students should participate in keeping their schools clean. It is the only way for them to learn and respect the value of hard work.
"Teachers and parents must work together to cultivate a habit for students to be self-organised and be responsible for their environment," he said.
Đam said building students' character with simple tasks such as these are just as important as gaining technical knowledge.
HCM City needs better HIV/AIDS prevention policies for transgender women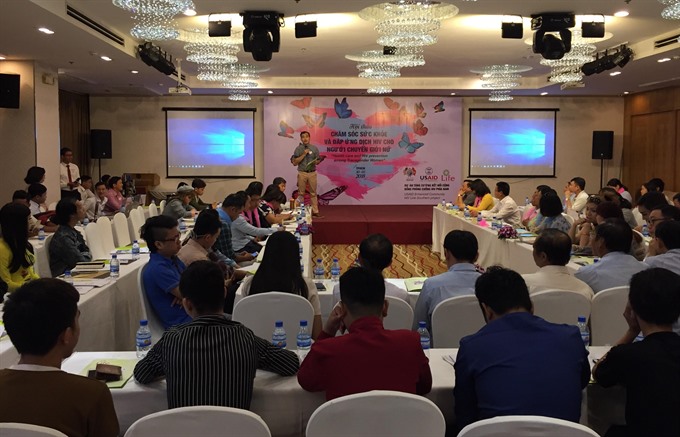 A workshop discusses healthcare and HIV prevention for transgender women in HCM City. 
HCM City needs to develop specific healthcare policies and guidelines for transgender women as HIV prevalence among this group is estimated to be about 19 per cent worldwide, according to Dr Hoàng Đình Cảnh, deputy director of the Việt Nam Authority of HIV/AIDS Control.
The risk of contracting HIV is 49 times higher for transgender women than in the general population, he said.  
Speaking at a workshop on healthcare and HIV prevention for transgender women on May 30 in HCM City, Cảnh said that more research and surveys should be conducted to gather information and evaluate the effectiveness of solutions.
He called on the Government, NGOs, the community and transgender people to help  reduce the rate of HIV prevalence among transgender women, and achieving the UN's 90-90-90 Goals in HIV/AIDS prevention and control by 2020. 
He praised the work of the HCM City University of Medicine and Pharmacy, which produced a research report in collaboration with the Centre for Promotion Quality of Life (LIFE) on risk factors leading to HIV infection among transgender woman in HCM City.
Đỗ Văn Dũng, vice rector of the university and head of the research group, said the cross-sectional study was conducted among 456 transgender women in HCM City from February to May this year.
The study used respondent-driven sampling (RDS) and computer-assisted personal interviews (CAPI).
It found that 77 of 456 transgender women were living with HIV, accounting for 16.5 per cent of the total interviewed.
About 67.3 per cent of the people living with HIV were receiving anti-retroviral (ARV) therapy. However, most transgender women said they had not used pre-exposure prophylaxis (PrEP) drugs.
The survey found that more than 50 per cent of the respondents had previously contracted a sexually transmitted disease (STD).
More than 40 per cent of those surveyed said they have regular sex with male partners, and 55 per cent said they were not regularly using condoms within 30 days prior to the study.
About 25 per cent of people said they received payment for sex with men who were not their regular sex partners, 53 per cent of them not using condoms regularly, the survey found.
Factors that contribute to HIV transmission among transgender women consist of  non-use of condoms; drinking more than four units of alcohol; use of amphetamine-type stimulants (ATS) before sex; and incidents related to gender inequality and social discrimination.
"Severe social stigma and discrimination may create barriers to accessing HIV testing and treatment services," one transgender woman told the researchers.
The study recommended that untreated HIV-infected people should have better access to treatment and healthcare services related to PrEP and STDs.
Developing effective strategies and enhancing interventions are also needed to raise awareness in the transgender community of the proper use of condoms, alcohol, and ATS.
"Programmes on preventing discrimination against transgender women living with HIV should promote gender equality in healthcare services," Dũng said.
The workshop was organised by the LIFE, which is part of a project titled "Strengthening Community Connections for HIV/AIDS Prevention and Control in Southern Provinces" (C-Link) funded by the US Agency of International Development (USAID).  
Activities held to provide better care for children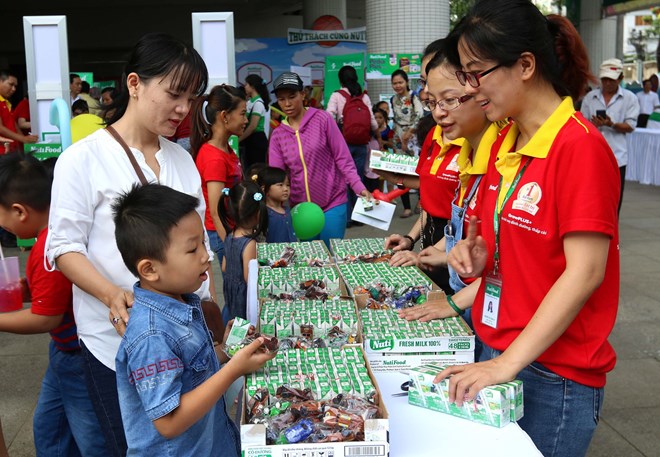 Children and their parents at the event to launch the Action Month for Children in Ho Chi Minh City on June 1 
A string of activities were held across Vietnam on June 1 on the occasion of International Children's Day and the Action Month for Children.
The steering board for public health care and protection target programme of northern Ha Nam province organised numerous delegations to visit and present gifts to local children, and supervise the implementation of Micronutrient Day.
On this occasion, the province offers vitamin A supplements to 52,100 children aged from 6-36 months old.
The provincial Department of Labour, Invalids and Social Welfare launched the Action Plan for Children, with the aim to provide support for poor children and those who are victims of violence and abuse.
The central province of Ninh Thuan also launched the Action Month for Children on the day. During the month, the locality will intensify communications to improve the public's awareness and responsibility of preventing the negative impact of digital technology on the comprehensive development of children as well as violence and abuse against children.
Provincial leaders and representatives of local departments presented over 2,800 gifts to local children living in difficulties.
Celebrating International Children's Day, the Hon Tam Bien Nha Trang Joint Stock Company and Khai Vy Group Joint Stock Company co-organised the sixth festival for children with disabilities. The event in south central province of Khanh Hoa attracted the participation of nearly 600 disabled students and 200 teachers from 40 schools of 24 cities and provinces from Quang Binh to Ca Mau.
Within the framework of the third International Children Festival VTV 2018 held in Nha Trang city, Khanh Hoa province, from May 29 to June 3, 120 children from eight nations are scheduled to participate in activities such as a "Green Earth" art gala, visits to an aquarium, a safari park and a water park and group activities.
The Action Month for Children was also launched in the southern province of Hau Giang on June 1.
Vice Chairman of the provincial People's Committee Dong Van Thanh asked local authorities to step up communications in the community, families and schools on the right of children to participate in children-related issues, on child protection and on impact of violence and abuse behaviours on children.
The province is home to about 2,400 children living in special circumstances and nearly 25,000 poor children.