Key documents disappear from state agency archives
Last update: 13:47 | 07/05/2018
Files on the appointment and promotion of officials have suddenly disappeared from state agencies. The most reported example being the master map planning for a new urban area in HCM City.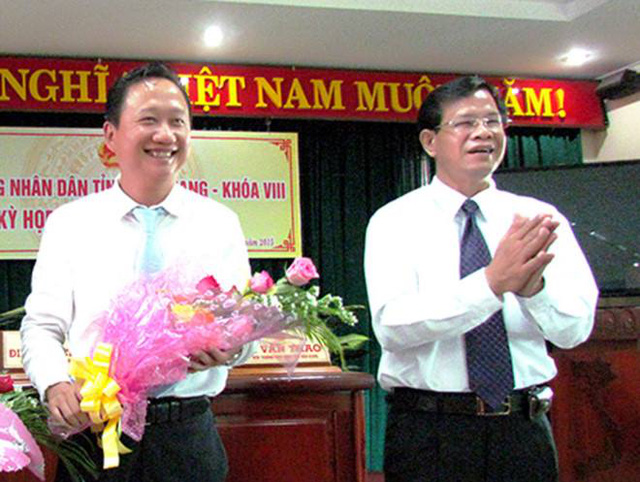 Trinh Xuan Thanh (left) is appointed as vice chairman of the southern province of Hau Giang's People's Committee in May 2015
Deputy Minister of Home Affairs, Nguyen Duy Thang, urged the police to investigate the disappearance of papers related to the promotion of Trinh Xuan Thanh to vice chairman of Hau Giang Provincial People's Committee in late 2017.   
Thanh, former chairman of PetroVietnam Construction JSC has been given life sentence for embezzlement and economic management violations.
The files included a proposal by the Hau Giang Province and replies from relevant agencies.
After that, the appointment files of Tran Vu Quynh Anh, head of the Housing and Real Estate Market Management Division under the Thanh Hoa Province's Construction Department also lost.
The promotion of the 31-year-old female official was said to have taken place "unusually fast". Local media reported about her promotions, adding that she had assets worth tens of billions of Vietnam dong.
Meanwhile, in her profile, she reported a yearly income of just a few million VND (USD2,630).
The same situation was seen at the appointment files of Dang Huu Loc whose is the son of Dang Thanh Liem, acting party secretary and chairman of Tien Giang Province's My Tho City.
Most recently, the map for the planning of HCM City's Thu Thiem new urban area, which has been considered the most important part of the city's modern development, went missing.
Planning to transform it into an urban area, a future financial, commercial and entertainment hub of HCM City began as early as 1996, when the then-sitting prime minister approved the first 1:5,000 master plan of the zone.
This original planning map serves a significant role, as it is the legal basis for the issuance of subsequently detailed plans and for the relocation of tens of thousands of residents in Thu Thiem.
Many of the relocated residents have filed lawsuits against the city's administration for clearing land areas not included in the development plan of Thu Thiem, prompting a search for the original urban design.
Some days ago, the southern city's officials announced that the planning map could not be found in any of the city's archives.
Dtinews