Last update: 13:44 | 07/05/2018
Efforts made to fully tap Dien Bien Phu's tourism potential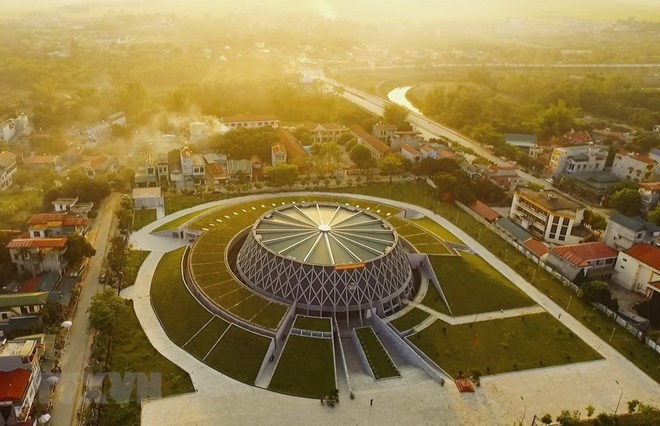 The Museum of Dien Bien Phu Victory is one of the most significant works to mark the 60th anniversary of Dien Bien Phu victory in 2014.  
The northwestern province of Dien Bien, which has been famous for the glorious Dien Bien Phu victory against the French colonists, has worked to conserve the relic complex's historical values to attract more tourists.

The Dien Bien Phu battlefield complex features 45 relic sites, of which eight were put into operation to serve tourists. They include Museum of Dien Bien Phu Victory, victory statue, A1 Hill, Him Lam relic site, command tunnel of French General De Castries, Muong Phang relic site, monument featuring soldiers pulling artillery by hand, and parade field to commemorate the great victory.

The Government, relevant ministries and sectors and local authorities have paid due attention to carrying out various projects to preserve and restore the relic sites. Particularly, the inauguration of the Museum of Dien Bien Phu Victory in 2014 was one of the most significant works to mark the 60th anniversary of Dien Bien Phu victory (May 7).

According to Vu Thi Tuyet Nga, vice director of the museum, more and more tourists have come to the complex of Dien Bien Phu battlefield. 

Last year, the complex welcomed over 380,000 visitors. In the first four months of 2018, it attracted 130,000 people, including nearly 35,000 visitors during the recent public holidays (April 30 and May 1) alone.

Besides the restoration of the relic sites, the locality has attached much importance to the communication and media work to promote tourism. Meanwhile, tour guide has been prioritised as well, Nga noted.

Dien Bien province is planning to develop tourism into a spearhead economic sector, which is expected to create a driving force to boost other industries in the locality. However, the restoration has relied much on the state budget. The province should devise rational mechanisms to attract investment for preservation and upgrading projects with vision until 2030.

The Dien Bien Phu victory played a decisive role in ending Vietnam's resistance war against the French and bringing a new momentum to the country's revolution and the struggle for peace, national independence and socialism.

The battle occurred in Dien Bien between March and May, 1954 under the command of General Vo Nguyen Giap. The victory led to the signing of the 1954 Geneva Accord in which France agreed to withdraw its forces from the colonies in Indochina.
Deputy PM urges high-tech food safety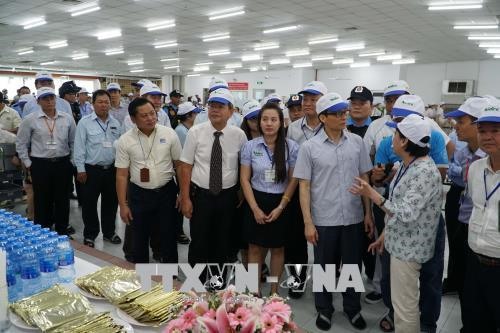 Deputy PM Vũ Đức Đam (second right) is examining food safety at a workers' canteen in the Tân Thuận Processing Zone in HCM City's District 7. 
Deputy Prime Minister Vũ Đức Đam has urged HCM City to boost the application of high technology in tracing the origins of food products as a way to gradually change the habits of production and consumption to improve awareness of food safety.
"In the long term, we need to meet the targets that ensure all people in the country can consume standardised and high quality food products like those that are for export," stressed Deputy PM Đam yesterday.
The Deputy PM made the request on a working tour to some food production and trading enterprises in HCM City where he also learned about their food safety activities.
He also visited cooking areas and canteens for workers at such enterprises to examine the quality of food and hygienic procedures there.
Visiting San Hà Limited Company, one of the enterprises producing and trading fresh and frozen poultry meat in HCM City, the Deputy PM highly praised the company's food service chain, saying it had met food safety inspection guidelines.
The company's food service chain is implemented basing on the principle of taking the food "from the farm straight to the table".
He hoped many other food enterprises in HCM City would follow such form.
"The importance is that enterprises should ensure the connection to small-scale farmers to attract them to participate in the safe food chain," said Đam.
Also yesterday, Deputy PM Đam attended a launching ceremony of the action month for labour safety and hygiene in HCM City.
The event, which aims to focus on measures to prevent and control dangerous and harmful factors at workplaces to mitigate occupational accidents and diseases, has attracted the participation of foreign experts from the International Labour Organisation (ILO), businesses and over 600 workers in HCM City.
Minister of Labour, Invalids and Social Affairs Đào Ngọc Dung asked relevant ministries, departments, localities and enterprises to implement the campaign effectively and take good care of workers for sustainable development of businesses and society.
He suggested increasing communication and training courses on labour safety and hygiene.
The minister warned that in the new period of development, Việt Nam is facing challenges on labour safety and hygiene due to the increasing number of enterprises and workers, new occupations, and harmful factors caused by new technology and chemicals.
Given that, he proposed the State management agencies step up inspections and apply strict punishment for companies violating regulations on labour safety and hygiene, while expanding effective models in sectors, industries and businesses as well as making good use of occupational accident and disease funds.
Chang Hee Lee, Director of the ILO Country Office for Việt Nam, recognised the achievements that the Vietnamese Government had gained in implementing the Law on labour safety and hygiene.
He said businesses played an important role in ensuring safety for the working environment and health of workers.
At the launching ceremony, the Ministry of Labour, Invalids and Social Affairs and the Việt Nam General Confederation of Labour presented certificates of merit to units and individuals in recognition of their active contributions to the field. 
Highway 12B construction delayed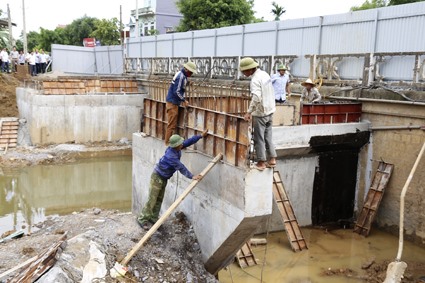 Efforts to restore and upgrade National Highway 12B section in Nho Quan district and Tam Điệp city of Ninh Bình Province will likely not be completed by late June as scheduled due to lack of progress on ground clearance. – Photo baoninhbinh.org.vn
Efforts to restore and upgrade National Highway 12B section in Nho Quan district and Tam Điệp city of Ninh Bình Province will likely not be completed by late June as scheduled due to lack of progress on ground clearance.
Although the authorities of Nho Quan District and Tam Điệp City have carried out several ground clearance measures for the investors to accelerate the project's progress, many spots have not yet been cleared, according to project's representative.
At present, the road section through Tam Điệp City with total length of 4.7km, but 1km still requires clearance. The reason given for the delay was that the local people did not agree with compensation plan.
Meanwhile, the 28.750km-road section in Nho Quan District could not be constructed because of protests by 250 local households who refused the compensation money and allocation plan.
At present, the Ninh Bình People's Committee has asked the provincial Transport Department and Natural Resources and Environment Department to push Nho Quan District authorities to solve the obstacles, the project's representative told the paper.
The stagnancy of ground clearance would cause a slowdown in the project's progress and render the June 30 completion date untenable, he said.
So far, the project has completed 9km of concrete road, 3km of asphalt road, the five bridges of Mí, Láo, Sui, Vĩnh Khương and Điếm Tổng and fixed girders of Rịa and Lập Cập bridges.
The road section of the Nho Quan –Tam Điệp National Highway 12B was designed for car speeds of 60-80km per hour with width of 7m. It is capitalized at VNĐ1.17 trillion (US$51.7 million) from Government bonds.
The section was an important road linking the National Highway 1 to Hồ Chí Minh Expressway, and served for rescuing activities when discharging flood of the Hồng (Red) River and fire in Cúc Phương National Park.
The National Highway 12B would help to develop the local economy and ensure national defence for the country's northwestern region as well as reduce traffic congestion during festive seasons of Ninh Bình Province.
Youngsters will lead Việt Nam to future prosperity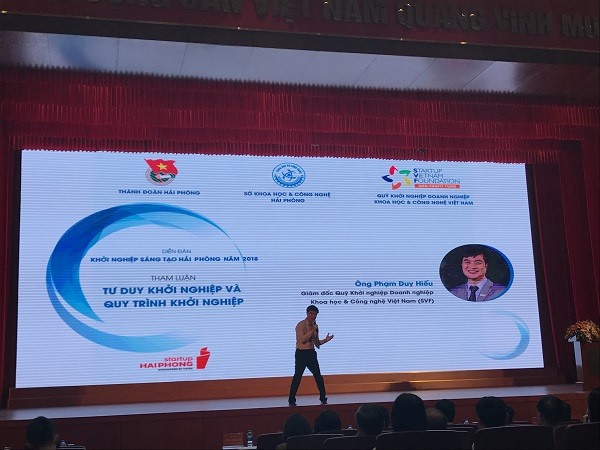 CEO of Startup Việt Nam Foundation (SVF) Phạm Duy Hiếu speaks at a forum held on Friday in Hải Phòng.— Photo cafef.vn
Young Vietnamese entrepreneurs must pay attention to six crucial steps in order to successfully found a startup business, said CEO of Startup Việt Nam Foundation (SVF) Phạm Duy Hiếu at a forum held on Friday in Hải Phòng.
"First, you must find your inspiration. Once this has been found, it is important to learn the necessary basics of how to start a business. Next you should set up a startup group, in order to learn from and support fellow entrepreneurs who could possess invaluable skills to help you along the way. Once you're connected you must learn the essential skills required for creating your own startup. It is important to make sure that you are always growing and learning from your mistakes, and finally, you must believe in yourself to become the champion," he said.
The forum was organised to educate the many young people who have failed to launch a startup because they had no prior experience in running a business.
The forum, co-held by the SVF and the city's Science and Technology Department, also aimed to motivate more young people to have a go at creating a start up business.
According to Hiếu, many people get inspired and take the leap to start their own business, but rather than continue to move forward and adapt, they simply stay where they are and complain.
The second step would provide the most streamlined knowledge, he said, this knowledge was essential for someone starting a business, and would help them avoid hurdles along the way.
The purpose of setting up a startup group was to help the people who want to start a business, by giving them the tools to find the complementary pieces for themselves, he said.
"Each person in the group will have different talents, and some will be essential to support the other," Hiếu said.
Additionally, the launch of a startup requires the participation of mentors and advisors that could become shareholders of the startup. In the early stages, a startup needs to join hands with other forces to grow and develop together, he said.
During the later stages, a startup should follow the rule of multiplication and division. The "multiplication-and-division" rule means that leading businesses should work together with startups, so that the benefits will be multiplied, and the scale and growth potential to each will be amplified accordingly, he said.
However, Hiếu also added that youngsters should not be afraid of failure. If they failed to successfully create a startup then they should try again, because each failure will serve as a lesson to bring them closer to success.
Other speakers at the forum answered questions from young people about mechanisms and policy at both central and local levels to support startups, as well as how non-governmental organisations work to give support for startups. Questions were also raised on how to choose a suitable field for a startup, what the role of the investor encapsulates, and how to gain access to investment funds.
Speaking at the forum, vice chairman of the People's Committee of the city Lê Khắc Nam said that the youngsters would be the generation to shoulder responsibility to make a prosperous Việt Nam in the future.
Therefore, the city would create the most favourable conditions for local young people to create startup companies, he said.
As scheduled, following the forum, a meeting will be held on May 31 by the Diễn đàn doanh nghiệp (Business Forum) newspaper and the Hải Phòng Young Entrepreneurs Association with the aim of allowing young people to network and share experiences related to startups.
Last year, Việt Nam recorded the establishment of 126.859 new businesses, in part due to the Government's strong promotion of startups.
Data from the General Statistics Office shows that the country now has 561.064 businesses.
The country is expected to become a startup nation with one million businesses by 2020.
Italy's Palermo city ready to host Vietnam Day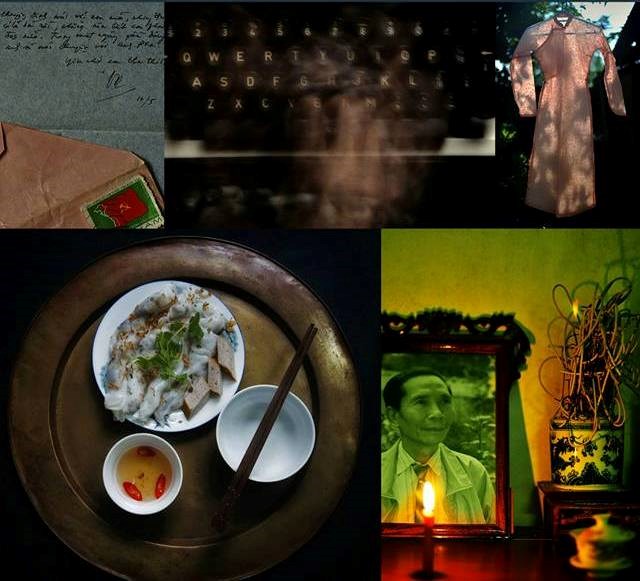 Vietnamese Ambassador to Italy Cao Chinh Thien (R) and Mayor of Palermo Leoluca Orlando
The administration of Palermo city in the autonomous region of Sicily in southern Italy is willing to coordinate with the Vietnamese Embassy in the country to organise a "Vietnam Day" in the locality. 
Vietnamese Ambassador to Italy Cao Chinh Thien and Mayor of Palermo Leoluca Orlando reached consensus on the plan during their meeting on May 5. 
Under the plan, the event will not only feature cultural-art performance and exchange activities, but also see the participation of Vietnamese enterprises and those from Palermo and Sicily in general. 
Orlando said the event would open more opportunities for the two sides to enhance multi-faceted cooperation between Italy and Vietnam.
Thien, for his part, stressed in the context of fruitful cooperation and friendship between the two countries, the promotion of economic, trade and investment cooperation, as well as cultural and educational exchanges will contribute to concretizing their political relations. 
The model of cooperation between Vietnamese and Italian localities has initially achieved good and promising results, he noted.  
Previously, the Vietnamese Ambassador had a meeting with Prof. Fabrizio Micari, Rector of University of Palermo where over 30 Vietnamese students are pursuing their study in different majors. 
The university is a prestigious educational institution in Italy in particular and in the Southern Mediterranean region in general. It has successfully implemented a training cooperation project with Vietnam's Hanoi University over the last decade, benefiting hundreds of Vietnamese students. 
Prof. Micari said the University of Palermo wants to expand training programmes, towards training more Vietnamese students in the coming time. 
Palermo city is the metropolis of the autonomous region of Sicily and Palermo province. The 2,700-year-old city is well known for history, unique culture and architecture. It is named Italian Capital of Culture for 2018.
Phu Quoc hotel keeps illegal construction on opening day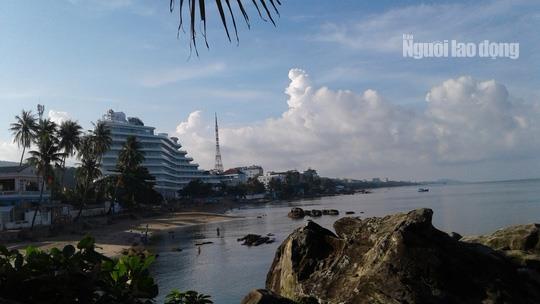 The investor of the five-star SeaShells Hotel on Phu Quoc Island has not yet removed the illegal constructions while still preparing for its opening today. 
Construction of the hotel which lies on Vo Thi Sau Street, one of the best locations in Phu Quoc Island began in late 2015 by Phu Quoc Tourism JSC.
The hotel has a design of a multi-floor ship with 250 rooms with investment of about VND300 billion (USD13.22 million). 
The construction permit stated that the hotel had seven floors but it was built with nine floors. 
In November 2017, the investor was asked to remove the two top floors for exceeding the official planning regulation height of the area.
However, by May 5, only a small section of the two top floors had been removed while the grand opening ceremony of the luxury hotel will be held in the afternoon.
Staff of the hotel said that they started receiving guests a day ago with room fee of between VND1-5 million (USD44-221) a night.
Vietnamese student football tournament opens in Hungary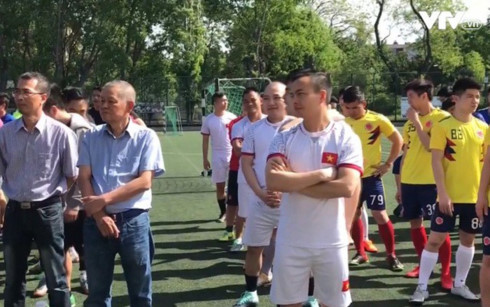 The Association of Vietnamese students in Hungary has opened a football tournament involving 9 Vietnamese and 1 Hungarian teams from different cities across the country. 
Accordingly, 10 teams were divided into 2 groups and competed in a round robin format to choose 4 winners for the semi-final and final rounds.
The winner of the tournament was team 84Vietnam. The second place went to the Hungarian team while Budapest FC team won the third place.
The annual sporting event aims to promote healthy exercise and strengthen exchanges and solidarity among the overseas Vietnamese community in Hungary.
Deputy PM meets voters in Long An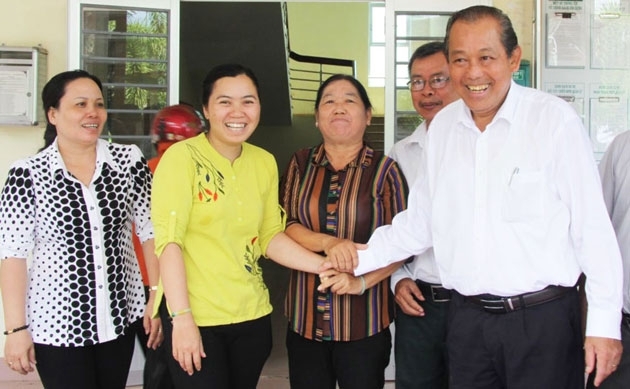 Deputy Prime Minister Truong Hoa Binh and other National Assembly (NA) deputies in the Mekong Delta province of Long An met with local voters in Tan Thanh commune, Thu Thua district on May 6.
At the meeting, many voters commented that the price of sugarcane in 2018 was too low, leading to farmers losing their capital. In the context that sugarcane is no longer of economic value, many voters suggested that the state should develop a suitable crop conversion direction to help farmers develop their farm economy.
Meanwhile, some voters recommend that Long An province invests in rebuilding rural bridges to meet the demands of travelling and exchanging agricultural products. Other issues, such as clean water, the environment, anti-corruption and other pressing were also of interest to voters.
At the meeting, Deputy PM Truong Hoa Binh noted and appreciated the practical opinions and recommendations of the voters.
He also asked the Long An provincial People's Committee to review, examine, consider and resolve the recommendations of voters under provincial authority, departments and localities, and notify voters.