Few poor people take up work abroad
Last update: 10:54 | 15/04/2018
The number of people living in poor districts who have taken up offers to work abroad remains very low.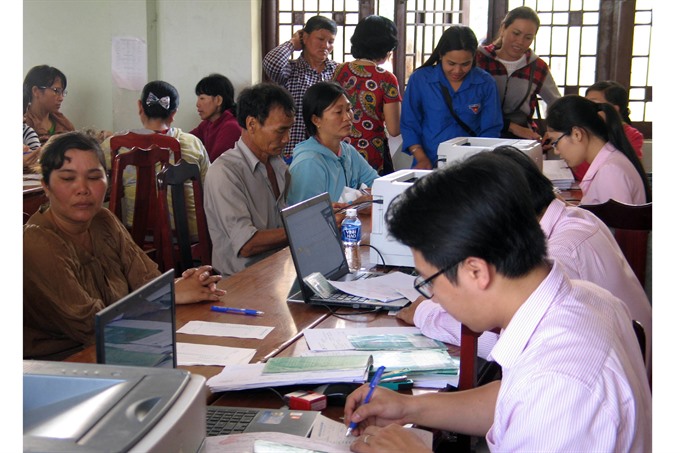 Officials in the central province of Ninh Thuận disburse loans for local residents who decide to work abroad.
Local authorities, enterprises and labour export co-operation programmes have in recent years offered assistance to help people find jobs in other countries.
Recently the Ministry of Labour, Invalids and Social Affairs offered 100per cent loans to help people pay for travel and accommodation while abroad.
In 2017, there were 134,751 labourers working overseas, an increase of 28.3 per cent against the year's target. Women made up nearly 40 per cent of all Vietnamese people working in other countries.
Although the labour export activities in 2017 increased against 2016, labour export only developed in the low lying and urban areas, according to the ministry.
In Hòa Bình northern province although the Government had solutions to promote and prioritise the implementation of projects to send people in poor areas to work abroad, few people took up the offer.
Nguyễn Thanh Thủy, deputy director of Hòa Bình Province's Department of Labour, Invalids and Social Affairs told Nông thôn ngày nay ( Today Countryside) newspaper, said each year, the province spent VNĐ500 million supporting labour-export enterprises but the result was still low.
As well as cultural issues, Vietnamese workers also had problems due to their limited social awareness and education.
Hòa Bình Province has coordinated with the Korean language training centre to organise a course for 100 local people, but, according to Thủy , only five passed.
Huỷnh Hồ Đại Nghĩa, from HCM City's TEXGAMEX Labour Export Centre, said solutions to support poor labourers going abroad haven't really been effective.
Many poor people who wanted to work abroad still couldn't access loan sources, Nghĩa said.
He also said support for the poor, underprivileged and people who had sold land for road or tourism projects, ethnic minorities, was different in each locality.
He used an example of a Chăm ethnic minority man living in Củ Chi District, HCM City.
Củ Chi District's Policy Bank would give loans to poor, ethnic minority people, but because this man's family had some money, they refused his loan.
Instead he had to borrow from friends to pay for his trip.
For many companies, it was difficult to find labourers in poor and difficult areas to go abroad. Lê Nhật Tân, deputy director of LOD Corporation, said.
What's the solution?   
By the end of 2017, Thừa Thiên-Huế Province People's Committee issued a number of policies to support local workers going abroad in 2017-18, aiming for 2,600 labourers, including at least 300 people from ethnic minorities or with little wealth.
Hà Văn Tuấn, director of Labour, War Invalids and Social Affairs Department of Thừa Thiên-Huế Province, said there had been a number of labour consultant bureaux and recruitment drives in the first two month this year in the province. The department co-operated with the local government to organise four job fairs and labour export recruitment drives.
More job fairs are planned in poorer areas.
According to initial statistics, this year there has been 99 cases of people going to work abroad under guest worker contracts.
The province set a year plan of sending 1,000 workers overseas.
"Along with the Government's financial assistance to workers, the province also gives loans of VNĐ50,000 million (US$2,200) to poor households," Tuấn told the paper.   
To push the activity, officials need to set plans to help the poor find work overseas which should be addressed in key communes. - VNS