115 emergency aid centre faces personnel, ambulance shortage
Last update: 10:52 | 14/04/2018
HCM City has a 115 emergency aid centre and 24 satellite stations throughout the city, but a shortage of personnel and ambulances has seriously affected the quality of service.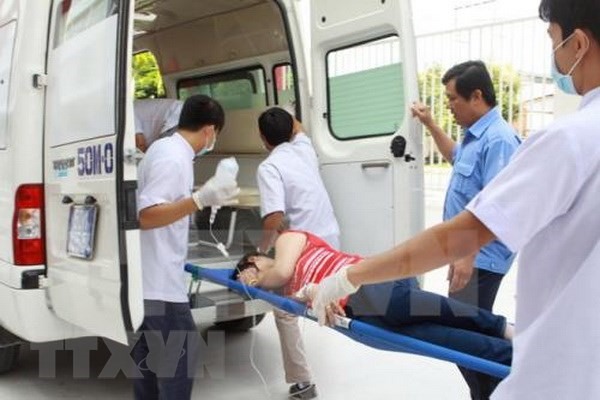 New policies are needed to improve emergency aid services outside hospitals in HCM City. 
Speaking at a meeting between the Cultural and Social Affairs Board of the People's Council and the 115 emergency aid centre held on Tuesday (April 10), Dr Lê Trường Giang, chairman of the city's Public Health Association, said that only 1 per cent of patients were transported by ambulance to hospitals.
The rest are transported by taxi or brought to hospitals by their relatives, according to Giang.
Dr Nguyễn Duy Long, head of the 115 emergency aid centre, said the centre saw an increase in calls in the last three years, from 8,787 in 2015 to 20,827 in 2017.
The number of patients receiving emergency aid from the centre rose from 5,172 in 2015 to 12,176 in 2017.
However, Long said the centre and its stations lacked a sufficient number of personnel and ambulances. The centre has 11 ambulances, including six old vehicles. It has 110 staff, including 16 doctors, 60 nurses and 22 drivers.
Last year, 23 staff quit their jobs, including six doctors, mostly because of low salaries, high pressure, and risks in working.
The lowest salary is around VNĐ1.6 million (US$70) per month and the highest is VNĐ4 million to VNĐ6 million ($175.4- 263) per month.
Most cases that need emergency aid from the centre are victims of traffic accidents involving drunk driving, Long said, adding that centre staff have to work with police to ensure safety for its workers in these cases.
In addition, the centre has faced problems attracting new doctors and nurses, as most doctors would prefer working at hospitals, Long said.
Even so, the centre has not contacted medical universities to help with recruitment of doctors and nurses, he added.
Long suggested that the city People's Council and Department of Health issue better policies such as higher salaries to attract personnel.
The centre also needs to receive more funds so that it can upgrade facilities and vehicles, and improve emergency aid services in ambulances and outside hospitals, as other countries do, according to Long.
Nguyễn Hồng Hà, deputy head of the Cultural and Social Affairs Board, said that salaries should be raised for the centre's staff.
The departments of Health and of Finance are working together on a proposal to raise the salary to the same level as staff at hospitals. Hà said that a more appropriate recruitment plan should also be used.
Giang of the city's  Public Health Association said that higher salaries would not necessarily attract more doctors because hospital doctors can open private clinics in evening hours to earn extra income.
He said that more paramedics should be trained to work in the pre-hospital and out-of-hospital environment, and as part of emergency medical services, as is done in Australia and other countries.
The city should have legal policy to allow paramedics to work, he said, adding that more ambulances with modern equipment should be provided to the centre and its stations.
Prof Dr Tăng Chí Thượng, deputy head of the city Department of Health, said the city's Department of Finance did not agree to the his proposal to buy one more ambulance for each station. —VNS