Transport Ministry plans to boost inland waterborne transport
Last update: 08:05 | 12/04/2018
The Ministry of Transport is working on a plan to prop up inland waterborne transport to ease the pressure on road transport and promote logistics services.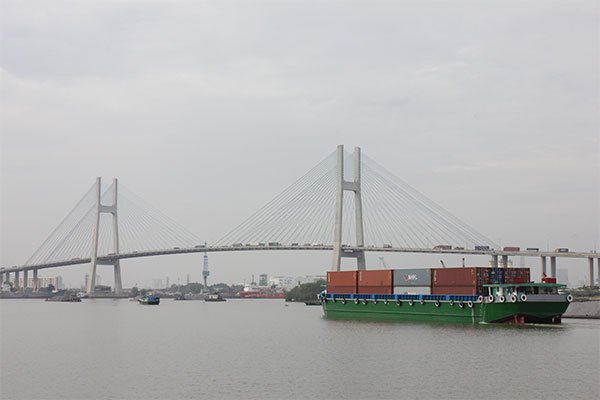 The market share of waterborne transport remains small 
According to the Vietnam Inland Waterway Administration, inland waterborne transport holds high growth potential in the country but the market share of the sector remains small. Hoang Hong Giang, head of the administration, said many bridges with low vertical clearance are obstructing inland waterborne transport.
Container ships find it hard to travel beneath Duong Bridge, an important transport link between Viet Tri City of Phu Tho Province, Haiphong City and Quang Ninh Province in northern Vietnam. Similarly, down in the south, cargo cannot be transported between HCMC industrial parks and Cai Mep-Thi Vai Port in neighboring Ba Ria-Vung Tau Province on the Dong Nai River due to the low vertical clearance of the Dong Nai Bridge.
Nguyen Xuan Sang, director of the Vietnam Maritime Administration, said if Dong Nai Bridge is upgraded, it would save time and money to transport cargo from HCMC to Vung Tau City in Ba Ria-Vung Tau compared to road transport.
Both the Vietnam Inland Waterway Administration and the Vietnam Maritime Administration agreed to ask the Ministry of Transport to develop the multi-modal transport system to connect to a railway linking Yen Vien in Hanoi City and Pha Lai in Quang Ninh Province. The ministry should also upgrade Dong Nai and Duong bridges to make it easy for ships to pass, and issue preferential policies for transport enterprises.
At a recent meeting on waterway transport improvement, Minister of Transport Nguyen Van The pointed out a slew of shortcomings and obstacles faced by the sector.
The asked relevant agencies to suggest incentives for waterway transport firms including policies to encourage the establishment of large-scale waterborne transport firms. The Directorate for Roads of Vietnam should improve control on road transport to ensure fairness among different modes of transport.
According to the Ministry of Transport's plan to restructure the transport sector in the 2016-2020 period, the market share of road transport would be reduced while railway, seaway, inland waterway and air transport would hold bigger market shares.
In specifics, the market share of road transport will be 54.4% by 2020, railway 4.3%, inland waterway 32.4%, seaway 8.85% and airway 0.04%.
According to the Directorate for Roads of Vietnam, road transport dominated more than 77% of the transport market.
SGT