Experts concerned over sea dyke project
Last update: 17:01 | 11/04/2018
Experts have voiced concerns over a major sea dyke project connecting Vung Tau City and Tien Giang Province's Go Cong off the coast of HCMC.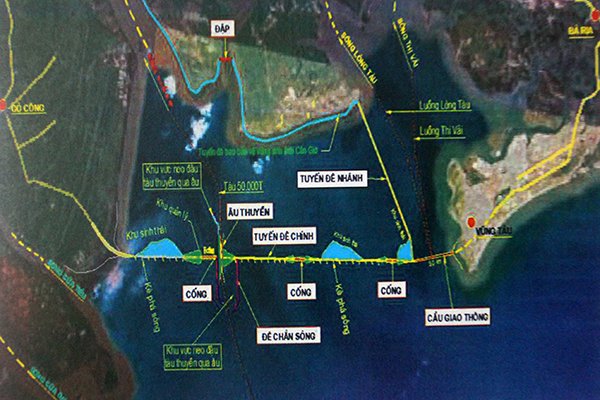 A plan for building a major sea dyke project connecting Vung Tau City and Tien Giang Province's Go Cong off the coast of HCMC

At a seminar in HCMC last Friday on possible impacts of the dyke, experts said the project may leave great impact on water flow, water transport and Can Gio mangrove forest which is seen as the green lung of HCMC.

Tran Huu Dung from the Vietnam Association of Ports-Waterways-Offshore Engineering said that water levels would fall after the sea dyke is built, making it difficult for big vessels to enter ports in HCMC. Another possible consequence is sediments would build up fast, sending the cost of waterway maintenance rising.

According to Dung, if water levels recede by 0.5 meter a year, annual losses for the waterway transport sector would amount to VND1.9 trillion. Besides, costs of dredging waterways and constructing facilities like locks and bridges would be some VND65.5 trillion.

The Vung Tau-Go Cong sea dyke would make ports in HCMC less attractive to shipping lines due to higher transport costs.

From the environmental perspective, Le Xuan Tuan Truong at Hanoi University of Natural Resources and Environment said the habitat, water environment, hydrological regime, water currents and tides would be altered as well. 

Construction of a dyke from Vung Tau to Go Cong would also lead large areas of the Can Gio mangrove forest, even the core of the Can Gio biosphere reserve, to disappear.

The HCMC government in 2012 objected to the dyke project.

Compared to the study eight years ago, scientists at the Vietnam Union of Science and Technology Associations have adjusted the design and investment cost of the project this time.

In particular, the main dyke is designed to be 28 kilometers long, 30 meters wide and 5.5 meters deep on average. A flood drainage system which is 2,000 meters wide, locks for ships of 30,000 DWT to enter ports and a sub-dyke of 13 kilometers will be constructed.

The project aims to prevent floods and saltwater intrusion for the entire HCMC area. Travels between the Mekong Delta and Vung Tau City would also be facilitated.

The total cost of the three phases of the project is estimated at around VND74 trillion, with 15% coming from the State budget and the remainder from enterprises which use natural and reclaimed land.
SGT