Last update: 16:47 | 03/01/2018
Bình Thuan opens administrative centre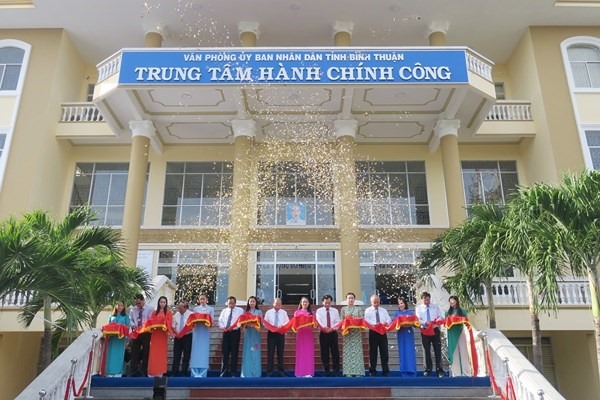 Representatives cut ribbons to open the Bình Thuận Public Administration Centre for public use. — Photo vov.vn
Bình Thuận Province People's Committee on Tuesday opened the provincial Public Administration Centre for public use.
The centre is located on No 24 Nguyễn Tất Thành Road in Phan Thiết City.
The centre has two main functions -- receiving queries and giving back results related to administrative procedures and providing guidance to organisations and individuals on investment and procedures to set up investment projects using the State and provincial budgets.
Nguyễn Ngọc Hai, chairman of the provincial People's Committee, said the centre would enhance the efficiency in resolving administrative procedures, support investment procedures, reduce time spent working on documents and save residents' time and efforts.
Võ Thành Huy, director of the centre, said the procedures would be completed quickly and based on regulations.
The results would be given back in time or earlier than the regulated time, Huy added.
HCM City to build overpass for Gia Định Park
The HCM City Department of Transport has begun construction of a pedestrian overpass in Phú Nhuận District's Gia Định Park.
The overpass will pass over Hoàng Minh Giám Street, connecting the two sides of Gia Định Park.
The VNĐ11.6 billion (US$510,400) overpass, which will be 37.1 metres long and 4.4 metres wide, will be completed within 2018.
The overpass is a part of the city's plan to build six additional pedestrian overpasses around HCM City to allow for safe road crossings.
Thua Thien-Hue should tap cultural heritage for growth: PM
Prime Minister Nguyen Xuan Phuc has advised the central province of Thua Thien-Hue to turn tourism into a spearhead sector to spur its economic development by tapping historical and cultural heritage of its former imperial Hue city.
The leader had a working session with the provincial authorities on January 2 during his working visit to the locality.
Hue itself should focus on tourism, services and economic linkages as its breakthrough fields, he said, asking it to use information technology intensively in managing heritage and developing tourism.
The city needs to develop a professional tourism ecosystem that can work to entice visitors to stay in the city longer as their longer stay generates more incomes, he reasoned.
It should speed up the mobilization of all resources, especially from the private sector to invest in transport, tourism, healthcare, industry, and others while paying greater attention to protecting the ecology, culture and security to deserve its status as the festival city, he noted.
The PM asked the province to devise a concrete action plan to implement resolutions of the Party Central Committee, especially the Government's Resolution No.01 under the motto "discipline, uprightness, action, creativity, and efficiency". 
Hue, which was the imperial capital of Vietnam for hundreds of years, is home to five heritages recognised by UNESCO, namely the Hue ancient citadel relic complex – a World Cultural Heritage site; Nha Nhac (Hue royal court music)- an intangible cultural heritage item; Nguyen Dynasty's wood blocks – a documentary heritage item; Nguyen Dynasty's Chau ban (royal administrative documents) – part of the Asia-Pacific Register of UNESCO's Memory of the World Programme; and literature on Hue royal architecture - a documentary heritage.
In 2017, the total budget collection in Hue reached 6.772 trillion VND (297.96 million USD). The total number of tourist arrivals to the ancient imperial city rose 16 percent to 3.8 million. However, the growth has yet to match its potential.
Participants pointed out the city's limitations such as low competitive tourism products, small travel agencies, low capacity of Phu Bai airport, and unattractive, small and short-day tourism events.
Minister of Culture, Sports and Tourism Nguyen Ngoc Thien suggested building modern art performance centres and malls that keep visitors to stay longer and spend more in the city.
Meanwhile, Minister-Chairman of the Government Office Mai Tien Dung said Thua Thien- Hue needs to hire foreign consultants to devise a local tourism master plan and add more new tourism products.
On the occasion, he made a fact-finding tour to the province's public administrative centre and visited and presented gifts to Heroic Mothers Nguyen Thi Huong and Nguyen Thi Hiep.
Journalists honoured for anti-corruption efforts
A group of reporters from the Nhan Dan (People) newspaper and one from the Nguoi lam bao (The Journalists) magazine have won the top prizes at a national press contest promoting the fight against corruption and wastefulness in the country.
The awards ceremony in Hanoi on January 2 saw the presence of President Tran Dai Quang, who stressed the important role of press agencies and journalists in fighting corruption and wastefulness.
The two prize-winning reports were selected from more than 1,120 entries of different types of media, including print, online, radio and television from various news and media outlets nationwide.
The awards also included seven second-place winners and 10 third-place.
It was the first time the Vietnam Journalists' Association cooperated with the Central Committee of the Vietnam Fatherland Front to organise such a contest on a national scale.
The contest aims to emphasise the role of the press in the anti-corruption movement.
It was open to both professional and amateur Vietnamese journalists in Vietnam and abroad. Each author or group of authors could submit a maximum of five works. The works had to be published in Vietnamese media between January 1 and November 30, 2017. 
The contest was held under the authorisation of General Secretary of the Communist Party of Vietnam Central Committee Nguyen Phu Trong at a conference of the Vietnam Fatherland Front Central Committee held in the southern city of Can Tho to
make plans to implement a Resolution reached at the fourth plenum of the Party Central Committee.
The resolution was aimed at building and reorganising the Party, thereby promoting the participation of the people and the whole society, including the pioneering role of press in the fight against corruption and wastefulness.
At the awards ceremony, the Vietnam Fatherland Front Central Committee and the Vietnam Journalists Association formally launched the 2018-19 round of the "Press Prize for the fight against corruption and wastefulness".
Ninh Thuan works to improve ethnic people's lives
The south central coastal province of Ninh Thuan has implemented measures to improve living standards of ethnic minority citizens.
Ninh Thuan is home to more than 161,000 ethnic minority people, or 23.3 percent of the province's total population, mainly of the Cham and Raglai ethnic groups. The poverty rate among the province's ethnic minority group is still high with about 11,140 poor and 5,300 near poor households, or 32.17 percent and 15.51 percent, respectively.
Local authorities have launched various production models to grow sugarcane, corn and grapefruit, and raise cattle. The province has also planted industrial plants and fruit trees in mountainous localities of Bac Ai and Thuan Bac districts and develop large-scale fields for Cham people in Ninh Phuoc district.
In 2017, Ninh Thuan focused on infrastructure development in specially disadvantaged and ethnic minority localities. As many as 32 constructions were built at a cost of 18.4 billion VND (810,233 USD) while extremely poor communes received aid of nearly seven billion VND (308,236 USD) for animal husbandry.
The province also provided vocational training on farming techniques for ethnic minorities, helping them improve income from agricultural activities.
To date, all ethnic minority households in Ninh Thuan have access to electricity and more than 80 percent of the households are able to use clean water. Notably, all households in remote and disadvantaged areas have joined the health insurance scheme. The poverty rate in ethnic minority groups has fallen two percent per year while nine ethnic minority communes have been recognised as new-style rural areas.
Vice Chairman of the provincial People's Committee Le Van Binh said that Ninh Thuan will promote economic structure shifting and select suitable plants and cattle for mountainous and ethnic minority areas.
This year, the province will continue to mobilise resources to develop infrastructure in mountainous and ethnic minority areas, as well as build irrigation canals, water supply stations and roads. It also hopes to attract more investors and create links between businesses and local people.
Vietnam active in Zero Hunger Action Programme
Deputy Prime Minister Trinh Dinh Dung has asked for strict implementation of the Zero Hunger Action Programme of Vietnam by 2025 after it is approved by Prime Minister Nguyen Xuan Phuc. 
The Deputy PM, also Head of the National Steering Committee for the programme, asked ministries and sectors to organise the implementation of the programme. 
The Ministry of Agriculture and Rural Development (MARD) will be responsible for building a working plan for the Committee in 2018. 
It will also coordinate with the Ministries of Finance and Planning and Investment to map out a financial plan for the programme and submit to the PM for approval in the first quarter of 2018. 
The programme was established by then Prime Minister Nguyen Tan Dung in 2014 in response to the "Zero Hunger Challenge" of the United Nations, an initiative to eradicate hunger worldwide. 
It targets ensuring enough food and nutrition for all citizens towards improved physical and intellectual health and towards fulfilling sustainable development goals in food security and sustainable agricultural development.
Its specific targets are ensuring food and nutrition for people all year around, no malnutrition among children under two, developing a sustainable food system, most small-scale farmers enjoying increases in productivity and income and no wastefulness and loss of food.  
The programme will help create an institutional platform to design and implement food security and nutrition policies measures in a coordinated manner so as to have a sustained impact on national food security, poverty reduction and development of new rural areas.
Funds for the programme will be mobilised from international donors and allocations made to target programmes earmarked by the Government.
Vietnam has participated effectively in the "Zero Hunger Challenge" and has gained achievements in human development, particularly poverty reduction.
According to the Ministry of Agriculture and Rural Development, the nation's poverty rate reduced from 46.9 percent in 1990-1992 to 9 percent in 2010-2012. The national plan aims at "basically tackling poverty" by 2020.
FV hospital to build $5m medical centre in Đà Nẵng
The Franco-Vietnamese (FV) Hospital plans to invest US$5 million in building a "hi-tech medical centre" in Đà Nẵng City.
General Director of the FV hospital, Jean-Marcel Guillon said at a meeting with Đà Nẵng leadership last week that the centre would provide quality healthcare services for residents of and visitors to the central city as well as the central and Central Highlands regions.
Vice chairman of the city People's Committee, Hồ Kỳ Minh, said Đà Nẵng has called for investment into the healthcare sector, including wholly-foreign invested projects.
He told Guillon that the city would offer the best support and smooth conditions for the FV hospital to launch its medical and healthcare centre in Đà Nẵng soon.
Gullon and a group of other French doctors founded the FV Hospital in HCM City in 2003, providing a full-service, one-stop quality medical care for residents of the southern hub and neighbouring provinces.
Đà Nẵng has plans to build a world-class paediatric hospital with an investment of US$300 million.
The city currently has 11 hospitals with 1,000 doctors and more than 620 consulting rooms and medical care centres.
In 2013, the city opened the first and biggest cancer hospital in central Việt Nam with an investment of $71.4 million.
In 2014, the 250-bed Đà Nẵng Family Hospital – the first private inpatient treatment hospital, was put into operation.
Dong Nai: 500 free tickets to send poor migrant workers home for Tet

The Labour Federation of southern Dong Nai province will offer 500 free coach tickets, worth 1.2 million VND (52.8 USD) each, for poor migrant workers to go back home for the Tet (Lunar New Year) holiday.
The labour federation will also present 2,000 gift packages, worth 500,000 VND (22 USD) each, to impoverished labourers.
The free tickets will be given to workers from northern and central provinces who are living in difficulties and have not afforded returning home for Tet for many years, said the provincial labour federation's Vice Chairman Tang Quoc Lap. 
The tickets will be distributed to districts and townships that have a large number of industrial parks and migrant workers, such as Bien Hoa city, Trang Bom and Long Thanh districts, he added.
According to Chairman of the Labour Federation of Trang Bom district Le Duc Thuy, the district chapter has also prepared 1,500 gift packages and 200 free coach tickets to give to disadvantaged workers.
This year, wages and Tet bonus of workers in Dong Nai have been significantly improved. Those working for FDI enterprises received 7.7 million VND (338.8 USD) in bonus in average each for the biggest public holiday of the year, compared to 5.8 million VND (255.2 USD) in 2017.
Meanwhile, the average Tet bonus of domestic private firms' employees rose from 4.5 million VND (198 USD) per person to 7.3 million VND (321.2 USD) per person this year.
Ministry regulates non-baked material use at buildings
Buildings in Hanoi and Ho Chi Minh City with more than 30 percent of funding sourced from the state budget capital, non-budget state capital and loans from State-invested businesses must use 100 percent non-baked building materials.
This is a new regulation stipulated in Circular 13 recently issued by the Ministry of Construction with a view to controlling pollution and protecting natural resources.
The rate of the compulsory use of non-baked materials varies according to regions to ensure its feasibility.
The rate must be at least 90 percent at structures located in the third- and higher-tier cities in provinces in the northern lowland and midland and the southeastern region. In other areas of these provinces, the rate is at least 70 percent.
For the remaining provinces, the rate is at least 70 percent for structures in the third- and higher-tier cities, and at least 50 percent in other areas.
The ministry also regulated that buildings with nine or more storeys must use non-baked materials for at least 80 percent of construction materials.
Meanwhile, buildings that do not use non-baked materials due to specific requirements must get approval by competent state agencies.
The construction ministry said the State encourages using non-baked materials at construction projects regardless of their capital sources and storey number. Investors are also encouraged to change construction designs to use non-baked materials.
The circular will take effect on February 1, 2018.
Southern Winter-Spring rice crop area down due to floods
Southern localities have planted about 764,500 hectares of the Winter-Spring rice crops so far this year, down 14.4 percent from the same period last year as flood water receded slowly.
More than 98 percent of the areas were grown in the Mekong Delta, a year-on-year decrease of 11.6 percent, according to the Ministry of Agriculture and Rural Development.
Last year, the region saw a 0.4-percent fall in areas of the Autumn-Winter rice crops due to floods but each hectare yielded 180kg higher year-on-year to 5,220kg of rice. It brought the total output up to 4.02 million tonnes of rice, an increase of 3.2 percent.
The northern also experienced a significant decline in areas of the Winter crops, particularly those do not require much water like peanut and soya, due to lengthy heavy rains triggered by typhoons Pakhar and Mawar in late August and early September that have affected farmers sowing.
The areas of maize, sweet potato and soya fell by 15.6 percent, 34 percent and 29.8 percent, respectively, over the same period last year.
The ministry warned that the extreme weather may cause outbreaks of disease in the current Winter-Spring rice crops.
Accident fatalities climb to 67 in three-day New Year holiday
Accidents on the road killed 67 and injured 74 others during the three-day New Year holiday from December 30, 2017 to January 1, 2018, according to the Office of the Public Security Ministry. 
The fatalities were the consequence of 124 accidents across the country, representing a reduction of 12 deaths but an increase of 31 accidents compared the same period last year. 
The National Traffic Safety Committee reported overcrowding in many major bus stations, roads and airports, especially in Hanoi and Ho Chi Minh City, on the first and last days of the period, as people returned to their home villages or went on vacations. 
The committee's hotlines dealt with around 80 calls complaining on traffic jams, illegal hikes in ticket prices and overloaded coaches. The committee has taken prompt actions to verify the reports and addressed the problems. 
HCM City honours ten outstanding young people of 2017
Ho Chi Minh City honoured ten outstanding young citizens of 2017, who excel in their fields and exemplify the best attributes of the city's young people, in a ceremony on January 1.
The event was held by the city's Ho Chi Minh Communist Youth Union (HCMYU) in the presence of Secretary of the municipal Party Committee Nguyen Thien Nhan.
The winners, chosen from the list of 75 nominees, include Pham Huu Loc, Secretary of Tan Thoi Hiep Ward's HCMYU chapter in District 12, who initiated a restaurant offering free meals for the poor; Bui Minh Thang, owner of Sai Gon Mushroom Farm 10 in Cu Chi District; Lieutenant Le Hoang Hao from the anti-drug crime unit of Binh Thanh District; and Doctor Nguyen Ha Phuong from the Ho Chi Minh City Oncology Hospital.
There are also singer Pham Khanh Ngoc who won the second places at the SLO-ASEAN Vocal Competition in Singapore in 2016; weightlifter Thach Kim Tuan who won three gold medals at the 2017 World Weightlifting Championships in the US in November and gymnast Le Thanh Tung who brought home a gold medal at the SEA Games 29 last year.
Mai Hai Yen, a student from the Doan Ket junior high school; Nguyen Thanh An, a student at the HCM City University of Science; and Le Phuoc Hung, a worker at the Cholimex food processing company are also among the honourees. 
Speaking at the ceremony, the municipal Party Committee Secretary Nguyen Thien Nhan praised good work of the ten young people, saying he hopes that they will continue spreading good values in society and pioneering in improving life quality in HCM City.
HCM City began to honour outstanding young people in 2006 and since then, 78 people have been recognised for their work in different fields.
First Vietnam-Ho Chi Minh book room opened in India
A Vietnam-Ho Chi Minh book room, the first of its kind, was inaugurated in New Delhi, India, on December 29. 
Speaking at the inauguration ceremony, Vietnamese Ambassador to India Ton Sinh Thanh introduced a collection of nearly 1,000 book titles written in English about different areas, ranging from history, culture, people, religion, heritage to political, socio-economic policies and achievements of Vietnam. 
Several books feature Vietnam-India relations as well as President Ho Chi Minh, a national liberation hero, a cultural celebrity honoured by UNESCO and a great friend of the Indian people, he said. 
Thanh said the inauguration of the book room was the final event hosted by the Vietnamese Embassy in India this year as part of celebrations marking the 45th founding anniversary of diplomatic ties. 
He expressed his belief that such efforts will push forward the practical development of the Vietnam-India comprehensive strategic partnership in the future. 
Deepika Pokharna, Director of the Indian Ministry of Culture's National Mission on Libraries and Anthropology, said the book room is expected to strengthen friendship and collaboration between the two countries, and hoped that more similar rooms will be opened in India. 
The book room is located at the Central Secretariat Library of India that was founded in 1891 with about 650,000 volumes at present.
Faster progress of Cat Linh-Ha Dong railway project requested
The Export-Import Bank of China (China Eximbank) has completed procedures to disburse an additional loan worth 250.6 million USD for Cat Linh-Ha Dong urban railway project in Hanoi. 
The information was unveiled by the Ministry of Transport's Railway Project Management Board at a meeting held in Hanoi on December 29 to review its performances in 2017. 
Speaking at the event, Deputy Minister of Transport Nguyen Ngoc Dong asked the board to work closely with the Chinese contractor to speed up the construction and installation of equipment. Any difficulty arising during the implementation process should be reported immediately to the ministry, he said. 
Dong added that the Ministry of Transport will report the project's progress to the government in January 2018 and propose a final deadline for the project. 
Vu Hong Phuong, deputy general director in charge of the board, said 95 percent of the project has been done, and the progress was delayed due to slow disbursement. 
He said the board asked the contractor to make weekly and monthly plans and sign deals with sub-contractors toward completing the project on schedule as directed by the government and the Ministry of Transport.
Man arrested for smuggling over 5,000 packs of cigarettes
The capital city's police on Tuesday arrested a man for smuggling cigarettes and cigars.
Nguyễn Đức Hưng, 44, residing on Hàng Buồm Street of Hoàn Kiếm Ward, was found to be trading, storing and transporting more than 5,500 packs of imported cigarettes and cigars.
According to the police, on Tuesday morning, the anti-smuggling police force stopped Hưng, who was driving a motorbike and carrying a large carton.
Upon checking the cargo, the police found 860 packs of cigarettes of Blend No 555 Gold.
Hưng was unable to show any papers for the cargo.
At the police station, Hưng said he bought the cigarettes from many sellers and kept them at his store on Bạch Đằng Street to re-sell for profit.
He was arrested while on the way to ship the cigarettes to sell to customers in Thống Nhất Park area.
Along with storing the goods at his store on Bạch Đằng Street, Hưng also kept smuggled items at his shop on Nguyễn Siêu Street and his house on Ngọc Lâm Street.
While searching these places, the police seized total 5,350 packs of cigarettes and 200 packs of cigars.
The cigarettes were brands of Marlboro, Blend No 555 Gold Pearl and Blend No 555 Original.
The value of the smuggled goods is some VNĐ200 million (US$9,000). Hưng has admitted to his acts.
HCM City: 24 percent of TB cases are drug-resistant
About 24 percent of tuberculosis (TB) patients in Ho Chi Minh City show symptoms of drug or multi-drug resistance, heard a conference on December 29, which overviewed TB prevention and treatment in Ho Chi Minh City throughout 2017.
The city recorded 16,452 TB patients in 2017. The rate of TB cases in the city was 196 in every 100,000 residents on average, much higher than the national average of 110/100,000. 
Doctor Dang Minh Duong from the Pham Ngoc Thach Hospital attributed the drug resistance to the patients' neglect and failure to complete treatment courses, which often leads to more severe health conditions. He said it takes between three and six months for TB to show symptoms. 
He pointed to the fact that many hold wrong perception of tuberculosis. They think only poor people or those with weak immune system contract the disease, thus fail to take prompt preventive measures or adhere to treatment regime, Duong added.
Also in 2017, 282 local children were diagnosed with tuberculosis.
HCM City: Average Tet bonus rises 10.9 percent
The average Tet (New Year) bonus of the upcoming lunar Year of the Dog will be about 10.9 percent higher than last year in Ho Chi Minh City, said Director of the city's Department of Labour, Invalids and Social Affairs Le Minh Tan on December 29.
As of December 29, about 1,960 companies in the city have reported plans to pay bonus to employees before the week-long Tet holiday which will start in mid-February 2018.
Bonus paid by foreign-invested enterprises averaged about 2.7 million VND (118.8 USD) per person. The highest level reported so far is 1.5 billion VND (66,000 USD), paid by a foreign bank in the city, according to Tan.
This year, domestic firms gave out an average bonus of 8.3 million VND (365.2 USD) per person with the biggest to date worth 855 million VND (37,620 USD).
Apart from the bonus, local enterprises plan other forms of pre-Tet support for their workers like gifts and train/bus tickets home, he added.
Tran Cong Khanh from the Ho Chi Minh City Export Processing and Industrial Zones Authority (Hepza) said 302 enterprises have reported on their Tet bonus plans, with the lowest being one-month salary.
In southern Dong Nai province, the average Tet bonus for workers in FDI firms was estimated at 7.7 million VND (338.8 USD) per person with the highest rate reaching more than 400 million VND (17,600 USD), according to the province's Department of Labour, Invalids and Social Affairs.
State-owned enterprises are giving the average bonus of over 10 million VND (440 USD) per person while that of joint stock companies with State-owned stake is over 8 million VND (352 USD) per person.
Food safety violations in Hanoi on the increase
More than 22,500 units in Hanoi were found to have violated food safety regulations this year after inspectors examined 110,930 units, according to the city's Health Department.
Of the violators, more than 7,200 units had to pay fines exceeding a total of 37 billion VND (1.6 million USD) and had their unsafe food destroyed.
In 2016, the city examined more than 100,000 units, detected violations at about 16,000 units and collected fines of about 28 billion VND.
As many as 11 methanol poisoning cases with 37 people involved were reported in the city in 2017.
Ten of the 37 people died of methanol poisoning or alcohol intoxication.
During a month-long campaign against methanol poisoning starting in mid-March, the health department tested more than 3,550 samples of alcohol across the city. After testing 112 samples, five samples were found to have methanol concentration beyond permitted levels. 
The campaign was part of the city's response to an increase in cases of methanol poisoning cases. Between February 22 and March, 14, as many as 25 methanol poisoning cases were reported, claiming three lives.
Other responses included programmes to promote supply chains of safe food and projects to improve management capacity in food safety.
The department plans to tighten inspections, especially unannounced ones on food producers and traders, and to strictly punish violators.