Last update: 18:12 | 10/11/2017
HCM City, Egypt reinforce cooperation in administrative control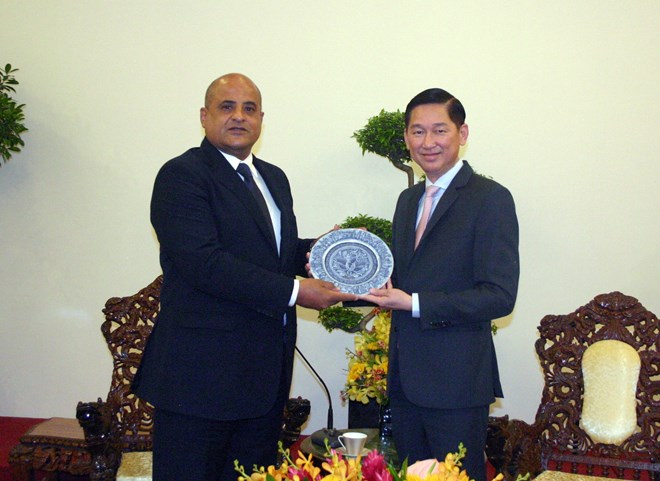 Vice Chairman of the Ho Chi Minh City People's Committee Tran Vinh Tuyen met with visiting senior officials of the Administrative Control Authority (ACA) of Egypt on November 9.
Tuyen applauded Egypt's "Look East" policy, which aims to expand relations with Asian countries, including Vietnam. Vietnam-Egypt ties have been growing, especially since a visit to the Southeast Asian nation by Egyptian President Abdel Fattah el-Sisi last September, opening up development prospects for both sides. 
Egypt is currently the second biggest African trade partner of Vietnam with bilateral trade reaching 316 million USD in 2016.
He also highly valued the memorandum of understanding on cooperation for 2015-2020 signed between the Vietnamese Government Inspectorate and the ACA. The two countries have many conditions and opportunities to share experience, enhance mutual understanding and boost cooperation between their ministries and sectors.
The official also expressed his hope that the Egyptian delegation's working visit will help strengthen partnerships between the two countries as well as between Egypt and HCM City in the fields that the African nation is strong at.
For his part, ACA deputy minister of state Hamed Abdel Fattah Hememy noted his delegation had fruitful working sessions with relevant agencies of Vietnam, including the HCM City Inspectorate. Notably, they exchanged experience in corruption prevention and control.
Apart from administrative supervision, Egypt wants to tighten links with Vietnam and HCM City in many other spheres. Egypt values Vietnam's experience in economic and tourism development and wants to learn from it, he said.
Lao President offers sympathies to Vietnam over typhoon damage
Lao President Bounnhang Vorachith has sent a message to President Tran Dai Quang conveying his sympathies on heavy losses caused by storm Damrey in Vietnam.
In his message, President Bounnhang Vorachith said he was sad and worried when hearing that typhoon Damrey has caused huge human and property damage for Vietnamese people, especially those in Da Nang city and Quang Tri, Thua Thien – Hue, Quang Ngai, Quang Nam, Binh Dinh, Phu Yen, Khanh Hoa and Binh Thuan provinces in the central region. 
Typhoon Damrey, the 12th storm in the East Sea this year, hit Vietnam's south central coast on November 4. 
Following downpours and floods had claimed 89 lives and left 18 missing and 174 others injured in central and Central Highlands localities as of November 7 night, according to the National Committee for Search and Rescue.
Winners of Vietnam-Laos relations contest honoured
The Party Committee of the south central province of Binh Thuan on November 9 honoured winners of a contest on exploring the history of the special ties between Vietnam and Laos in 2017.
Ho Trung Phuoc, head of the provincial Party Committee's Commission for Information and Education, said that in four months from May, the contest received 5,843 entries from local officials, Party members and youngsters.
As many as 180 outstanding writings were chosen. One first, two second and three third prizes were presented to collectives. Meanwhile, in the individual category, one first, two second, three third and 10 consolidation prizes were also announced.
Vietnam and Laos have shared a special friendship and solidarity as well as long-lasting comprehensive cooperation. The two sides have walked hands in hands in both past struggle for independence and current national defence and construction.
Since the two countries set up their diplomatic relations 55 years ago, bilateral relations have flourished in both depth and width.
Last year, two-way trade reached over 800 million USD. The two sides have also focused on strengthening transportation connectivity and creating optimal conditions for each other in developing trade and investment.
Hanoi hosts exhibition on Hoang Sa, Truong Sa
An exhibition displaying maps and documents on Vietnam's Hoang Sa (Paracel) and Truong Sa (Spratly) archipelagos is underway at the Fisheries Resources Surveillance under the Directorate of Fisheries in Hanoi.
The event, from November 8-10, was co-organised by the Ministry of Information and Communications (MIC) and the Ministry of Agriculture and Rural Development.
At the opening, Deputy Minister of the MIC Hoang Vinh Bao said the event is part of important activities to raise awareness of the country's sea and islands among officers and workers in the agricultural and fishery sectors.
It is also designed to nurture people's love for the nation and enhance their solidarity and responsibility, especially youths, in protecting Vietnam's sovereignty over the Hoang Sa and Truong Sa archipelagos.
On display are documents, items, publications and nearly 100 maps published by domestic and international researchers and scholars, including materials in Chinese, Nom (old Vietnamese writing using Chinese characters), modern Vietnamese and French issued from the 17th to the 20th century by the Vietnamese feudal states and the French government in Indochina (on behalf of the then Vietnamese state) proving Vietnam's sovereignty over Hoang Sa and Truong Sa archipelagos as well as the country's exercise of sovereignty over the islands.
The exhibition also features 65 maps certifying that the Hoang Sa and Truong Sa archipelagos belong to Vietnam, published by Western nations and Vietnam since the 17th century.
The exhibition also showcases publications and studies by domestic and foreign scholars, including the atlas Universel compiled by Belgian geographer Philippe Vandermaelen in 1827.
Climate change adaptation project fruitful in Tra Vinh
The project for adaptation to climate change in the Mekong Delta has produced positive results in Tra Vinh province, said Director of the project's provincial coordinating board Huynh Nghia Tho. 
He made the statement during a local working session with a delegation from the International Fund for Agricultural Development (IFAD) on November 8. 
The IFAD-funded project is underway in Tra Vinh and Ben Tre from 2014-2020. 
In Tra Vinh, it costs 24.8 million USD, 6 million USD of which is non-refundable aid and 11.1 million USD is lent by IFAD while the remaining is from the Vietnamese government. 
It aims to support sustainable livelihoods for poor rural households in a changing environment and improve adaptive capacity of target communities to better respond to climate change. 
About 15,000 poor and near-poor households in 30 communes in districts of Cang Long, Chau Thanh, Tra Cu, Cau Ngang, Tieu Can, Cau Ke and Duyen Hai have benefited from the project. 
Tho said as many as 12.5 million USD has been disbursed in the province to carry out two components of the project and 3.6 million USD has been used to build small-scale infrastructure in adaptation with climate change, directly and indirectly benefiting over 11,000 and nearly 21,000 households, respectively. Up to 85 out of 88 facilities have been put into operation so far. 
The project built 43 pilot models, conducted 12 out of 20 thematic studies on climate change response, established around 1,500 groups with more than 10,000 members receiving assistance in natural resources management and climate change risks. 
All wards, townships and communes have come up with their own community-based plans to mitigate climate change risks and adapt to changing climate. 
However, child malnutrition is yet to improve while farm produce production in 30 communes is yet to increase sustainably. 
To ensure the project's progress and efficiency, Tho suggested IFAD adjust capital allocation and indexes of poor and near-poor households, as well as assist in measuring new indexes. 
Vice Chairman of the provincial People's Committee Kim Ngoc Thai also committed all possible support for the project.
Japan media highlights APEC 2017 in Vietnam
Japan's major media agencies, including  NHK World and Japan Today carried stories updating the APEC Economic Leaders' Week 2017, which is taking place in Vietnam's central city of Da Nang from November 4-11.
The NHK World on November 8 posted a story saying Japan plans to stress the importance of free trade and investment to achieve sustainable growth at the ministerial meeting of the Asia-Pacific Economic Cooperation.
Representing Japan are Foreign Minister Taro Kono and Trade Minister Hiroshige Seko to discuss creating fair, transparent trade rules and a multilateral free trade framework, the article said.
Japan will work to lead the discussion to establish high-quality trade and investment rules in the Asia-Pacific region, it added.
On November 9, the NHK World carried a story titled "APEC ministers extend meeting over statement", saying Japan and other member economies are stressing the value of sustainable growth through free trade and investment. 
The Japan Today ran a story citing Vietnamese Minister of Industry and Trade Tran Tuan Anh as saying "I hope that we will seize this last opportunity before our leaders' meeting to show flexibility and willingness needed to bridge the remaining gaps so that we can come out with a meaningful package for regional economic integration."
"Given the rapid changes and uncertainties that the global economy is now facing, this will convey a strong message that reflects steadfastness and determination of APEC in pursuing a free and open region for trade and investment," Anh was quoted.
The article also quoted Vietnamese Minister of Foreign Affairs Pham Binh Minh as saying Vietnam, the host of the summit, is using the occasion to showcase the progress its economy has made thanks largely to opening to foreign investment and trade.
Established in 1989, APEC comprises Australia, Brunei, Canada, Chile, China, Hong Kong (China), Indonesia, Japan, the Republic of Korea, Malaysia, Mexico, New Zealand, Papua New Guinea, Peru, the Philippines, Russia, Singapore, Chinese Taipei, Thailand, the US, and Vietnam.
The year 2017 marks the second time Vietnam played the host to APEC events. The APEC Year 2017 has the theme "Creating New Dynamism, Fostering a Shared Future".
Australia funds to empower women economically
Australia will invest AU$33.7 million (US$25.6 million) through the new Aus4Equality programme, focusing on Sơn La and Lào Cai provinces in the north-west of Việt Nam.
The new initiative to support women's economic empowerment was announced by the Hon Julie Bishop MP, Australian Minister for Foreign Affairs, on Wednesday on the sidelines of the 29th APEC Ministerial Meeting (AMM).
The mountainous north-west region of Việt Nam is home to a diverse ethnic minority population and has some of the highest levels of poverty and inequality in the country, according to a press release from the Australian Embassy in Hà Nội.
"Women in these areas are particularly disadvantaged, experiencing challenges such as isolation, lower levels of education and lack of decision-making power in their households and community, which prevent them from accessing economic opportunities," it said.
The five-year programme will help improve the lives of women, their families and local communities, and contribute to improved productivity and economic growth in the region.
Aus4Equality expects to increase the incomes of 40,000 self-employed female farmers and small entrepreneurs; create 4,000 full-time positions for women, achieve a 15 per cent increase in the number of women leading or co-managing formal businesses; and increase women's profit and roles in policy, management, strategic decision-making and resource allocation in the agriculture and tourism market sectors.
Of the amount, some AU$7 million will be leveraged in private sector investment for business opportunities and approximately AU$17 million will be used to help women in the provinces better engage in agriculture and tourism sectors at all levels. 
Cardiovascular centre opens in Can Tho
The Cardiovascular Centre under the Cần Thơ Central General Hospital, which is the largest and most modern centre in the Cửu Long (Mekong) Delta, opened on Tuesday in Cần Thơ.
The hospital, which is the highest-level hospital in the Mekong Delta, decided to invest in a cardiovascular centre after dozens of years of consideration.
Dr. Hà Bửu Kiếm, deputy director of the Cardiology Centre, said cardiology was one the five most overloaded departments at hospitals around the country, according to the Ministry of Health.
At the Cần Thơ Central General Hospital, the cardiology department was designed to accommodate 97 beds but has expanded to 140-160 beds. However, it is still too crowded with patients.
The Cardiovascular Centre, which includes internal cardiovascular, interventional cardiology and cardiac surgery departments, uses high technologies and methods in diagnosis and treatment for patients in the region.
Since 2009, Cần Thơ Central General Hospital has invested heavily in human resources and equipment for cardiovascular treatment, helping to reduce the patient overload at higher-level hospitals.
Since 2015, the Department of Cardiac Surgery at the hospital has performed surgery on 91 patients, including many critical cases. Many poor patients have been financially supported by benefactors.
In addition, the Department of Cardiovascular Intervention offers immediate intervention 24 hours a day, seven days a week. Since 2013, the department has been involved in immediate intervention for 2,641 patients.
Dr. Nguyễn Minh Vũ, director of Cần Thơ Central General Hospital, said the establishment of the cardiovascular centre was an important step to promote advanced techniques in cardiovascular treatment.
"The centre will be a bridge to charities and social work departments in the region so that funding can be mobilised for poor patients to have free coronary interventions," Dr. Vũ said.
Petrol warehouse in residential area leaves locals scared
Hundreds of households in An Tiên Village, Xuân Giang Commune of central province of Hà Tĩnh's Nghi Xuân District are living in fear due to a large petrol warehouse which has come up in the vicinity, on an area of 14,000sq.m.
There are big 6 tanks with a total containing capacity of 9,000cu.m of gasoline each, the online newspaper Dân Trí reported on Wednesday.
Phạm Văn Ninh has been been worried about the warehouse setting up a shop next to his home for the last three months.
"We are very worried. The six big tanks, like bombs, are parked next to our houses. Our families and neighbours can suffer serious injuries in case of any incident," Ninh told the paper.
"We have to bear the smell of petrol every day, and live in fear of a blaze at any time," said Phạm Tý, another resident of the village.
One month ago, when Miền Trung Company, owner of the warehouse, did some maintenance work at the warehouse, the local people had to suffer from the smell of gasoline and breath in the dusty air. Many households had to temporarily move away from their homes.
The local people had protested against the company, but the local government did not give in to their demands.
Nguyễn Hồng Lưu, chairman of Xuân Giang Commune, told the paper that he shared the worries of the locals but could do anything because the location of the warehouse was decided by district and provincial authorities.
He also said he did not have any information about the company which owned the warehouse.
Sangha head elected in HCM City
The HCM City Buddhist Sangha elected a new executive board to serve in the 2017-2022 period at a conference yesterday.
The board includes 61 official members and 22 alternate members.
The Most Venerable Thích Trí Quảng, deputy head of the Supreme Patriarch Council of Việt Nam Buddhist Sangha, was re-elected as the head.
Speaking at the opening ceremony, Quảng said: "Over the last 35 years, the HCM City Buddhist Sangha has developed sustainably in every aspect, attracting attention from followers at home and abroad and from people at all levels of society."
He added that the sangha has made great contributions to nation-building, defending and developing the country, and bringing peace and happiness to the people.
In the 2017-2020 period, the city's sangha will continue its contributions to the city's development, as well as expand and develop the HCM City Buddhist Sangha to become a leading sangha in the country, said the Most Venerable Quảng.
On behalf of the city's Government at the conference, Tất Thành Cang, deputy secretary of the city's Party Committee, said he greatly appreciated the achievements the sangha had made over the last five years, its contribution to the stability and development of Buddhism, and to the cause of defending, building and developing the country in general and HCM City in particular.
Cang said: "Besides its duties, the sangha should encourage its clergy and followers at home and abroad to participate in activities aiming to develop the economy, pay tribute to heroic martyrs, reduce poverty, protect the environment, preserve and promote national culture, fight against superstition and use religion to support national solidarity, and contribute to the city's development."
At the conference, the President granted the First-Class Labour Medal to the HCM City Buddhist Sangha.
The Việt Nam Fatherland Front and the HCM City People's Committee also presented certificates of merit to the sangha's agencies and individuals for making contributions to the development of Buddhism and national solidarity.
Participants at the conference, which was held at the Việt Nam National Pagoda in District 10,  included former President Trương Tấn Sang, former Secretary of the city's Party Committee Lê Thanh Hải, and more than 800 nuns and monks from the city, as well as officials from the Fatherland Front and local government.
On the same day, the city sangha held an inauguration ceremony for the new pagoda, Việt Nam Quốc Tự, in District 10. Construction began in 2014, costing VNĐ250 billion (US$11 million).
Authorities confirm bacterium behind school poisoning in Hậu Giang
Health authorities have confirmed bacteria as the main cause behind a mass poisoning that affected hundreds of children at two primary schools in the southern province of Hậu Giang after they drank a mixture of chocolate milk late last month.
Two samples taken from the milk and victims' vomit tested positive for microbes and bacteria, according to Nguyễn Thanh Tùng, director of Hậu Giang Province's Department of Health.
Tùng revealed the results at a meeting on Monday afternoon between the provincial People's Committee and Department of Health after nearly two weeks of investigation since the case occurred on October 27.
The results showed the sample contained Staphylococcus aureus, also known as golden staph, or a type of bacteria frequently found in the nose, along the respiratory tract, and on the skin in humans. It is a common cause of skin infections including abscesses, respiratory infections, and food poisoning.
The bacterial infection is said to have been triggered during the mixing process of the drink provided by the M.C Advertising Service Company, Tùng added.
Tùng said, based on the results, the department concluded the company had violated food safety regulations by providing unhygienic milk products that poisoned more than 500 students at the Lái Hiếu and Nguyễn Hiền primary schools in Ngã Bảy Town.
Reports from local health authorities said that as part of a campaign to encourage sport and physical exercise among local students, the M.C Advertising Service Company offered free chocolate milk to more than 760 pupils of the two schools on the morning of October 27.
About an hour after drinking the flavoured milk, the students began showing symptoms of nausea.
Over 500 children from both schools were admitted to local medical centres.
About 39 suffered more severe symptoms and were given infusions as well as special medications.
Fortunately, all of the students were able to return home by the evening due to timely treatment.
Đồng Văn Thanh, vice-chairman of the provincial People's Committee said that the infection was caused by human error.
The free drink programme has been implemented at 38 other schools in the province without any issue, Thanh told the paper.
M.C Company will be asked to pay an administrative penalty and will be suspended from implementing the programme until the matter is resolved, the paper reported.
It was also asked to issue a public apology to children and their families.
Thanh urged the province's health and education and training sectors to closely monitor and control all food product advertising programmes in school areas to ensure the products meet safety and hygiene standards before being supplied to children.
Campaign teaches kids at HCM City school traffic safety
Students of Trần Văn Ơn Primary School in HCM City's District 12 on Tuesday learnt about road safety, including the right way to wear helmets, through games.
Nguyễn Trần Phương Anh, a third grader at the school, said that she was excited to play the games which taught her about road traffic safety skills and they were fun.
Students were also gifted helmets.
"Road crashes are a leading cause of death among children aged five to 14, a personal and economic cost that we cannot afford to ignore," Phạm Thùy Liêm of the District 12 Education and Training Division said.
Greig Craft, president and founder of the Asia Injury Prevention (AIP) Foundation, said: "We need to increase public awareness of the dangers of unsafe driving behaviour and lack of child helmet use. Involving all members of the community, especially youth, is the only way to create a sustainable culture of road safety."
The event was organised as part of Safety Delivered, a campaign by the AIP Foundation and the UPS Foundation that is also being implemented in Thailand, Cambodia, and Myanmar, with its activities changed depending on the country.
They include distribution of quality motorcycle helmets, education at primary schools, public awareness campaigns, and university-based road safety education.
Over the next two years the programme will donate 17.000 helmets, including 9.000 at targeted schools in HCM City and Hà Nội.
Ancient Mother Goddess festival thrives
Đặng Thị Nhiễu, keeper of the Forest Temple in Ngọc Thụy Ward, Long Biên District, Hà Nội, performs a hầu đồng ritual, one of the features of Mother Goddess worship yesterday.
The performance started a festival featuring the cult of Mother Goddesses which will run until November 13 at the Forest Temple with performances by 29 mediums. The festival has been organised by the Thăng Long Cultural Heritage Association.
Each day, seven mediums will perform with cung văn (singers of spiritual rites) and to the accompaniment of traditional musical instrumentalists. They will present trance performances to pay tribute to 50 genies worshipped as part of the Mother Goddess beliefs.
Lưu Minh Trị, chairman of the association, said the festival helped promote the cultural value of Mother Goddess worship and preserved the traditional elements of hầu đồng practice.
The Mother Goddess cult predates Buddhist and even Taosit beliefs and is believed to be one of the ancestral religions of the Vietnamese people. Guests are always welcomed.
Big propaganda posters featuring rural development
An exhibition of large propaganda posters relating to construction in rural areas was held in Sơn Tây provincial town of Hà Nội on November 7.
The exhibition was co-organised by the local culture agency under the Ministry of Culture, Sports and Tourism and Sơn Tây provincial town's People's Committee.
As many as 61 posters on display expressed the Party and State's guidelines and policies on the movement to develop rural areas. The displays addressed government projects to reconstruct the agriculture industry, enhance and encourage rural work, strengthen technology appliances, improve vocational training for rural workers, develop education in rural areas, reduce poverty, increase healthcare and social security, clean the environment and provide high-quality cultural activities.
New cinema magazine
Nang, an English-language magazine dedicated to cinema in Asia, will be introduced at Inpages book store in District 2 on November 11.
The magazine will consist of two issues annually over a period of five years, featuring reportage and photos about Asian cinema and well-known filmmakers in the region.
The magazine features a rich and profound collection of essays and images on Asian cinema.
The independent magazine's editor-in-chef is Davide Cazzaro, who is based in Korea and Italy. It is printed in Sweden.
The introduction will include a talk with Cazzaro, which will be presented in English with Vietnamese translation.
The event will start at 7pm at 4 Lê Văn Miến Street in District 2.
Canadians present experimental show
Manzi tomorrow will host an experimental concert featuring Canadian artists, Elizabeth Millar and Craig Pedersen, with special guest artist Ngô Trà My. During the concert, which is entitled Tiếng Rền Của Núi/ Sound of the Mountain, the Canadian duo will present the hollowed-out sounds on amplified clarinet and trumpet accompanied by the đàn bầu (monochord) by Vietnamese artist My.
Sound of the Mountain comes from a strong history of improvisation and extended performance techniques, offering their audience long-form deep listening experiences through the sculpting of vitalised breath.The concert will start at 8pm. Manzi Art Space, 14 Phan Huy Ích Street. Surcharge: VNĐ100,000/person. The concert is not appropriate for audience under 12.
French Feast event at Equatorial Hotel
The "French Feast in Saigon" event showcasing the best flavours of French food and beverages will take place at Hotel Equatorial in HCM City this Sunday.   
Also on the occasion, renowned French chef Jean Michel Fraise will arrive in HCM City to cook up a French storm at the Balade En France, part of the "French Feast in Saigon", running on November 10-12.
Chef  Fraise owns the highly esteemed restaurant 'French Feast' in Kuala Lumpur,  notably famed for its deliciously authentic regional French cuisine. He will bring his artisanal French flair to deliver a traditional French dinner buffet.
The event offers diners a chance to delight in an array of traditional French dishes at an affordable price, said a representative of the organising board.
Favourites such as duck confit terrine, beef Bourguignon, coq au vin, Castelnaudary cassoulet, snapper with anise sauce and cured pork belly Basquaise are only a few of the many exquisite dishes that chef Jean Michel will be cooking. 
A fine selection of French desserts including Armagnac apple croustade, tarte tatin, brioche façon pain perdu and chocolate mousse, will be the perfect way to end this spectacular dining extravaganza.
The exclusive dinner buffet is offered for only VNĐ798,000++. Diners can enjoy the all-you-can-eat French dinner buffet, inclusive of free flowing French wine, beers and soft drinks.
Equatorial Hotel is located at 242 Trần Bình Trọng Street in the city's District 5. For reservations, please call (028) 3839 7777 or email: dine@hcm.equatorial.com.
V-League: SLNA beat Becamex Bình Dương 2-1 in first leg of final round
The first leg of the final round of the National V-League championship started yesterday. At Gò Dầu Stadium, Becamex Bình Dương faced the most successful club in the league: Sông Lam Nghệ An. SLNA won 2-1 in a match that had to be halted in the middle of the game due to heavy rain on the field.
SLNA began the match strongly. At 18', Xuân Mạnh of SLNA headed the ball into the corner of Becamex BD's net, scoring the first goal of the match.
The first half saw numerous attacks from Becamex BD towards SLNA, but no further goal was scored.
Becamex Bình Dương fought hard against SLNA from the first minutes of the second half. Goalkeeper Nguyên Mạnh of SLNA saved his team from an equalizer by saving a penalty shot by Anh Đức of Becamex Bình Dương.
Torrential rain from the beginning of the second half forced the game to stop for water drainage. After only six minutes, the game resumed.
The post saved Bình Dương from yet another goal as SLNA Khắc Ngọc attempted a shot from the penalty spot.
Only ten minutes later, the second goal came from SLNA as Phúc Tịnh quickly caught the ball and hit it hard towards the corner, making it 2-0 for SLNA.
Continuous waves of attacks were launched as Becamex Bình Dương tried their best to recover. At 82' Becamex BD Trung Tiến shot from about 30m toward SLNA's goal, but hit the post. Only two minutes later, the first goal was scored by Trung Tiến for Becamex Bình Dương. Tiến shot the ball directly toward SLNA's goal. It was direct and strong and made it impossible for goalie Nguyên Mạnh to catch.
The first game ended at Becamex Bình Dương 1-2 SLNA. The two teams will meet again at SLNA's home ground for the second leg.
Cantho Catfish beat Saigon Heat at VBA
Cantho Catfish defeated Saigon Heat 85-80 in the first game of the playoffs round of the Việt Nam Basketball Association (VBA) League at Hồ Xuân Hương Gymnasium in HCM City on November 8.
Thanks to the support of fans on home turf, the Heat quickly dominated the game in the first period, although the Catfish scored first. With great performances of Darius Lewis and David Arnold, the Heat bounced back to lead 24-16. Lewis alone scored 10 points, while Arnold scored six points.
In the second period, the Catfish proved they weren't easy to beat. De Angelo Hamilton scored 11 points. Notably, in just the last four seconds, Hamilton had four points. He helped the Catfish finish the second quarter at 41-34.
Seeing Hamilton's wonderful performance, the Heat blocked him in the next period, due to which Hamilton wasn't able to score any points. The hosts also made quick attacks to lead 59-53.
The two sides made every effort for a final win. They scored points continuously and the fourth quarter ended in a draw — 74-74.
In overtime, fans of the Heat jumped for joy as their team scored five points in a row to lead 79-74. However, the visiting side then showed their might with 11 points to win 85-80.
Center Hamilton of the Catfish won the MVP award with 31 points, 22 rebounds and six blocks.
The Heat will face the Catfish again on November 11.
Expert highlights VN's role on connecting Russia-ASEAN relations
Head of the expert council of the Eurasian ideas foundation Grigory Trofimchuk  (Source azeridaily.com)
Vietnam is serving as a bridge to connect the Association of Southeast Asian Nations (ASEAN) with the Eurasian Economic Union (EAEU) in general and Russia in particular.
Head of the expert council of the Eurasian ideas foundation Grigory Trofimchuk made the evaluation in a story posted on Russia's expert forum Realtribune.ru on November 9.
He wrote that many countries, including Russia, are paying more attention to ASEAN and Vietnam since Asia has proved to be a centre of global economic growth and finance over the past decades while Vietnam – as a rotational Chair of ASEAN – has endeavoured to expand the bloc's relations with multiple partners.
Russia is now a comprehensive dialogue partner of ASEAN, he noted.
A favourable factor for the Russia-ASEAN ties is all of the bloc's 10 member nations, including Brunei, Cambodia, Indonesia, Laos, Malaysia, Myanmar, the Philippines, Singapore, Thailand and Vietnam, have friendly relations with Russia, he said.
The expert said Vietnam has become more outstanding in recent years thanks to the country's increasing political and economic influence in the region and the world.
He recognised Vietnam's significant contributions to the development of ASEAN, adding that the special role of Vietnam in ASEAN was also hailed by participants at the Eastern Economic Forum in Vladivostok last September.
EU condoles with Việt Nam over typhoon losses
The European Union (EU) on Wednesday issued a joint statement sending condolences to Việt Nam over losses caused by recent Typhoon Damrey. 
"The typhoon that has struck Việt Nam over the past days has taken many lives and caused considerable damage, adding to the toll of a number of storms in the past weeks. On behalf of the European Union, we express our heartfelt condolences to the victims, their families and loved ones, and to all those affected," said the joint statement by the EU High Representative for Foreign Affairs and Security Policy Federica Mogherini and Commissioner for Humanitarian Aid and Crisis Management Christos Stylianides.
The statement also added that the EU is in touch with Vietnamese authorities and ready to help Việt Nam address consequences caused by the storm. 
The bloc's 24/7 Emergency Response Coordination Centre is monitoring developments and will send a team in the coming days to assess the damage and explore any assistance requested by the Vietnamese authorities.
Chinese President Xi Jinping on Thursday sent a letter of condolence to Party General Secretary Nguyễn Phú Trọng and President Trần Đại Quang over the devastating damage caused to Việt Nam by Typhoon Damrey.
Xi said in the letter that China is ready to support Việt Nam in the search and rescue efforts post-disaster.
Chinese Minister of Foreign Affairs Wang Yi also sent condolences to his Vietnamese Deputy Prime Minister and Minister of Foreign Affairs Phạm Bình Minh.
Lao President Bounnhang Vorachith in a letter to President Quang expressed his sadness and concern on learning that Typhoon Damrey has caused tremendous damage to the Vietnamese people and their property. 
Chinese leaders extend sympathies to Vietnam over typhoon losses
China's Party General Secretary and President Xi Jinping has sent messages of sympathies to Party General Secretary Nguyen Phu Trong and President Tran Dai Quang on the damage caused by typhoon Damrey in Vietnam.
The Chinese leader said he believes that under the leadership of the Party and State of Vietnam, storm-affected people would soon recover from the natural disaster consequences and resume their normal life and production.
He highlighted the friendly neighbourliness between Vietnam and China and mutual support between their people, saying that China is willing to assist search and rescue operations in Vietnam. 
On this occasion, Chinese Foreign Minister Wang Yi also cabled a message of sympathies to Vietnamese Deputy Prime Minister and Foreign Minister Pham Binh Minh. 
Typhoon Damrey, the 12th storm in the East Sea this year, hit Vietnam's south central coast on November 4. 
Following downpours and floods had claimed 89 lives and left 18 missing and 174 others injured in central and Central Highlands localities as of November 7 night, according to the National Committee for Search and Rescue.
Vietnam-Laos combat alliance monument inaugurated

The Vietnam-Laos, Laos-Vietnam Combat Alliance Monument was inaugurated in the Lao province of Xaysomboun, Laos, at a ceremony on November 9. 

Addressing the function, Vietnamese Ambassador to Laos Nguyen Ba Hung highlighted the significance of the monument, which was built during the Vietnam-Laos, Laos-Vietnam Friendship and Solidarity Year as a symbol of solidarity between the two countries. 

Lao Deputy Defence Minister Sen. Lieut. Gen. Lakhamphong highlighted traditional friendship and special solidarity between Vietnam and Laos, saying Lao people always keep in mind the sacrifice of the Vietnamese volunteer soldiers and experts for the country. 

The monument will serve as a venue to educate young generations about the bilateral relationship, he noted. 

Echoing the officer's view, Secretary of the Party Committee and Governor of Xaysomboun, Lieut. Gen. Silivong said the monument will contribute to promoting the friendship, special solidarity and comprehensive cooperation between Vietnam and Laos. 

Covering an area of 4,300 sq. m, the monument was constructed at a cost of 55,000 USD in non-refundable aid of the Vietnamese Government. It is planned to become a park and a cultural tourism destination.

RoK supports Vietnamese flood victims

The Republic of Korea (RoK) will provide an aid package of 1 million USD to support people affected by the recent typhoon Damrey in Vietnam, the RoK's Ministry of Foreign Affairs announced on November 10.

"The South Korean government expresses its sincere consolation to the people of Vietnam over the typhoon damage and hopes for their prompt return to normal as well as recovery of the damage," the ministry said.

Earlier on November 7, Russia's President Vladimir Putin directed providing 5 million USD in aid for Vietnam to overcome flood consequences.

Typhoon Damrey, the 12th major storm to hit Vietnam this year, has left over 100 people dead and missing as well as destroyed more than 120,700 houses.

HCM City, Finland promote cooperation in water management

Ho Chi Minh City lauds Finland's considerable experience in water management and innovation and wants to bolster cooperation with the European country in the fields.

Standing Vice Chairman of the municipal People's Committee Le Thanh Liem made the statement while receiving Petri Peltonen, Deputy Minister for Economic Affairs and Employment of Finland in the city on November 9.

Liem took the occasion to thank the Finnish Embassy in Vietnam for joining hands with the city to organise the Ho Chi Minh City Innovation Startup and Entrepreneurship Week 2017. He expressed his hope that Finland will continue its support for similar events, helping the city promote innovation and startup ecosystem development programmes.

He noticed that besides traditional cooperation in water management and innovation, both sides have huge cooperation potential in waste treatment, green energy and smart urban area construction. 

For his part, the Finnish official said that robust development of urban areas in Vietnam in the past time is billed as opportunities to enhance collaboration activities between the two countries and provides a foundation for both sides to cooperate in economy, trade and investment.

Finland and Ho Chi Minh City gained positive cooperation in education, water management and treatment and innovation, he underlined, adding that it serves as a basis for further effective cooperation in waste treatment, energy saving, renewable energies and smart urban area building.

Forest business forum held in Hà Nội

The Forest Stewardship Council (FSC) has held its first ever Asia Pacific Business Forum in Hà Nội to provide an exclusive occasion for FSC certified forest product suppliers in the region to connect with local and international buyers.
The event, which took place on Wednesday, also aimed to promote forest suppliers' FSC labelled products available in domestic, regional and world markets.
The demand for sourcing forestry products responsibly from the region has increased exponentially, with Việt Nam as a primary source, a press release from the FSC said.
Over the last five years, the Asia-Pacific region has seen its Chain of Custody certificates for FSC certified timber products increase by 82 per cent.
The forum focused on four key areas representing the core and upcoming forestry product industries in the region -- pulp, paper and packaging; furniture and solid wood; rubber; and lastly FSC as a market tool for procurement.
Participants at the forum were representatives from the Việt Nam Administration of Forestry under the Ministry of Agriculture and Rural Development and many international ang domestic companies.
The FSC is a global not-for-profit organisation dedicated to promoting environmentally sound, socially beneficial and economically prosperous management of the world's forests.
It was created in 1993 to help consumers and businesses identify products from the well-managed forests and sets standards by which forests are certified, offering credible verification to people who are buying wood and wood products.
Currently, 195 million hectares and more than 57,000 businesses worldwide are certified according to FSC standards.

Leaders visit typhoon hit localities, people

President Trần Đại Quang yesterday inspected flood recovery efforts in Đà Nẵng City and visited some of the worst-affected residents.

He had high praise for clean-up and post-storm repair work done by authorities of the city that is hosting the ongoing Asia Pacific Economic Co-operation (APEC) 2017 Leaders' Week.

The President noted the APEC 2017 Leaders' Week was the most important international event of the year for the country in general and Đà Nẵng City in particular. It was an opportunity to boost the image of the country and the city among international visitors, he said.

He also lauded the city's residents for actively coping with the typhoon and taking measures to handle its consequences.

At present, the cleaning of streets, urban renovations, replacement and repair of damaged properties had been completed, he was told.

Visiting households in Hòa Vang District's Hòa Khương Commune, the President stressed that the leaders of the Party, the State as well as people throughout the country cared for and shared the difficulties and hardship of people in the central and Tây Nguyên (Central Highlands) regions that were severely hit by the typhoon Damrey.

He presented gifts to the residents and asked city authorities to pay close attention to limiting the damage caused and helping victims overcome the disaster's consequences.

City authorities said heavy rains caused by Damrey isolated many areas in Hòa Vang District, flooding 4,500 houses, dozens of hectares of vegetable and aquaculture farms. Total damage in the district was estimated at VNĐ40 billion (US$1.8 million).

Alongside helping people clean up their living areas, local authorities should work on hygiene and sanitation to prevent disease outbreaks and help people stabilise their lives, Quang said.

PM visits flood-hit Hội An

Also yesterday, Prime Minister Nguyễn Xuân Phúc asked authorities in Quảng Nam Province's Hội An City to take good care of residents and help them overcome soon the consequences of floods caused by Damrey.

Visiting Hội An Old Town in bare feet right after activities at the on-going APEC 2017 Leaders' Week, Phúc noted that the flooding consequences were complicated and urged local authorities to proactively engage in search and rescue operations and pay close attention to ensuring food and daily necessities for affected people.

He also asked all forces, including the army, police, youth and local mass organisations, to help residents overcome the damage caused by floods, especially in houses and schools, and soon restore daily life and production.

The PM stressed that Hội An, as a key tourist city, needed to be cleaned up soon after waters recede to ensure hygiene and sanitation right, as also provide good services for activities within the framework of the APEC 2017 Leaders' Week.

"This is a key task and it should be done with a spirit of urgency," Phúc said.

The PM also advised Quảng Nam Province's authorities to exercise caution in planning and acting to address damage caused by the floods in key heritage sites in Hội An.

At the same time, preservation work needed to be accelerated to ensure tourism sites return to normal soon, he said. 

After visiting a number of deeply inundated areas in Hội An City, Phúc presented gifts to several badly affected households. 

Quảng Nam authorities said Hội An has suffered prolonged and severe flooding  over the last three days due to heavy rains, high tides and water discharged from reservoirs on Thu Bồn river's upstream areas.

Putin's gesture

According Vietnam News Agency correspondent in Moscow, Russian President Vladimir Putin yesterday directed a US$5 million support to Viet Nam for handling Damrey's consequences. Besides, a II-76 aircraft was asked to be ready to carry relief materials from Russia to Việt Nam.

Meanwhile, the Japanese Government, through the Japan International Co-operation Agency, donated 105 water filtering systems to help residents in Thừa Thiên-Huế and Quảng Nam provinces cope with the aftermath of flooding. The filters arrived in Đà Nẵng yesterday afternoon.

To support flood victims in the central and Tây Nguyên regions, the Kiên Long Commercial Bank has decided to relax debt repayment due dates and exempt or reduce interest rates for customers badly affected by the floods.

As of yesterday, Damrey was reported to have killed 69 people in the central and south-central regions, 20 more than reported on Monday. Most of those killed - 27 - were from Khánh Hòa Province.

The Central Steering Committee for Natural Disaster Prevention and Control yesterday issued a document to local authorities in cities and provinces from Quảng Ninh to Kiên Giang, warning of a tropical low pressure in the Gulf of Thailand as well as strong winds in the sea territories of Việt Nam.

Centre for kids with disabilities gets solar power

The central province of Quảng Ngãi is co-operating with the HCM City-based SolarBK company to launch a solar power project for the centre for children with diablities in Nghĩa Hành District.

The company told Việt Nam News that the renewable power system will provide 40.8KWh (kilowatt per hour) to the centre every day, and help saving VNĐ50 million (US$2,200) in power consumption from the national grid each year.

The centre hosts 120 children with different disabilities.

The clean power system, built with VNĐ250 million (US$11,000) in funds from the HCM City branch of national utility firm Việt Nam Electricity (EVN).

This is the first charity project supported by EVN in the central province.

Typically, the centre uses more than 16,000KWh at a cost of VNĐ26 million ($1,100) from the national grid each year. It said money saved using the solar power system will be used to provide service, food and healthcare for its young wards. 

In August, the company had put into operation a solar power system on An Bình Islet off Lý Sơn Island, 30km off the provincial coast, supplying free and clean power to 400 resident islanders.

SolarBK said it plans to build a solar power system for operating the 2012-built seawater desalination station on the islet.

Thanh Hóa to build more hygienic toilets

The central province of Thanh Hóa will build 10,000 hygienic toilets by 2020 under a decision approved by the provincial People's Committee.

The activity is being conducted under a project of building hygienic toilets in coatal communes in the province.

The beneficiaries of the project are poor households in 50 communes of six coastal districts and cities in the province -- Nga Sơn, Hậu Lộc, Hoằng Hóa and Sầm Sơn, as well as Quảng Xương and Tĩnh Gia.

The project aims at reducing environmental pollution and diseases that spread via water sources.

It also aims at improving people's awareness, changing their habit of maintaining hygiene, and, therefore, improving their quality of life.

Capital for the project is more than VNĐ11.4 trillion (US$510,600), contributed by the provincial fund for the national target programme, targeted at setting up new style rural areas in the 2016-20 period. The programme is sponsored by organisations, enterprises and individuals.