National Assembly strikes 'domestic server' clause despite cyber risks
Last update: 16:58 | 01/06/2018
The clause on requiring foreign enterprises to install servers in Vietnam was struck out from the draft Law on Cybercecurity at the on National Assembly session despite the increasing number of attacks on Vietnamese computer systems and networks as well as Facebook and Google's long years of tax evasion.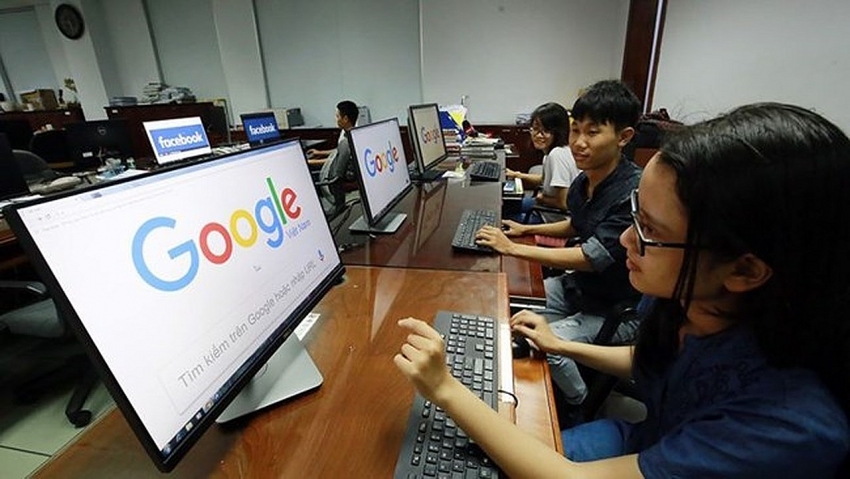 Facebook and Google may continue to evade taxation in Vietnam for a longer time. Photo: viettimes.vn
After discussion at the National Assembly session on May 29, the NA Council for National Defense and Security proposed not to include the clause on requiring foreign firms to install servers in Vietnam to facilitate the operations of foreign firms supplying services in Vietnam.
The Vietnam Digital Communications Association (VDCA) said that according to economic analyses, requiring foreign firms to install servers in Vietnam could reduce GDP growth by 1.7 per cent and FDI inflows by 3.1 per cent.
However, in light of the recent attacks on Vietnamese computer systems and networks as well as the tax dodging Facebook and Google for many years, it is not sure whether this is reasonable.
According to Cybersecurity Index (CSI)'s data 2017 released by International Telecommunication Union (ITU), Vietnam ranked 101th position, much lower than almost Southeast Asia countries, including Indonesia (70th), Laos (77th), Cambodia (92th), and Myanmar (100th).
Unhealthy cyberspace
Vietnam is amongst the countries suffering the largest number of cyberattacks in recent years. According to data released by the Vietnam Computer Emergency Response Team (VCERT), in this year's first two months more than 1,500 cyberattacks took place against Vietnamese targets.
However, to date, Vietnam does not have sufficient regulations to control internet security and current regulations are not good enough to prevent cyberspace violations.
Speaking at the latest cybersecurity seminar, Lieutenant-general Hoang Phuoc Thuan, director of the Internet Security Department (the Ministry of Public Security-MoPS) said that Vietnam in 2017 faced a series of cyberattacks targeting the vital industries and institutions.
MoPS in early March broke up a cross-border crime ring specialised in betting, gambling, and money laundering via Internet.
Vietnam is currently ramping up building regulations related to cybercrime and training personnel to countermand threats.
No representative office, no tax
Slapping tax charges on foreign firms, specifically Facebook and Google, has been a difficulty for Vietnamese authorities in the past many years as the two technology companies have not established representative offices in Vietnam.
The Ministry of Finance's (MoF) report stated that in 2016-2017, Facebook and Google only paid VND120 billion ($5.28 million) in taxes in Vietnam via their partners, including advertising agencies and Vietnamese businesses directly purchasing their services.
Vo Do Thang, director of the Athena Network Security Training Centre, said that cross-border technology companies do not want to be bound by Vietnamese laws, so they do not establish any representative offices or branches in Vietnam. They only maintain a small personnel in Vietnam to communicate and provide information. Therefore, collecting taxes from them is really difficult.
Colonel Nguyen Huu Cau said the Law on Trade 2017 stipulated foreign firms "have to establish representative offices in Vietnam."
"I think firms have to establish representative offices by laws. Why should the law not apply to technology enterprises when all others have to establish representative offices in Vietnam?" Cau added.
In addition, Cau also said that many governments have required the two tech companies to set up representative offices in their countries.
VIR