IT sector targets 15 percent annual growth
Last update: 10:56 | 30/11/2017
Viet Nam's software, digital content and IT services sector targets annual growth of at least 15 per cent to retain its position as one of the 10 leading software and digital content outsourcing countries in the world, according to the HCM City Computer Association.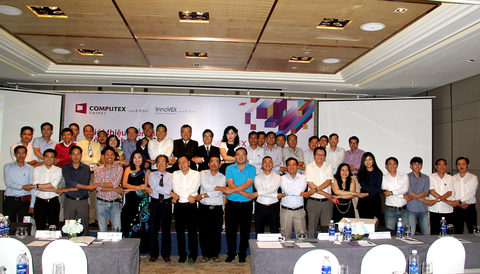 A seminar on Taiwan's AIoT industry and COMPUTEX 2018 held in HCM City on November 28. 
The association's general secretary, Vu Anh Tuan, said IT is one of the county's key industries and the Government has paid great attention to its long-term development.
"The IT industry has grown rapidly in the last seven years, with output going up from US$7.62 billion in 2010 to more than $58 billion last year," he told a seminar on Taiwan AIoT industry and COMPUTEX 2018 held in HCM City on November 28.
The sector has developed key IT products, supports start-ups, wants to set up at least seven IT parks, he said, adding that it also promotes brands and investment and trade and organises seminars to link up Vietnamese IT firms with their global counterparts, he said.
Simon Gong, director of the economic division at the Taipei Economic and Cultural Office in HCM City, said: "Viet Nam and Taiwan's industrial strengths complement each other."
Taiwan is a big player in the global ICT market, churning out PCs and mobile devices besides IoT (Internet of Things), AI (artificial intelligence) and VR (virtual reality) applications, he said.
Taiwan and Viet Nam have collaborated for many years, he said.
"Currently, the Taiwanese Government is strengthening co-operation with all countries in ASEAN with its 'New South-Bound' policy."
Tuấn said by organising the seminar the association hopes to create a bridge between Vietnamese and Taiwanese IT firms and promote investment and trade between the two sides.
Emilia Shih, deputy director of the Taiwan External Trade Development Council's exhibition department, said Computex is one of Taiwan's focus activities.
Organised by TAITRA since 1981, the event is one of the world's leading ICT expos with complete supply chain, IoT and startup eco-systems.
The 2018 Computex, themed "Building global technology ecosystems," will be held from June 5 to 9 next year in Taipei wit a focus on six main themes -- AI and robotics, 5G, blockchain, IoT applications, innovations and start-ups, and gaming and VR -- she said.
Besides showcasing the latest products and services, the expo will also include seminars, start-up forums, B2B meetings, and others.
Last year it had attracted 1,600 exhibitors from 26 countries and territories and more than 40,000 international visitors from 170 countries and regions.
Tuan said more than 100 Vietnamese companies, including some 20 start-ups, would take part in 2018.
The seminar was organised by the Bureau of Foreign Trade of Taiwan, TAITRA and HCA. — VNS