East Sea security conference held in Poland
Last update: 15:15 | 23/03/2017
Security in the East Sea came under the spotlight at a recent conference held at the Civitas University in Warsaw, Poland, drawing the attendance of local researchers, students and the Vietnamese community.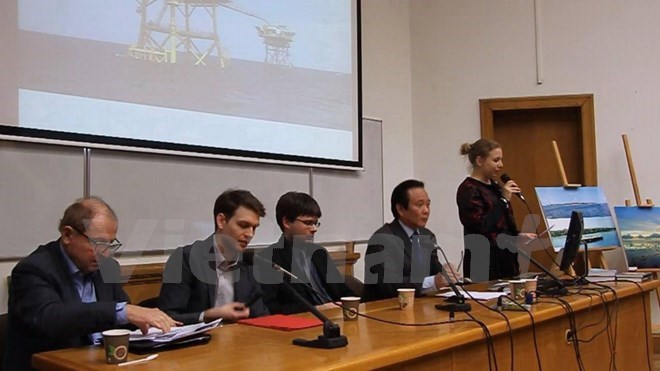 Scholars and experts dicuss at the conference.
The event was held by the Centre for Poland-Asia Studies (CSPA), the Vietnamese Culture and Science Institute under Almamer University, Collegium Civitas in collaboration with Le Qui Don club.
At the conference, professors Tadeusz Iwinski, Pawel Behrendt and Oskar Pietrewicz of the CSPA and Dr. La Duc Trung from the Vietnamese Culture and Science Institute presented reports on the East Sea situation and disputes among countries related to the waters.
Reports all confirmed that maintaining security at the East Sea plays a very important role in ensuring freedom of maritime navigation and maintaining trade among countries in the world.
The speakers shared the view that concerned countries should not use force to solve disputes at the East Sea, calling for the settlement of disputes via peaceful measures based on the United Nations Convention on the Law of the Sea (UNCLOS).
In his presentation, Dr. La Duc Trung introduced to delegates the daily life of residents and Vietnamese People's Army's soldiers on Truong Sa (Spratly) archipelago. 
He recalled the incident when China used force to illegally occupy Hoang Sa (Paracel) archipelago and some islets in Truong Sa, adding that the country is also building facilities and militarising these islands.
During the conference, the organising board also introduced 30 old maps and photos testifying to Vietnam's sovereignty at the East Sea.
VNA