Vietnam is a responsible ASEAN member
Last update: 13:54 | 09/08/2018
VietNamNet Bridge – Nguyen Quoc Dung, Deputy Minister of the Ministry for Foreign Affairs, speaks to Vietnam News Agency on Vietnam's contributions to the development of ASEAN in the last 23 years.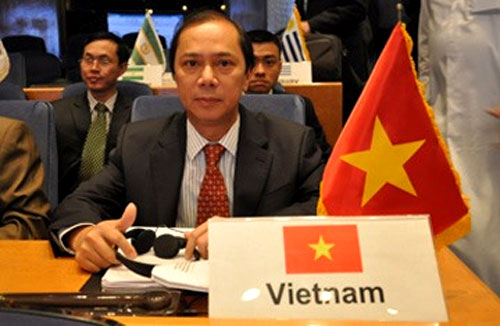 Deputy Minister of the Ministry for Foreign Affairs Nguyen Quoc Dung
What're Vietnam's contributions to ASEAN in the last 23 years and the benefits the country has gained since becoming an ASEAN member?
Objectively speaking, since becoming an ASEAN member, Vietnam has played an important role in changing the face of Southeast Asia as Vietnam is a strong market with big potential. Subjectively speaking, since joining ASEAN, Vietnam has always tried its best to accomplish its mission in the bloc.
Vietnam has participated in all activities of the association and honoured its commitments to the bloc, including the implementation of all objectives of the ASEAN Economic Community. Vietnam was the second ASEAN member after Singapore to have done that. Vietnam is a pioneer in the ASEAN in the fields of security and politics. In the economic field, Vietnam is also a pacesetter in international integration among the three ASEAN nations that have signed the Comprehensive and Progressive Agreement for Trans-Pacific Partnership (CPTPP).
Vietnam and Singapore have reached agreement on free trade area with the European Union. Vietnam was also the first nation that joined the free trade agreement with the Asia-Europe Economic Alliance. These are the achievements Vietnam has contributed in the past 23 years since it became a full member of ASEAN.
Regarding the benefits Vietnam has enjoyed since it became an ASEAN member, there are three main benefits, namely;
First, a peaceful co-operation environment. In such a favourable condition, Vietnam has opened its market for trade development and attracted a lot of foreign investment. As a result, Vietnam has time to develop its economy.
Second, through ASEAN, Vietnam has developed its international integration policy. As an ASEAN member, Vietnam has deepened an economic alliance with other nations and globally.
And finally, collective strength as Vietnam is a member of ASEAN. Vietnam's interests are also the interests of ASEAN. With great solidarity among the ASEAN members, we unite together to protect our interests. ASEAN is also a good forum for Vietnam to enhance our role and image as well as to contribute to the common interests of the region and the world over.
What are the opportunities and challenges that ASEAN is facing?
There are many opportunities ahead of all ASEAN member nations. After 50 years of coming into being and development, ASEAN has obtained notable achievements.
Particularly, ASEAN has become a very successful organisation in many fields, including security, politics, economics, culture and society. After 50 years of development, ASEAN has learned many lessons, particularly lessons on connectivity, unity and consensus among its member nations. Achievements that we - ASEAN nation members - have made are acknowledged worldwide. ASEAN's standing has been acknowledged and respected worldwide.
Besides the above advantages, ASEAN has also been facing a lot of challenges. The first challenge is the 10 member nations' determination to build a common community. Until now, the plan remains hanging over. One of the stumbling blocks to realise this goal is the big development gap among the 10 member nations, the differences in organisational structure, political institution and the differences in their interest as well as the impacts of the 4.0 industrial revolution.
ASEAN is an association which has been acknowledged internationally, but if ASEAN can play a central role in solving differences among the nations remains a big question. Furthermore, will ASEAN be able to pursue its policy of supporting free trade and investment. It remains an open question without an answer.
To overcome such a challenge, I think that all member states should see the value of the association for their nation, the region and the world as a whole. To achieve our own interests, we can't forget the interests of other nations, we need to harmonise them all together - regionally and internationally.
In 2020, Vietnam will play the role as ASEAN Chairman. How has Vietnam prepared for the assumption?
Becoming an ASEAN Chairman is a responsibility and obligation for Vietnam. It is also a big opportunity for us. That means we have to do our best to inherit what our predecessors have achieved. It is an occasion for Vietnam to exhibit its capacity and expertise and to improve its image in the eyes of other ASEAN member states.
The year 2020 is a special year for Vietnam and also for other ASEAN member states. By 2020, Vietnam will mark its 25th anniversary of joining ASEAN.
For ASEAN, 2020 is the time for a mid-term review after five years implementing the ASEAN Community and the implementation of the association's 10 year plan (2015-2025) and then come up with future plans.
Vietnam has prepared for that event regarding infrastructure, financial and human resources. More importantly, we must remain objective, putting the interests of the community as our top priority while trying to balance the association's interests with that of each member state.
Source: VNS