Last update: 11:38 | 09/08/2018
Vietnam, RoK legislatures boost cooperation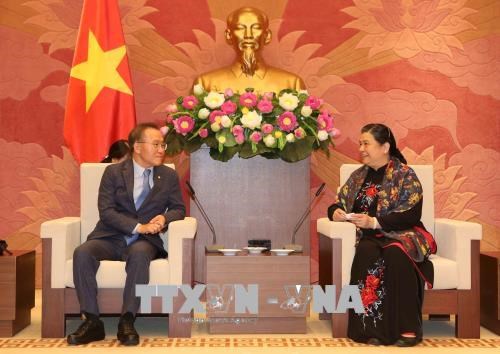 NA Vice Chairwoman Tong Thi Phong  (R) and deputy head of  the Executive Committee of the RoK NA Yun Jae-ok 
The National Assembly (NA) of Vietnam supports and attaches importance to strengthening the friendship and cooperation with the NA of the Republic of Korea (RoK), said NA Vice Chairwoman Tong Thi Phong. 
Receiving a delegation from the Executive Committee of the RoK NA led by its deputy head Yun Jae-ok in Hanoi on August 8, Phong stressed that the Vietnam-RoK strategic cooperative partnership has seen strong and comprehensive development with practical achievements in the recent past. 
She suggested the two legislatures work closely in implementing cooperation agreements, as well as sharing experience in law-making and supervision of the NAs and their subordinate agencies. 
Legislators of Vietnam and the RoK should urge the two governments to carry out already signed cooperation deals, and coordinate and mutually support in regional and international inter-parliament forums, thus contributing to peace, security and stability in the region and the world, she said.
Phong went on to say that the two legislative agencies should maintain regular high-level meetings, and facilitate the exchange and cooperation between the two nations' sectors and localities, towards enhancing mutual understanding and political trust, and expanding multi-faceted cooperation. 
The two sides also need work to step up cooperation in the fields of culture, education and tourism and people-to-people exchanges, she added. 
For his part, Yun underlined the importance of parliamentary cooperation in promoting bilateral relations between the RoK and Vietnam. 
Right after the reception, Chairman of the NA's Committee for External Affairs Nguyen Van Giau had a working session with the RoK delegation. 
Giau said along with the development of the Vietnam-RoK strategic cooperative partnership, the friendship and collaboration between the two legislatures have been incessantly strengthened and developed both bilaterally and multilaterally. 
He asked the two sides to continue coordinating in supervising the implementation of cooperation agreements signed between the two countries; listen to opinions of their business communities; monitor the building of policies and laws; and create conditions for citizens of the two countries to have a stable legal environment to live and do business stably in each country. 
Meanwhile, Yun said the delegation's visit will contribute to deepening the relationship between the two legislatures.
He expressed his hope that the two sides will maintain the exchange of delegations at all levels and facilitating the operation of the Vietnamese and RoK friendship parliamentarian groups.
Vietnamese, Chinese provinces cooperate in humanitarian activities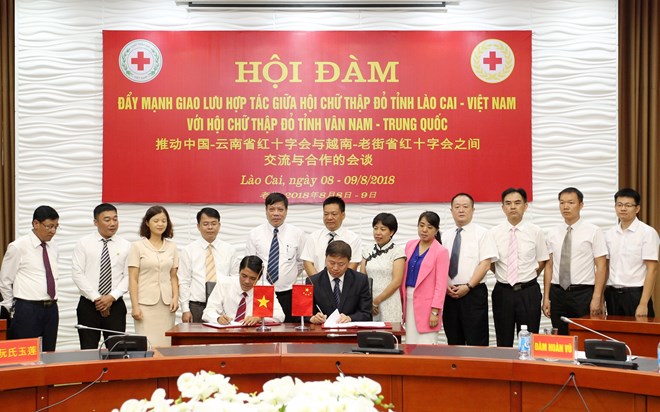 The Red Cross Societies of Vietnam's Lao Cai province and China's Yunnan province signed a memorandum of understanding (MoU) on cooperation 
The Red Cross Societies of Vietnam's Lao Cai province and China's Yunnan province signed a memorandum of understanding (MoU) on cooperation in implementing friendship and humanitarian programmes, marking a new development step in the two sides' relations.
Tian Huabing, Vice President of Yunnan's Red Cross Society, said that the MoU aims to strengthen the two associations' common perceptions on humanitarian cooperation issues.
They will take measures to support each other in case of natural disasters or emergencies, while organising exchange activities in turn, and considering the establishment of an emergency rescue team.
Both sides will share experience in carrying out humanitarian rescue, and training personnel, Tian added.
Do Thanh Cong, President of the Red Cross Society of Lao Cai province, said that the two associations and their chapters will well implement the MoU, maintain people-to-people exchange, and support each other in humanitarian and charitable activities, and health care, as well as at local and national forums.
Over the past years, Lao Cai has intensified cooperation with other localities, regions, foreign representative offices in Vietnam, international organisations and financial institutions to rally their help for development.
The province has stepped up its comprehensive cooperation with Yunnan to serve socio-economic development, ensure defence-security, and increase its position.
Vietnamese leaders congratulate Singapore on National Day
President Tran Dai Quang has sent a message of congratulations to President of Singapore Halimah Yacob on the occasion of the 53rd anniversary of the National Day of Singapore (August 9). 
On the occasion, Prime Minister Nguyen Xuan Phuc cabled a congratulatory message to his Singaporean counterpart Lee Hsien Loong. 
Deputy Prime Minister and Foreign Minister Pham Binh Minh also extended congratulations to Singaporean Foreign Minister Vivian Balakrishnan.
President lauds war veterans for contributions to socio-economic development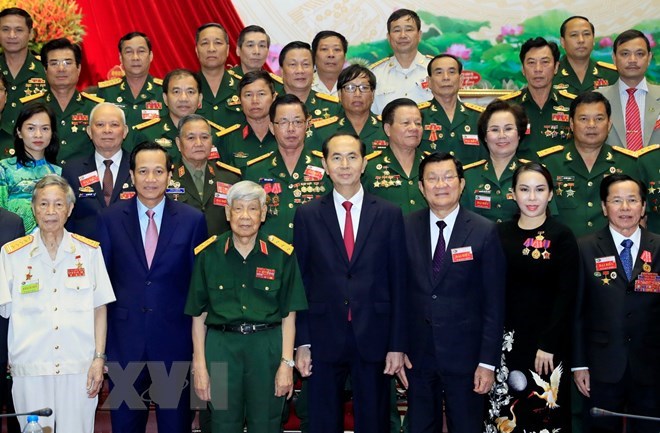 President Tran Dai Quang (first line, middle), former Party General Secretary Le Kha Phieu (first line, third, left), former President Truong Tan Sang (first line, third, right) and delegates to the congress pose for a group photo. 
President Tran Dai Quang has applauded the contributions of businesses run by war veterans to socio-economic development of localities and the country as well. 
Speaking at the second congress of the Vietnam Veterans' Business Association (VVBA) in Hanoi on August 8, the President said the association should help its members develop commercial production, intensify scientific-technological applications in production and promote high value added services, thus helping with poverty reduction. 
The association was also requested to help remove difficulties facing the enterprises, replicate outstanding models and join hands in charity activities, especially drives to help war invalids and families of fallen soldiers.. 
The VVBA was established in April 2013, aiming to encourage war veterans to carry forward the spirit of self-reliance; support each other in economic development and poverty reduction; and step up charity activities. 
The association now has 38 chapters with 7,728 businesses and 82,791 farms run by war veterans, with total revenue of nearly 200 trillion VND (8.6 billion USD), generating jobs for more than 800,000 labourers. 
It has financed the construction of nearly 450 houses for social policy beneficiaries and contributed 524 billion VND (22.5 million USD) to charity activities and poverty reduction. 
On this occasion, President Quang presented the Labour Order, third class, to the association; and the Labour Order, first class, to its President - Labour Hero Le Van Kiem.
Prime Minister urges measures to enhance dam safety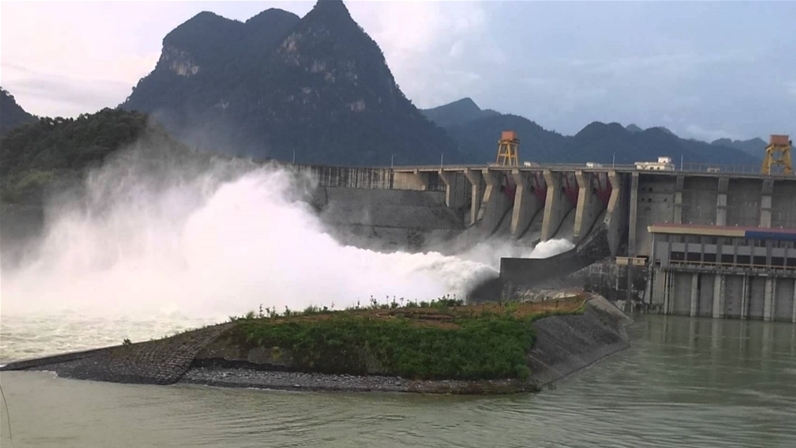 Water is being discharged from a hydroelectric reservoir. 
Prime Minister Nguyen Xuan Phuc has signed a directive calling for increased efforts to ensure the safety of dams and reservoirs.
He asked the Ministry of Agriculture and Rural Development and the Ministry of Industry and Trade to form working groups to inspect large dams and reservoirs and those at risk in order to take preventive measures.
The government leader also urged the two ministries to make response plans to deal with any scenario to guarantee safety for structures and the lower reaches.
He called for a continued review of the planned dams and reservoirs and resolute cancellation of any inefficient projects that could exert great impacts on the environment and the lives of nearby residents.
PM Phuc also asked the parties concerned to install monitoring devices and information systems to provide early warnings.
According to the Directorate of Water Resources, currently 80 out of 286 large reservoirs in the northern region are now full, while the number of full large reservoirs in the north central region is at 22 out of 132.
A significant number of smaller reservoirs are also full, while others have a water level at 65-85% of their capacities.
Heavy rain has damaged 39 houses and flooded 20 hectares of rice paddies in the northern mountainous province of Yen Bai and caused a landslide that disrupted part of the road connecting Ha Giang province's Meo Vac district to National Highway 34.
Meanwhile in Hanoi's southern suburban district of Chuong My, efforts are being made to reduce the floodwater levels, and prevent the spread of diseases when the water recedes and electrical incidents when the power is restored.
PM: forestry exports to reach US$18-20 bln by 2025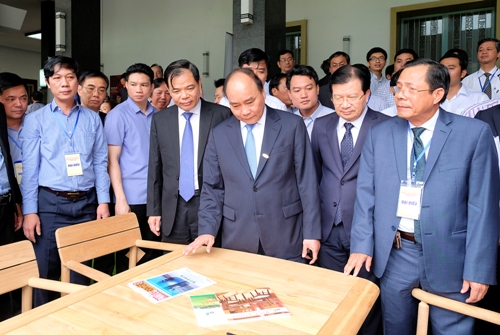 PM Nguyen Xuan Phuc attends a meeting on wood processing and forestry exports in Ho Chi Minh City, August 8, 2018
PM Nguyen Xuan Phuc put a goal of earning US$9 billion in 2018, US$10-11 billion by 2019, US$12-13 billion by 2020 and US$18-20 billion by 2025 for the wood processing industry and forestry exports at the meeting on August 8 in Ho Chi Minh City.
This is the first large-scale meeting on the wood industry, which aims to review the exploitation and use of wood and propose measures to uphold the nation's potentials in this field. 
Speaking at the event, the PM said that while the agricultural sector contributes 16% of the GDP, the exports of wood and wooden products make up 21% of the agricultural exports, reaching nearly US$8 billion in 2017. 
The annual growth of the wood industry attained 15% over the recent 18 years, five times higher than the growth of the agricultural sector. 
As many as 4,500 businesses operating in the sector have created 350,000 jobs and the average value of US$23,000 per laborer. 
The Government leader supposed that the wood processing industry and forestry exports must become one of the nation's production and export sectors and Viet Nam is expected to be listed among the world's leading and prestigious forestry production and export hubs.
He asked the ministries, agencies, localities and businesses to focus on effectively implementing the Law on Forestry 2017, regarding the forestry sector as one of the special economic and technical sectors in the value chain of forestry products from management, protection and development to forest utilization, processing and trade of forest products.
PM Phuc encouraged investing in planting material forests and renewing science and technology in forest planting, wood processing and forestry exports especially in the context of the fourth industrial revolution, requesting to communicate among people and businesses to exploit timber legally. 
Highlighting the role of associations and the business community, he suggested enterprises respect international laws, use materials legally and do research in international markets carefully to prevent trade conflicts. 
The PM stressed the need to establish a trade mark for Viet Nam's wood, announcing that after the meeting, a Directive on facilitation to the fast and sustainable development of the wood processing industry and forestry exports will be issued. 
Singapore's 53rd National Day observed in HCM City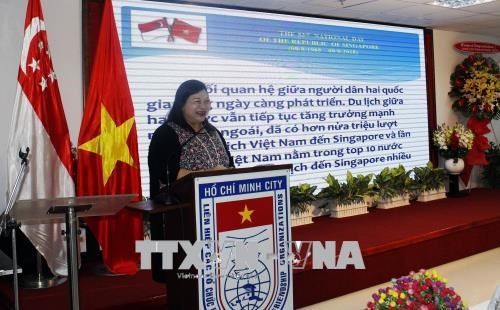 Singaporean Consul General Leow Siu Lin speaks at the event. 
A get-together to mark the 53rd anniversary of Singapore's National Day (August 9) was jointly held by the Ho Chi Minh City Union of Friendship Organisations (HUFO) and the city's Vietnam-Singapore Friendship Association (VSFA) on August 8.
Congratulating Singapore on the day, Chairman of HCM City's VSFA Nguyen Ngoc Hoa expressed his delight over the fruitful Vietnam-Singapore cooperative relations in various fields, which have been consolidated through regular visits of both sides' high-level leaders, and meetings on the sidelines of multilateral forums.
Two-way trade rose nearly 9 percent year on year to 21.6 billion USD in 2017. Singapore is the third largest investor in Vietnam with over 1,800 projects registered at 43 billion USD. Meanwhile, seven Vietnam-Singapore Industrial Parks nationwide have attracted some 10.9 billion USD, and created over 170,000 jobs for local labourers.
On the occasion, Hoa called for further support from the Singaporean General Consulate, the Singaporean business association, and the Singaporean community in the city to enhance people-to-people exchange as well as collaboration in culture, sports, and tourism.
Singaporean Consul General Leow Siu Lin expressed her respect for the cooperation from the HUFO and the VSFA in Ho Chi Minh City, which she said contributed significantly to fortifying the close relations between Singaporean people and Ho Chi Minh City's locals.
Regarding the bilateral ties in the past years, she stressed that both countries have gained positive results in cooperation across the fields of economy, trade, investment, tourism, and education and training. 
Since 1992, over 18,000 Vietnamese officials, including many from Ho Chi Minh City, have joined training courses in Singapore under the Singapore Cooperation Programme (SCP). Such cooperative activities have helped nurture the sound relations and friendship between the two peoples, she said.
Vice President visits poor families in Vinh Long province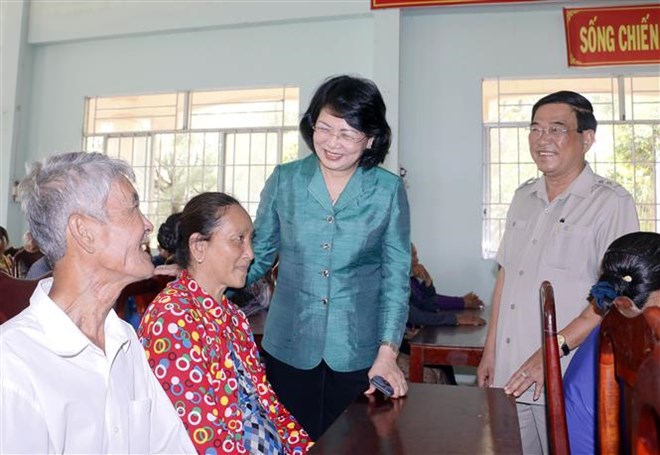 Vice President Dang Thi Ngoc Thinh visits policy beneficiaries in Vinh Long province
Vice President Dang Thi Ngoc Thinh visited and presented 150 gift sets for policy beneficiaries, poor families and Agent Orange/dioxin victims in Nguyen Van Thanh and Tan Thanh communes of the Mekong Delta province of Vinh Long on August 8.
After being briefed on socio-economic conditions by local authorities, the Vice President spoke highly of the recent achievements of the two communes, especially in poverty alleviation, national target programme on building new-style rural areas and economic structure shifting, which help raised locals' income.
She voiced her hope that the communes will continue to spare no efforts to ensure sustainable socio-economic development and effectively implement policies for those who rendered services to the nation, as well as reduce poverty and fulfil targets to receive the new-style rural area recognition.
Thinh also expressed her gratitude to policy beneficiaries who made contributions to the country's revolutionary cause.
Vinh Long province is home to more than 64,000 revolutionary contributors, including over 16,400 martyrs, 4,500 war invalids, 50 people with the "Hero of the People's Armed Forces" title, along with about 2,850 Heroic Mothers.
There were around 10,355 poor households in the province, accounting for 3.71 percent of the local population. In the first six months of this year, the province raised over 106.7 billion VND (4.57 million USD) from social sources to support needy families and implement social welfare programmes.
On the occasion, the Vice President visited students of the Ho Chi Minh City Banking University who are joining a summer voluntary campaign in Tan Thanh commune.