Minister of Information-Communication Truong Minh Tuan suspended
Last update: 16:15 | 23/07/2018
President Tran Dai Quang on July 23 signed a decision on the suspension of Truong Minh Tuan from his position as the Minister of Information and Communications.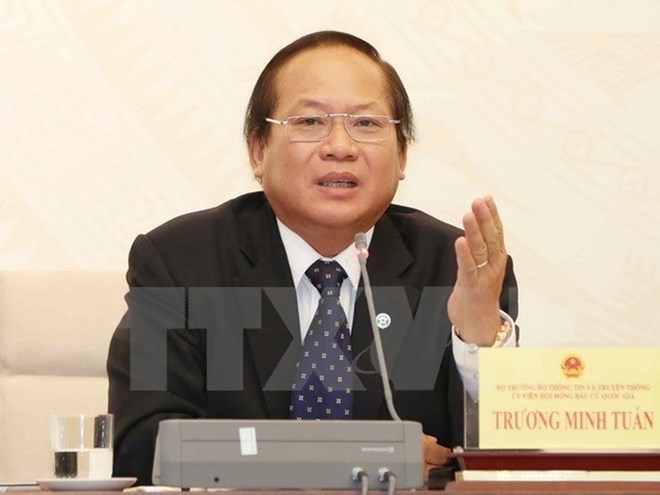 Truong Minh Tuan has been suspended from his position as the Minister of Information and Communications 
Under Decision 1261/QD-CTN, Tuan was suspended due to his wrongdoings, and the Politburo had imposed a Party disciplinary measure against him under Decision 806-QDNS-TW dated July 16, 2018.
The Prime Minister, the Chair of the President's Office and Truong Minh Tuan as well as relevant agencies are responsible for implementing the President's decision.
On July 18, Prime Minister Nguyen Xuan Phuc gave a warning to Tuan as a disciplinary measure for his law violations at the ministry.
Truong Minh Tuan, a member of the Party Central Committee and the Party Committee of the Central Agencies Bloc for 2015-2020, was also relieved from his post as Secretary of the Party Committee of the Ministry of Information and Communications (MIC) for the 2016-2021 term.
According to the Politburo, Tuan must bear responsibility for the violations and wrongdoings committed by the ministry's Party Committee during the 2011-2016 term when he was serving as a member of the MIC's Party Committee and Deputy Minister of the ministry.
He violated the principle of democratic centralism and working regulations, showing a lack of responsibility and lax in leadership when directing the implementation of a project on purchasing 95 percent of shares at the AVG Audiovisual JSC by the MobiFone Telecommunications Corporation.
He also signed Decision No.236/QD-BTTTT dated December 21, 2015 on the ministry's approval of the project, as well as a number of related documents that ran against regulations, including documents beyond his assigned duty.
In his capacity as Secretary of the MIC's Party Committee and MIC Minister since April 2016, Tuan is held responsible for the violations and wrongdoings committed by the committee for the 2016-2021 tenure, the Politburo concluded. -VNA