Last update: 10:57 | 04/07/2018
NA Vice Chairman meets voters in Lao Cai province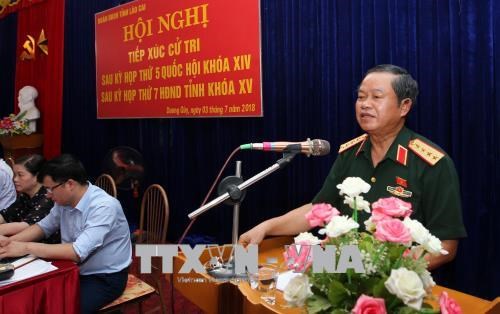 NA Vice Chairman Do Ba Ty 
Vice Chairman of the National Assembly (NA) Do Ba Ty on July 3 met voters in Duong Quy commune, Van Ban district, the northern province of Lao Cai, the hardest-hit locality in the recent floods. 
On June 24 and 25, floods severely damaged houses, transport infrastructure, and irrigation systems, inundating hundreds of hectares of rice and vegetables in Duong Quy, Hoa Mac, Minh Luong, and Nam Xe communes. 
Ty stressed that Van Ban district is highly prone to sudden floods due to its sloping terrain, and as such local residents should stay alert to disasters to mitigate human and material losses. He also underscored the role of village chiefs in preventing and controlling floods. 
As well as comments regarding basic construction, administrative reform, and policies, voters in Van Ban district asked the legislature and the Government to deal with issues regarding mineral mining and transport infrastructure. 
The Vice Chairman asked the provincial NA deputy delegation and all-level People's Councils to further enhance their supervisory role and requested that constituents' opinions be transferred to those authorities concerned for consideration. 
Ty lauded Van Ban district's authorities for their reception of local citizens and prompt settlement of arising issues. 
La Xuan Tham, Secretary of the Duong Quy Commune Party Committee, suggested that the legislature and the Government should utilise 20-30 percent of mineral sale revenues each year to invest in infrastructure and welfare works in the locality. 
Constituents urged the Government to allocate funding for the repair and upgrading of national highway 279, especially from the IC 16 section of the Noi Bai-Lao Cai highway to Van Ban town. 
They asked the State to clarify the responsibility of individuals and units concerned for the lifespan of works which have suffered rapid downgrades or extend their warranty to prevent wastefulness and embezzlement. 
The same day, Ty visited and presented gifts to the family of veteran La Van An, who was affected by the floods.
Soc Trang province urged to apply advanced technology by officials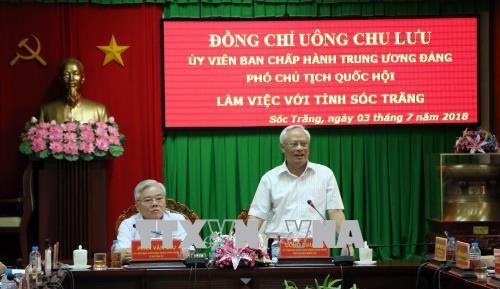 Vice Chairman of the National Assembly Uong Chu Luu at the working session in Soc Trang province.
The Mekong Delta province of Soc Trang should strive further to apply advanced technology so as to promote safe agricultural production and enhance farm produce exports, said Vice Chairman of the National Assembly Uong Chu Luu.

At a working session on July 3 with local authorities on the province's socio-economic development in the first half of this year, Luu recommended the province call for investments for advanced and environmentally-friendly technologies to create high value products, and highlighted some specific measures to develop local tourism alongside preserving traditional values.

Comprehensive solutions to preventing deterioration in political ideology, morality, and lifestyle must be carried out, he stressed, urging the province to effectively implement the Party Central Committee's resolutions on apparatus rearrangement to ensure a streamlined and efficient system.

According to Chairman of the provincial People's Committee Tran Van Chuyen, local economic growth expanded 6.11 percent in the first half of the year. Total rice output was 1.3 million tonnes, with purchasing price higher than that in the same period last year.

Local farmers gained big profits during the period thanks to a stable market and many Vietnamese Good Agricultural Practices (VietGAP) cultivation models.

Chuyen said that the industrial production value picked up 6 percent year-on-year, spurred by a surge in the province's key products. Among them, the value of garment production rose 59 percent, and those of bottled beer and frozen shrimp shot up 42 percent and 7.4 percent, respectively.

During the January-June period, the province welcomed 60 big investors to seek investment opportunities, and there were 141 newly-established enterprises with a total registered capital of 1.2 trillion VND (51.6 million USD), increasing total operating businesses in the locality to 2,480.

Regarding solutions to developing socio-economy for the remaining six months, Secretary of the provincial Party Committee Phan Van Sau said that the province will carry out a set of measures to shake up local agriculture alongside building new-style rural areas.

Expanding local key areas which meet the market's demands, responding to climate change, accelerating energy projects, developing processing technology, and implementing poverty alleviation activities will be taken as the top solution priorities.

The same day, Luu visited the Republic of Korea-invested garment plant and Soc Trang Seafood JSC (STAPIMEX) at An Nghiep Industrial Park. He also visited and presented gifts to two policy beneficiary families in Phu Tam communes, Chau Thanh district.
Vietnam, Laos look to settle free migration, undocumented marriages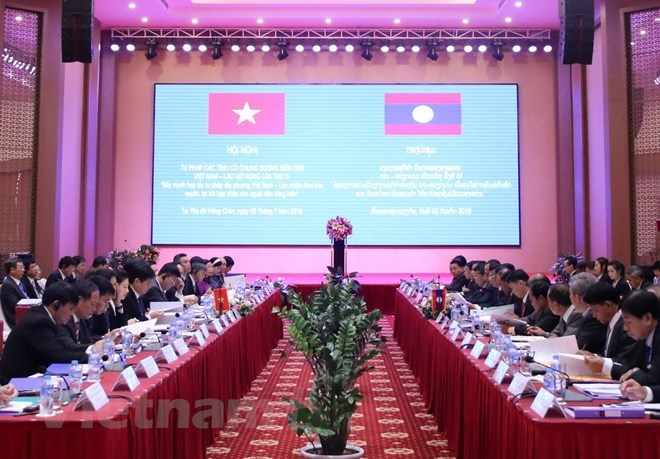 A conference to foster judicial cooperation between Vietnam and Laos to ensure legal rights and the interests of people living in the border region takes place in Vientiane on July 3. 

Authorities from the Vietnamese and Lao provinces along their shared border gathered in Vientiane on July 3 at a conference, seeking ways to foster judicial cooperation between the two sides to ensure legal rights and the interests of people living in the border region.

The conference, the fourth of its kind, was chaired by Vietnamese Minister of Justice Le Thanh Long and his Lao counterpart Saysi Santivong, and attended by judicial officials from the two ministries as well as 16 Vietnamese and 18 Lao provinces.

Since the last judicial conference, the management of household registers and citizenship-related issues in the provinces along the shared border has been strengthened with a number of encouraging results, as heard at the event.

The two sides have both been actively working together to implement the 2013 Vietnam-Laos agreement in addressing free migration and undocumented marriages in their shared border areas while, at the same time, making many efforts in the enforcement of civil judgement.
Vietnamese leaders congratulate US on Independence Day
President Tran Dai Quang and Prime Minister Nguyen Xuan Phuc on July 3 transmitted a message of congratulations to President of the United States Donald Trump on the country's 242nd Independence Day (July 4).
On this occasion, Chairwoman of the National Assembly Nguyen Thi Kim Ngan also extended congratulations to President of the US Senate Michael Pence and Speaker of the US House of Representatives Paul Ryan.
Deputy Prime Minister and Minister of Foreign Affairs Pham Binh Minh also sent a congratulatory message to US Secretary of State Michael Pompeo.
PM Nguyen Xuan Phuc asks for greater focus on building institutions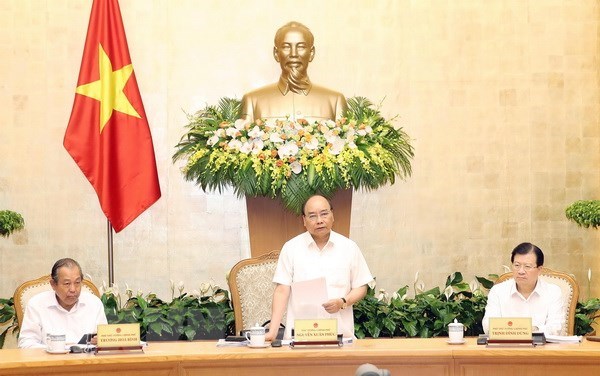 Prime Minister Nguyen Xuan Phuc speaks at the meeting 
Prime Minister Nguyen Xuan Phuc requested ministries, sectors and relevant agencies to pay more attention to building institutions while chairing the Government's regular meeting in Hanoi on July 3.
The Ministry of Justice delivered a report on the implementation of the Government's programme on building laws and ordinances and the promulgation of documents stipulating the enforcement of laws and ordinances in the second quarter of 2018.
Ministries are set to build and promulgate 151 documents, giving details on law and ordinance regulations in 2018, including 60 documents providing details of laws and ordinances that have come into force.
As of June 30, the Government, along with the Prime Minister, ministries, and ministerial-level agencies promulgated 93 out of the 151 documents.
Ministries were urged to proactively draft documents for the promulgation of the remaining documents.
PM Nguyen Xuan Phuc mentioned some constructive recommendations and proposals of localities on institutions and policy mechanisms in the recent review conference on the country's socio-economic performance in the first half of 2018.
He asked the Minister-Chairman of the Government Office to quickly collect these opinions and reply them quickly to the localities.
The PM requested the Ministry of Justice and the Government Office to conduct regular inspections on the implementation of the Government's programme on building laws and ordinances.
At the meeting, the Government also considered the proposal of building resolutions stipulating the management of sand and soil in river beds.
Cabinet members also discussed a draft law on architecture and a draft resolution stipulating preferential treatment for Vietnamese who had participated in the resistance wars for national independence and doing international missions but now residing overseas.
They also discussed a plan to allocate the remaining funds and address some of the bottlenecks in the transfer of regular expenses from the central budget in 2017.
Vietnam, Israel to boost cooperation in fighting crime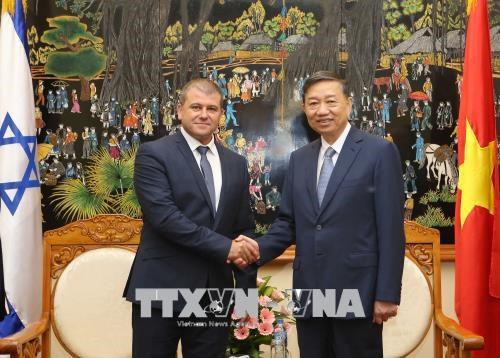 Vietnamese Minister of Public Security Sen. Lieut. Gen. To Lam (R) and his Israeli guest 
The Ministries of Public Security of Vietnam and Israel should increase the exchange of information and experience in preventing and combating crime, especially transnational crime, said Vietnamese Minister of Public Security Sen. Lieut. Gen. To Lam.
While receiving Director General of the Israeli Ministry of Public Security Moshe Edri in Hanoi on July 3, Lam also suggested the two ministries expand cooperation in cyber security, firefighting, rescue activities, personnel training and science-technology.
The minister said the Israeli delegation's visit is of important significance as the two nations are celebrating the 25th founding anniversary of diplomatic ties (July 12).
The visit is also a step to realize a cooperation agreement on preventing and fighting transnational crime signed between the two ministries in 2016, he added.
Edri affirmed that he will continue try his best to promote the development of cooperative relations between Israel and Vietnam in general and between the two Ministries of Public Security in particular.
Earlier on the same day, Vietnamese Deputy Minister of Public Security Sen. Lieut. Gen. Nguyen Van Thanh held talks with Director General of the Israeli Ministry of Public Security Moshe Edri.
Trade unions asked to work for better livelihoods for labourers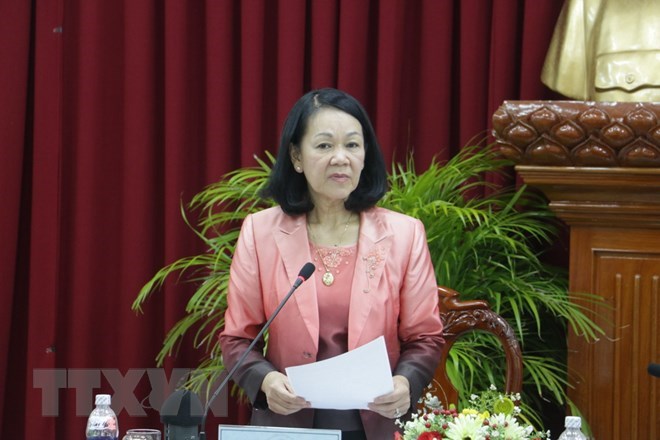 Truong Thi Mai – Politburo member, Secretary of the Party Central Committee and head of its Commission for Mass Mobilisation.
Trade unions have been asked to focus their operations on ensuring the rights and legitimate interests, as well as sustainable employment and appropriate income of labourers.
The statement was made by Truong Thi Mai – Politburo member, Secretary of the Party Central Committee and head of its Commission for Mass Mobilisation – at the 12th meeting of the Executive Committee of the Vietnam General Confederation of Labour (VGCL) in Hanoi on July 3.
Mai spoke highly of the activities by trade unions to care for the life of labourers, especially those in remote areas and with low incomes.
She recommended trade unions to get involved in addressing salary-related issues in a variety of ways.
The VGCL was asked to pay attention to improving labourers' skills; ensuring their safety at their workplace; addressing issues related to labour relationships; building a stable, harmonious and progressive labour relationship; and ensuring appropriate social welfare is in place.
According to a report by the VGCL, since the beginning of this year, trade unions at all levels have signed 337 new agreements with their partners in providing products and services for trade unionists. As a result, over 1.2 million trade unionists have benefited from these agreements.
The confederation has worked with the Ministry of Construction, the Ministry of Natural Resources and Environment, and localities in building trade union institutions.
HCM City hopes for Japan's support in high-tech agriculture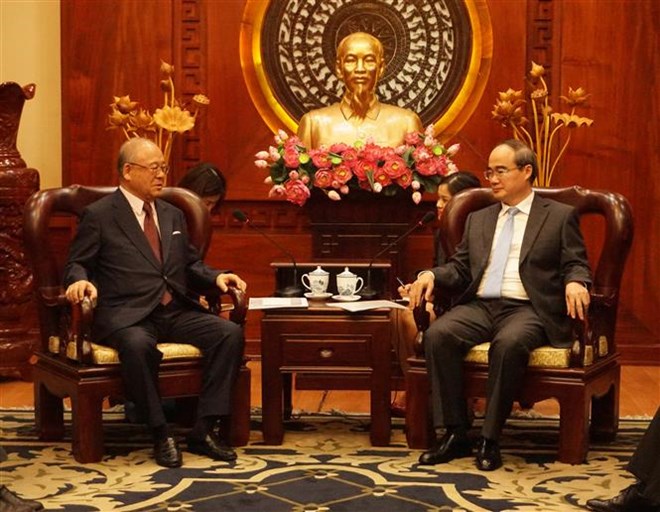 Secretary of Ho Chi Minh City's Party Committee Nguyen Thien Nhan (R) and Special Advisor of the Japan-Vietnam Parliamentary Friendship Alliance, Tsutomu Takebe 
Secretary of Ho Chi Minh City's Party Committee Nguyen Thien Nhan hosted a reception on July 3 for the Special Advisor of the Japan-Vietnam Parliamentary Friendship Alliance, Tsutomu Takebe, who affirmed Japan will support Vietnam in the fields it holds strength.
According to Takebe, Vietnam is in the process of developing high-tech agriculture, in which Japan holds substantial experience.
Japan is, therefore, willing to share its experience to support Vietnam in this field, he affirmed.
Regarding preparations for the Japan-Vietnam Festival 2019, the Japanese official said this is an important cultural event held annually between the two countries, expressing Japan's hope for continued assistance from and close cooperation with Vietnam, and Ho Chi Minh City in particular, to make the event a success.
Affirming Japan's role as one of Vietnam's strategic partners, Nhan emphasised the two countries have cooperated effectively across numerous fields.
To boost relations with Japan, one of Vietnam's biggest economic partners, Ho Chi Minh City has sent many delegations to the country to learn from its experience, especially that in economic development based on science technology and urban management.
Nhan expressed his hope that with its strength in high-tech agricultural development, Japan will continue to assist Vietnam, particularly Ho Chi Minh City.
He affirmed that the city will work with the Japanese side to successfully organise the festival next year.
Vietnam wants to boost multi-faceted cooperation with Panama: Party official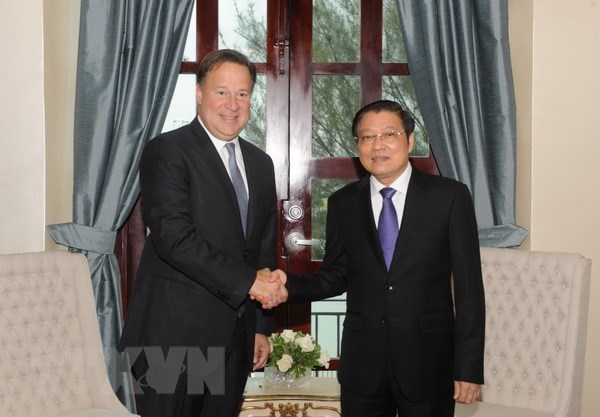 Phan Dinh Trac, head of the Communist Party of Vietnam (CPV) Central Committee's Commission for Internal Affairs and Panama President Juan Carlos Varela. 
Vietnam always wishes to enhance the friendship and multi-faceted cooperation with Panama, Phan Dinh Trac, head of the Communist Party of Vietnam (CPV) Central Committee's Commission for Internal Affairs, affirmed during his visit to the Latin American country. 
Trac, who is also deputy head of the Central Steering Committee on Anti-Corruption, lead a Party delegation to visit Panama from June 30 to July 3. 
During his stay in Panama, the official met with President Juan Carlos Varela and Vice President and Foreign Minister Isabel Saint Malo, and held talks with President of the Panamenista Party (PAN) Jose Luis Varela and Secretary General of the Democratic Revolutionary Party (PRD) Pedro Miguel Gonzalez. He also had working sessions with representatives from several anti-corruption agencies of Panama. 
At these meetings, Trac briefed his hosts on Vietnam's situation as well as achievements the country has recorded during the reform cause initiated and led by the CPV over the past 30 years. 
He reiterated Vietnam's consistent foreign policy of independence, peace, cooperation and development; multilateralisation and diversification of international relations, being a friend and a reliable and responsible partner of the international community; and active integration into the world. 
The official thanked the Panamanian people for their solidarity and friendship towards Vietnamese people during the past struggle for national liberation and reunification and the present cause of national construction. 
He stressed that Panama is one of the first Latin American countries to back Vietnam's bid to join the World Trade Organisation (WTO) and run for a non-permanent seat at the UN Security Council for 2008-2009, as well as to recognize the country's market economy status. 
Panama also backs Vietnam's membership in the Human Rights Council and the Economic and Social Council of the UN, he said. 
Trac spoke highly of the development of the relationship between Vietnam and Panama, as well as their close coordination and mutual support at many multilateral forums and international organisations. 
President Juan Carlos Varela and leaders of PAN and PRD expressed their special sentiments towards Vietnamese people, and their admiration for Vietnam's struggle for national liberation and reunification. 
They said the Vietnamese Party delegation's visit would help promote the fruitful relations between the CPV and political parties in Panama, and between the two countries' States, Governments and people. 
Lauding Vietnam's reform achievements, the Panamanian leaders proposed concrete measures to reinforce the bilateral ties, especially in economy, trade and investment, and cooperation with the CPV in the time ahead. 
The two sides agreed to intensify the exchange of all-level Party delegations, maintain bilateral consultation mechanisms, and join hands to seek ways to expand bilateral trade, and promote cultural and people-to-people exchanges. 
While in Panama, Trac also visited the staff of the Vietnamese Embassy in Panama.
Key transport projects urged to be accelerated
Leaders of the Government, ministries, sectors and localities have agreed on solutions to help the expansion of transport infrastructure keep up with socio-economic development pace in the time ahead.

Speaking at the Cabinet's teleconference with localities on July 2, Deputy Prime Minister Trinh Dinh Dung asked the Ministry of Transport (MoT) to press on with solving problems related to build-operate-transfer (BOT) projects. The Ministry of Planning and Investment needs to remove obstacles to projects using foreign loans like the urban railway project in Ho Chi Minh City.

Meanwhile, the Ministry of Industry and Trade and the MoT have to speed up key transport projects and soon submit a prefeasibility study report on the North-South express railway, he said.

Earlier, MoT Minister Nguyen Van The said his ministry will carry out many major projects in the time ahead, including the eastern North-South Expressway with 11 sub-projects and the My Thuan 2 Bridge. It is making a plan on the North-South express railway and will report this project to the National Assembly in 2019.

He added that many localities want to upgrade their airports like Chu Lai in Quang Nam province and Cat Bi in Hai Phong city, but this issue needs time and close coordination with localities to seek the best plans.

At the meeting, Deputy PM Dung also requested the Ministry of Construction and the Ministry of Agriculture and Rural Development to boost efforts to support people in the northern mountainous, central and Mekong Delta regions, recently hit by natural disasters and climate change.

He underlined the need to develop social housing for low-income earners and workers in industrial zones, which hasn't received enough attention in many localities. He noted that helping workers to have stable accommodation is critical to ensuring social security and development of industrial zones.