Deputy PM's Greece visit – driving force for bilateral ties: diplomat
Last update: 10:29 | 01/07/2018
The upcoming visit to Greece by Deputy Prime Minister and Foreign Minister Pham Binh Minh from July 1-2 will help open up a new development era for the two countries, with more and bigger cooperation opportunities to meet their potential and aspirations.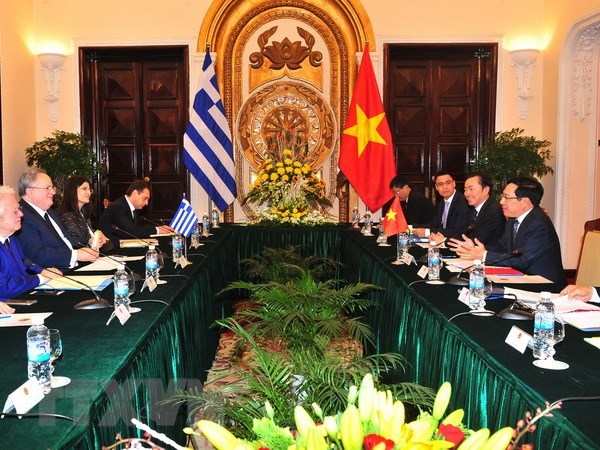 The talks between Deputy Prime Minister and Foreign Minister Pham Binh Minh and Greek Minister of Foreign Affairs Nikos Kotzias in February 2017
The statement was made by Ambassador of Vietnam to Greece Nguyen Manh Cuong in his interview to the Vietnamese media on the visit's significance and the bilateral relations.
According to the diplomat, the visit is important for both sides. This is the second visit to Greece by a Vietnamese Foreign Minister in nearly 10 years, following the visit to Vietnam by Greek Minister of Foreign Affairs Nikos Kotzias in February 2017.
Vietnam and Greece established the diplomatic ties in 1975. Since then, the traditional friendship relations have been maintained. 
Before the public debt crisis in Greece in 2010, the two sides often exchanged high-ranking delegations, including the official visit of Greece's Prime Minister Kostas Karamanlis in 2007, State President Nguyen Minh Triet's official visit to Greece in 2008 and Greek President Karolos Papoulias's official visit to Vietnam in the same year. 
The public debt crisis made the two sides' visits interrupted, but their good relationship remained and grew.
This visit by FM Minh and that by his Greek counterpart Nikos Kotzias in 2017 have offered good chances for both sides to review their cooperation results and put forward new orientations, Cuong said.
He added that the two countries have maintained the regular organisation of political consultation at the senior official level, and cultural and education-training exchange programmes.
In terms of economic ties, two-way trade has enjoyed growth, reaching 334 million USD in 2017, a year-on-year rise of 40 percent.
The two nations have enhanced active cooperation and mutual support at international and regional multi-lateral forums such as the United Nations, ASEM, and the ASEAN-EU Forum. 
Greece has approved the signing of the EU-Vietnam Framework Agreement on Comprehensive Partnership and Cooperation (PCA) and advocate to soon ratifying the EU-Vietnam Free Trade Agreement (EVFTA). 
Greece, as a member of the EU, has supported Vietnam to strengthen the relationship with the EU and hope to become a bridge for Vietnam in the relationship with the EU. 
Regarding the relationship between Vietnam and Greece in the upcoming time, the Ambassador said that there a huge cooperation potential between the two nations. 
While Vietnam has become an attractive destination for foreign investors and has advantages of exporting agricultural products, garments and footwear, Greece has taken the lead in maritime transport.  
He also expressed his hope that once the EU-Vietnam Free Trade Agreement is signed and ratified, it will create a legal foundation and opportunity for both countries to boost bilateral trade.
He suggested both sides expand their collaboration in the time ahead.-VNA