PM Nguyen Xuan Phuc responds to NA deputy's question on regional connectivity
Last update: 10:52 | 14/06/2018
Prime Minister Nguyen Xuan Phuc sent a document answering a question of National Assembly deputy Le Cong Dinh regarding measures to foster regional connectivity.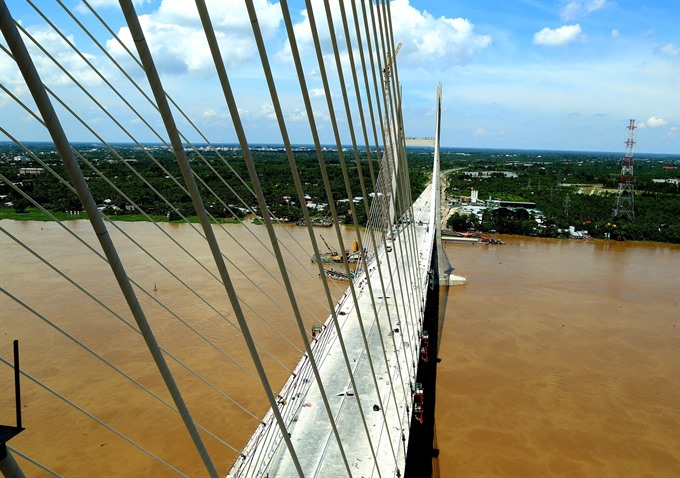 The 2.01km-long cable-stayed Cao Lanh Bridge crossing Tien River in Dong Thap province opened to traffic on May 27. It is expected to create favourable conditions for trade activities between the delta's provinces and southern economic hubs as about 10,000-20,000 vehicles cross the bridge daily. 
During a question-and-answer session of an ongoing National Assembly meeting last month, NA deputy Dinh from Long An Province said regional connectivity remains slow. Overlaps in planning, infrastructure connectivity, in attracting investment and pollution impose significant impacts on the development of the country.
He raised the question of whether regional connectivity is in need of a leader to directly order the work.
He also proposed the Prime Minister and deputy prime ministers take the role of coordinators in regional connectivity.
Responding to the question, the Government leader said a number of mechanisms and policies have been implemented to speed up the work.
Legal framework has been laid out as the Prime Minister issued three decisions on the establishment of the Socio-Economic Coordination Unit, a steering committee and a council for key economic regions in the 2015-2020 period.
Regional planning will be set up based on regulations stated in Law on Planning approved in the fourth plenary session of 14th NA meeting and to take effect next year.
Socio-economic co-operation among regions has been improved. Regions and localities have been aware of the role of regional connectivity in socio-economic development.
Key economic zone in the north has compiled a list of inter-regional projects which need prioritised investment while key economic zone in the central region has organised conferences on logistics, industrial zone, and economic zone connectivity.
Key economic zone in the south has set up a coordination team on regional connectivity. Mekong Delta region approved regional connectivity plan during 2016-20 period.
Localities and sectors have worked on action plans to pilot regional connectivity in the fields of planning, investment, manufacturing and response to climate change.
Ministry of Planning and Investment has been assigned to set up multi-sector planning of Mekong Delta region in the 2021-30 period. The new planning, scheduled to be completed by next year, is expected to create a comprehensive strategic framework for the region and fully tap regional potentials.
Regional connectivity is expected to be implemented in a more practical and effective manner as the Government issued a resolution on sustainable development of Mekong Delta region in response to climate change last year and plans to issue a decree on the development of economic zones regarded as driving force. — VNS