Vietnam, Myanmar issue joint statement
Last update: 14:00 | 21/04/2018
Myanmar's State Counsellor Daw Aung San Suu Kyi, who is also Minister of Foreign Affairs and Minister of the President's Office, paid an official visit to Vietnam from April 19-20 at the invitation of Prime Minister Nguyen Xuan Phuc. On this occasion, the two nations issued a joint statement.
The following is the full text of the joint statement.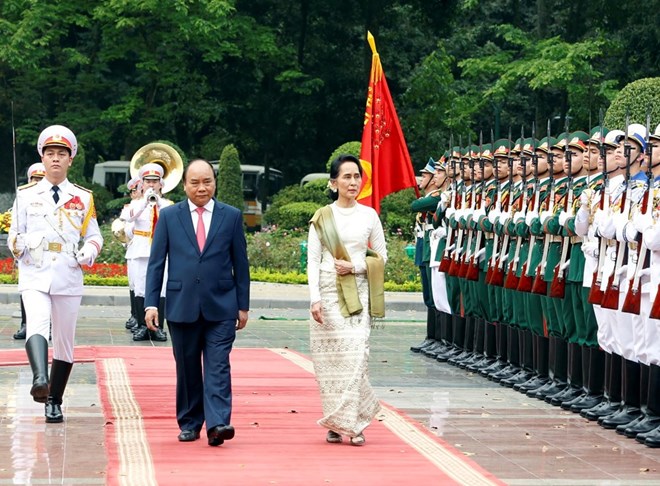 Myanmar's State Counsellor Aung San Suu Kyi is welcomed by Prime Minister Nguyen Xuan Phuc in Hanoi on April 19.

1. At the invitation of His Excellency Nguyen Xuan Phuc, Prime Minister of the Socialist Republic of Vietnam, Her Excellency Daw Aung San Suu Kyi, State Counsellor of the Republic of the Union of Myanmar, paid her first official visit to Vietnam from 19 to 20 April 2018. 

2. During the visit, State Counsellor Daw Aung San Suu Kyi was accorded a ceremonial welcome by His Excellency Prime Minister Nguyen Xuan Phuc. While in Vietnam, State Counsellor Daw Aung San Suu Kyi held bilateral talks with Prime Minister Nguyen Xuan Phuc and attended the banquet hosted by the Prime Minister. State Counsellor Daw Aung San Suu Kyi also paid courtesy calls on Leaders of Vietnam, laid a wreath at the Monument of National Heroes and Martyrs, and visited President Ho Chi Minh's Stilt House. The State Counsellor also met with Chairman of Vietnam – Myanmar Friendship Association, and Vietnamese enterprises operating in Myanmar. 

3. The two leaders acknowledged that the existing traditional friendship and the close cooperation between Vietnam and Myanmar were established by President Ho Chi Minh and General Aung San and cultivated by generations of leaders and people from both countries. They reaffirmed their common aspirations for peace, prosperity and development of the region and beyond. Vietnamese leaders emphasized that Vietnam is always mindful of the strong support rendered by the Government and people of Myanmar in the past struggle for national liberation and in current efforts for national development. State Counsellor Daw Aung San Suu Kyi expressed her admiration for the determination and courage with which the Government and people of Vietnam defended and developed their country. State Counsellor Daw Aung San Suu Kyi congratulated Vietnam for successfully implementing the strategy of renovation, reform and intensive and extensive international integration.

4. The Leaders reviewed developments in bilateral relations and cooperation since the very successful visit of His Excellency Nguyen Phu Trong, General Secretary of Central Committee of the Communist Party of Vietnam to Myanmar in August 2017. The Vietnamese side stressed the importance attached to relations with Myanmar and the Government led by the National League for Democracy (NLD) and reaffirmed its continued support for peace and national reconciliation in Myanmar. Vietnam firmly believes that the 21st Century Panglong was a major step forward and, through dialogues and negotiation, the Government of Myanmar would continue to succeed in building a stable and thriving democratic federal Union. Myanmar side expressed its appreciation to Vietnam for its consistent support, as well as for sharing with Myanmar its experience with regard to national reconciliation and development.

5. Prime Minister Nguyen Xuan Phuc and State Counsellor Daw Aung San Suu Kyi noted with satisfaction the positive progress in bilateral cooperation in past years, particularly the elevation of bilateral ties to Comprehensive Cooperative Partnership in August 2017. Both sides reaffirmed to strengthen further the effectiveness of comprehensive cooperation in all areas, including trade and investment, cultural, social and educational cooperation. These efforts will enhance trust and intensified cooperation between the two countries, bringing practical benefits for the peoples.

6. In order to effectively implement the Comprehensive Cooperative Partnership Agreement, the two leaders expressed their strong desire to promote cooperation in politics, trade and investment, defence and security, agro-forestry and fishery, connectivity, energy and telecommunication, tourism, justice, education and people-to-people exchange and regional involvement.

7. The two sides emphasized that the exchange of visits at all levels and channels, including government to government, parliament to parliament, party to party, people to people, will enhance friendship and cooperation between the two countries. Both sides agreed that close party to party cooperation is an important pillar of bilateral ties and looked forward to the early signing of Action Plan 2018-2023 to implement the Comprehensive Cooperative Partnership established in August 2017. 

8. The two sides recognized the strong development in bilateral economic cooperation: the two-way trade volume in 2017 reached nearly USD 830 million, a 51% increase compared to 2016. Vietnam has risen to become the 7th  largest foreign investor in Myanmar with 17 projects and USD 2.1 billion in registered capital. This relationship of cooperation demonstrates that the two economies complement each other and brings benefits to both sides, in the fields of agricultural trade, investment, aqua product processing, tourism and services given the circumstance that  the Government of Myanmar is carrying out extensive economic reforms. The two sides also reaffirmed the commitment to enhance cooperation and find new means to reach the two-way trade target of 1 billion USD at the earliest possible. Both sides stressed the importance of policy provision in trade and investment and providing favourable environment for foreign investors, including Myanmar investors and Vietnam investors. Leaders of both sides recognized the need to study further the possibility of establishing new mechanism as well as to sign the necessary MOUs/Agreements to help facilitate and promote investment between the two countries.

9. Both sides expressed appreciation of recent developments in bilateral defense-security cooperation and reaffirmed continued effective implementation of agreements reached under bilateral and multilateral frameworks. The two sides agreed to expand defense and security cooperation including exchange of military delegations at all levels, and conducting the Defence Policy Dialogue at the Deputy Ministerial Level in 2018, expanding cooperation into other areas, i.e. training, medical assistance, search and rescue, sport exchange. Vietnam welcomes friendship, sightseeing and field research visits by Myanmar delegations as well as Myanmar trainees attending courses on treatment of burns and the manufacture of prosthetic limbs in Vietnam.

10. Two sides welcomed and committed to fully implement the newly signed MoU on Cooperation in the field of Post, Telecommunication and ICT and MoU on Information Cooperation. Both sides agreed to expedite the negotiation for early signing of Agreement on Prevention and Fight Against Crime and other agreements/treaties in field of security cooperation. Both sides reaffirmed the commitment not to allow any individual or organization to use one country's territory to conduct activities against the other country.

11. Both sides agreed to strengthen cooperation with a view towards promoting closer financial linkages and acknowledging to enhance the financial sector, including financial services. The two sides also emphasized the importance of strengthening bilateral cooperation in telecommunication and energy sector, especially in the fields of oil and gas, infrastructure sharing.

12. Both sides reiterated that Agro-forestry and fishery cooperation is an important area of cooperation with many advantages and potential for mutual support and development. In that spirit, the two sides agreed  to sign agreements on agriculture, forestry, fisheries and livestock and to expand cooperation at an early date to find ways to improve the quality and value of agricultural products, including corn, rice, beans and mung beans. The two sides expressed commitment to accelerate procedure to sign the MOU on Cooperative in Agriculture and Rural Development at the earliest. 

13. The two sides also agreed to promote multi-modal transport cooperation, including land, sea and air links between the two countries and within the sub-region. In light of the successful GMS 6 held in Hanoi in March 2018, the two sides will work closely together to achieve the goals set out at GMS 6. 

14. The two Leaders also discussed ways to deepen further bilateral ties in tourism, justice, education and people-to-people exchange under the framework of Comprehensive Cooperative Partnership. Both sides encouraged the effective implementation of the student exchange programs at all levels. The Leaders reiterated to support the role and activities of Vietnam-Myanmar Friendship Association and Myanmar – Vietnam Friendship Association to enhance people-to-people exchange, to contribute proactively to the extensive development of the Comprehensive Cooperative Partnership between the two countries.

15. The two Leaders expressed appreciation of the close cooperation in regional and international fora, including ASEAN, Non-Aligned Movement and the United Nations. To elevate the excellent cooperation to new heights in the spirit of the Comprehensive Cooperative Partnership, both sides agreed to continue to support the realization of the ASEAN Community's goals through regional cooperation within the ACMECS and the CLMV frameworks, especially in the areas of environment, poverty alleviation, water security, connectivity and human resources development.

16. The two sides reiterated to continue close cooperation in regional cooperation mechanisms in the Mekong sub-region, including the Mekong – Japan, Mekong – Korea, Mekong – Ganga, Lower Mekong Initiative as well as Greater Mekong Sub-region. Vietnam encouraged Myanmar to become an official member of the Mekong River Commission (MRC).

17. Leaders of both sides expressed commitment to cooperate closely to build a successful ASEAN Community with central role in the regional security architecture. 

18. Both sides reiterated the importance of maintaining peace, stability, freedom of navigation and overflight in the region; underlined the importance of the peaceful resolution of disputes in accordance with international law, the 1982 UNCLOS, without resorting to threat or use of force. Both sides committed to support the full and effective implementation of the DOC and the early conclusion of an effective COC in the South China Sea. 

19. State Counsellor Daw Aung San Suu Kyi expressed her deep gratitude for the hospitality, cordiality and warm-hearted reception that Prime Minister Nguyen Xuan Phuc accorded to her and to the members of the delegation and looked forward to receiving Prime Minister Nguyen Xuan Phuc on an official visit to Myanmar at a mutually convenient time.-VNA