National Assembly scrutinises primary teacher standard
Last update: 13:45 | 13/03/2018
Lawmakers should reconsider the feasibility of a draft regulation asking primary school teachers to have university diplomas given that up to 40 per cent of primary teachers currently fail to meet this requirement, the National Assembly's Committee for Culture, Education, Youth and Children (CCEYC) said on Monday.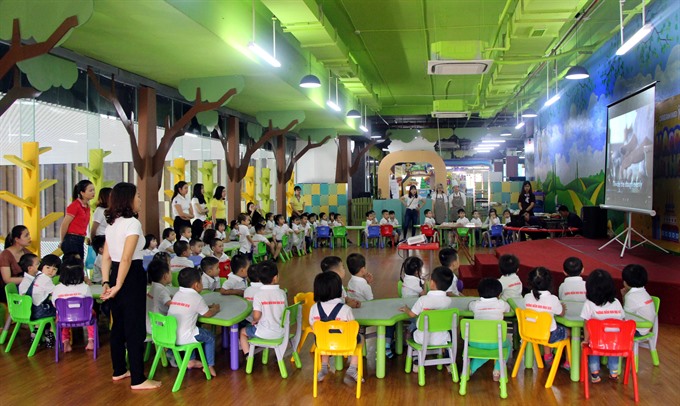 Kids at the Hoa Sen Kindergarten in the central city of Vinh attend a class on making different types of cakes. 
The comment was a part of a review by the committee on the draft amendment of the Law on Education, which was reported to the National Assembly's Standing Committee for scrutiny.
The draft law, written by the Ministry of Education and Training, was due to amend 50 of 114 articles – the biggest amendment to the Law on Education since it was passed in 2005.
The amended law proposed raising educational requirements for teachers at primary and secondary school and undergraduate and graduate lecturers.
CCEYC head Phan Thanh Binh said that while the committee agreed with higher standards for the teachers, they were unsure such a requirement should apply to primary school teachers.
According to the draft law, primary teachers should at least have a university degree instead of vocational training as the education law currently requires.
"There is up to 40 per cent, or about 156,000, of primary teachers nationwide with a college degree (lower level than a university degree in Viet Nam's educational system) or a lower one," Bình said.
"Those teachers are mainly distributed in underdeveloped areas which always lack teachers."
Free student loans?
The amended education law proposed a relatively new financial means to support educational students, in which free tuition will be replaced by loans which can be written off if the student actually becomes a teacher.
The idea aims to reduce budget wastefulness on free tuition for students who don't become teachers.
The CCEYE, however, was divided on this issue. Some members agreed with the new idea which helps provide financial support to the right people, while others rejected it.
They asked to keep the free tuition for educational students to demonstrate the State's priority of training and supporting future teachers. – VNS