NA Standing Committee concludes 20th session
Last update: 16:55 | 11/01/2018
The National Assembly (NA) Standing Committee wrapped up its 20th session in Hanoi on January 11 after spending one and a half days discussing three draft laws, one draft resolution and some other issues.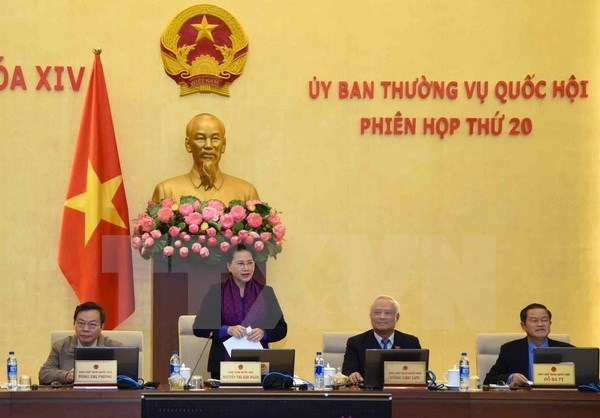 NA Chairwoman Nguyen Thi Kim Ngan delivers a closing speech at the NA Standing Committee's 20th session on January 11
NA Chairwoman Nguyen Thi Kim Ngan said there remain some debatable opinions on the discussed bills, namely the drat revised Law on National Defence, the draft Law on Cyber Security, and the draft law on special administrative-economic units.
She asked NA committees to closely coordinate with the drafting board and relevant agencies to continue conferring with the NA Standing Committee, experts and scientists to finalise and submit the drafts for further consideration.
The NA Standing Committee decided to assign the State Audit of Vietnam to work with relevant agencies to assess the enforcement of the Law on State Audit and propose revisions to the law.
The top legislator also asked the Government to direct the Ministry of Planning and Investment to coordinate with the Ministry of Agriculture and Rural Development to examine the building of the Ta Pao irrigation system in Binh Thuan province and the upper Kroong Pach reservoir in Dak Lak province before considering approval of adjustments to their total investment. 
The two projects were funded by Government bond capital managed by the agriculture ministry.
She also requested all irrigation projects funded by Government bonds be reviewed to ensure their progress and effectiveness.
In her speech, the chairwoman also asked agencies to work closely to ensure the success of the 26th Annual Meeting of the Asia-Pacific Parliamentary Forum (APPF-26), the biggest parliamentary diplomatic activity this year, which will open in Hanoi on January 18.-VNA