Stronger Asia-Europe links needed in key areas: officials
Last update: 11:46 | 05/12/2017
VietNamNet Bridge – Asia and Europe need to forge stronger ties in key areas like education and sustainable development to improve connectivity and foster inclusive growth, senior officials said on December 1.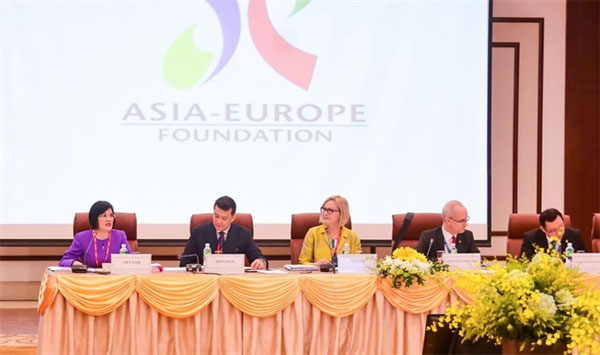 The Asia-Europe Foundation (ASEF)'s 37th Board of Governors (BoG) Meeting on December 1 approved 13 projects in education, governance, sustainable development, economy and public health for 2018.
Accordingly, the Asia-Europe Foundation (ASEF)'s Board of Governors (BoG) approved 13 new projects in education, governance, public health and sustainable development for the coming year.
The two-day, 37th BoG meeting also agreed on two projects proposed by Vietnam: one on Asia-Europe Lifelong Learning and Vocational Training co-operation; and the other on Implementation of Sustainable Development Goals in the Cambodia-Laos-Myanmar-Vietnam (CLMV) Mekong sub-region.
The governors noted that ASEF had succeeded in promoting mutual understanding between the two continents through cultural and people-to-people exchanges.
They also agreed that the ASEF needs to further strengthen partnership and mutual co-operation in the era of digitalisation for better connectivity and sustainable, inclusive growth.
The BoG meeting also reviewed projects designed to realise ASEAN vision 2025 and implement the ASEM Agenda 2030 for Sustainable Development.
They agreed that the next meeting would be held in Romania in 2018.
Global influence
Deputy Minister of Foreign Affairs Bui Thanh Son said "ASEM, with ASEF's unique role, has grown beyond our initial expectations and established itself as a platform for enhanced connectivity between countries, civilisations, peoples and businesses of the two continents."
"ASEM has been and continues to be an important factor in shaping the global setting in the 21st century."
Son emphasised that the Fourth Industrial Revolution has created hopes for higher productivity, but there were also growing concerns about its transformative implications, environmental degradation and uneven distribution of the benefits of economic growth and globalisation.
 "The 13th ASEM Foreign Ministers' Meeting in Nay Pyi Taw, Myanmar, last month discussed how best to create a stronger partnership between Asia and Europe for a future of shared, inclusive and sustainable growth and prosperity.
"We need to translate commitment into concrete actions on sustainable and inclusive growth, poverty eradication, comprehensive and quality connectivity, sub-regional and remote areas development, quality education and human resources development in the digital age, gender equality and empowerment of women and girls," Son said.
"More efforts should be made to deliver on the promise of climate change, disaster risk reduction, sustainable management of natural resources, and food-water-energy security," he added.
Son said the approved projects will serve as a crucial preparatory step for the upcoming 12th ASEM Summit in Brussels next year and foster reflections on a vision for ASEM in the coming decades.
The 37th BoG meeting, which closed on December 1, was held at the Furama Resort in Da Nang City.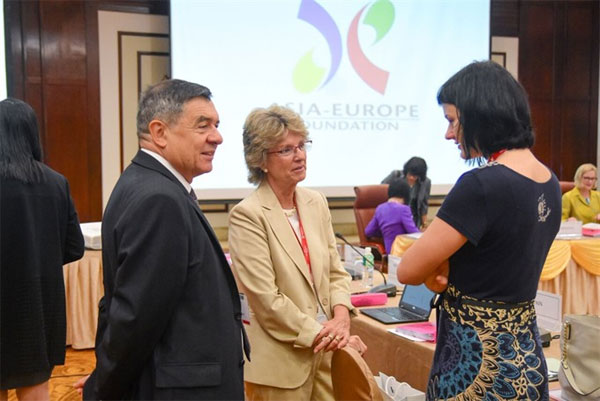 Delegates converse at the Asia-Europe Foundation (ASEF)'s 37th Board of Governors (BoG) Meeting in Da Nang on December 1. — VNS Photos Truong Ngoc Thanh
Source: VNS