Calls for action as fish stocks deplete
Last update: 11:47 | 16/04/2018
Masses of dead fish were found in central Quang Tri Province's communes of Trieu Van, Trieu An, and Gio Ha, as well as in Cua Viet Township late last month.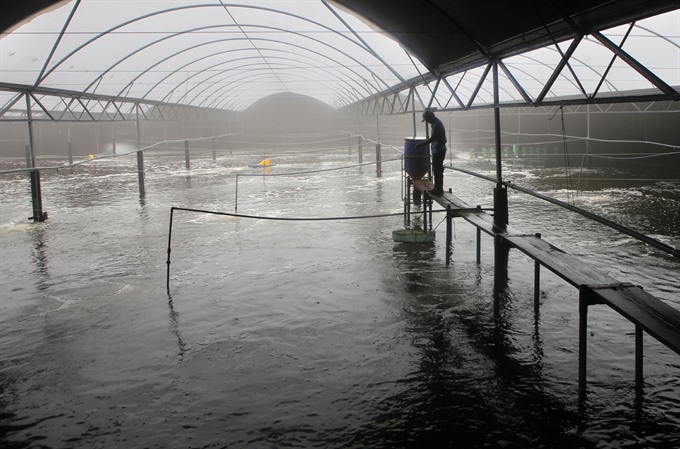 A glasshouse fish farming model in the central province of Thua Thien-Hue.
According to a report by the province's Department of Agriculture and Rural Development, the fish deaths are suspected to have been caused by explosives. Fisherman have reportedly been throwing explosive devices into the water to kill the fish, but the boats were unable to collect them all, leaving the remaining fish to wash ashore.
The problem of harmful and unnatural fishing methods is not solely one of Quang Tri Province. Fish stocks in Thua Thien-Hue, Nghe An, and Ha Tinh provinces have also been affected by unsustainable fishing practices.
Le Van Loi, a fisherman from Trieu Phong District in Quang Tri Province, was the first to discover the mass fish death on March 30. He said that he had seen many vessels from other provinces fishing in Quang Tri's sea recently. They used either explosives or trawlers to catch the fish, he said.
Loi said that the trawlers would catch all kinds of fish, big or small, and would carried nets of other fishermen along their ways.
In a single month, 30 fishermen in Trieu Lang Commune of Trieu Phong District lost their fishing nets, and one had his vessel sunk. All of this was due to the trawlers, he said.
A similar situation is reportedly unfolding in the provinces of Nghe An, Ha Tinh and Thua Thien-Hue.
Vice Chairman of the Nghe An Province Fishery Subdepartment Tran Dang Tuan said that many farmers in the region had been using electric nets for fishing to add to their income.
Truong Van Phuong, a fisherman in Tam Giang Lagoon, Thua Thien-Hue Province, said that there used to be a lot more fish in the past compared with today.
"Fish stocks are decreasing in recent years. Fishing vessels use electric pulse nets to catch fish, no fish, big or small, can survive under such a method," he said.
"I'm afraid there will be no more fish in Tam Giang Lagoon in the future," he said.
Pham Ngoc Dai from the Hà Tĩnh Fishery Subdepartment, said that such methods will seriously affect the sustainable development of fisheries in the area.
"Fishermen are destroying their own future," he said.
In March alone, Quang Binh discovered seven fishing vessels violating fishing rules, and seized 15 electric pulse fishing kits.
The Viet Nam Fishery Association recently announced that in the past five years, 83 species of fish have disappeared from Viet Nam' sea. Deep sea fish are some of the most affected, with a 42 per cent reduction in species.
Solution
Chairman of the People's Committee of Phu Dien Commune, Thua Thien-Hue Province Pham Tang Doan said that fishing vessels using illegal fishing methods mostly operate at night, making it difficult for authorities to catch them.
"When we are able to reach them, they have already cut off the electric net or they flee the scene. Even if we do catch them in the act, the fine imposed is low compared to the profits they make," he said.
Tran Dang Tuan from Ha Tinh Province said alongside an educational campaign and stricter punishments, supporting policies for offshore fishing vessels should be encouraged.
Offshore fishing is expensive, as fishermen need to invest in a vessel, and equipment. As such most illegal fishing happens onshore. Supporting locals to fish offshore could ease the burden of onshore fishing as well as reduce illegal onshore fishing. - VNS