Over 2,000 youngsters respond to Earth Hour Campaign 2018
Last update: 10:18 | 11/03/2018
More than 2,000 youngsters in Ho Chi Minh City gathered at a ceremony in the city on March 10 to launch the Earth Hour Campaign 2018.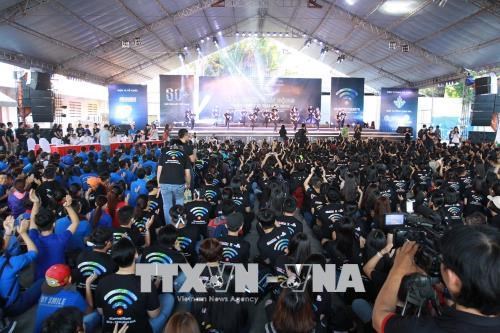 Overview of the launching ceremony of the campaign 
The campaign aims to raise public awareness of protecting the environment and the green planet.
Singer Isaac, the ambassador of the campaign, said that in response to the campaign, he will persuade his family, neighbours and fans to take specific measures to preserve the environment.
Following the launching ceremony, 200 members of the Youth Union of the Ho Chi Minh City Power Company rode bicycles along major city streets in response to the campaign.|
Meanwhile, volunteers of the campaign changed their Facebook avatars and cover photos spreading the message of environmental protection need, while joining flashmoh dance and cycling along streets as part of efforts to strengthen communications on power saving and climate change response.
According to the municipal Department of Natural Resources and Environment, this is the ​10th time the city has launched the campaign with the engagement of thousands of people.
Earth Hour is an initiative of the World Wildlife Fund. So far, about 7,000 cities in 172 countries and territories have responded to the campaign.
Vietnam joined the campaign for the first time in 2009, showing the country's commitment to reducing greenhouse gas emission by 8 percent in 2030 and joining hands with the international community in response to climate change.
In 2017, up to 471,000 kWh of electricity was saved during one-hour light off.-VNA