Mekong Delta students recycle waste mud to potting soil
Last update: 07:40 | 11/02/2018
VietNamNet Bridge – Potting soil made from wastewater, a project initiated by two college students, offers a comprehensive solution to protect the environment and create economic value in the Mekong Delta.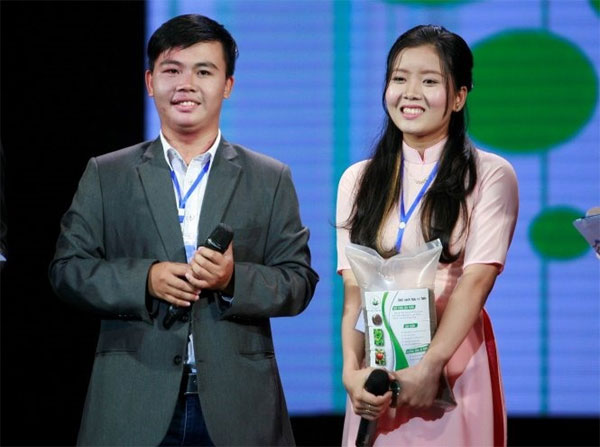 Hao and Muc introduce their potting soil product during a competition for students. — Photo tuoitre.vn
Nguyen Huu Huy Hao from Ca Mau Province and Phan Hong Muc from Bac Lieu Province first came to the idea of potting soil when they were studying at engineering schools in Can Tho City.
"Waste mud produced by treating wastewater contains a considerable amount of nitrogen, potassium and other nutrients essential for vegetables and trees," said Hao.       
As the biggest hub of fish farming and processing of Vietnam, the Mekong Delta is now facing saltwater intrusion, drought and pollution caused by the industry. The better control of waste mud promises to improve the environment in the region.
"We questioned whether we could improve the process of wastewater treatment at seafood processing facilities and simultaneously create sustainable profits," said Muc.
The two students started their project by contacting seafood processing facilities in the provinces of Cà Mau and Sóc Trăng, asking to process their waste mud. After two months of trial-and-error, they successfully compounded their first six kilogrammes of potting soil.
"Basically, it takes three steps to make potting soil from waste mud, evaporation, Ultraviolet germicidal irradiation and microbiology addition," said Hao.
However, persuading people to use potting soil made from waste mud is a tougher challenge for initiators.
"At first, we asked our friends and acquaintances to try the product and give feedback. We also approached and introduced our soil to organic vegetable farms," Muc said.
Nguyen Duy Phuc, director of Can Tho City Youth Employment Centre, told the Tuoi tre (Youth) newspaper that he got to know the product at a local fair when it caught the attention of only a few participants.
"Working with students, I am interested in products made by young people and eager to try and give feedback on their new type of potting soil. However, the product surprised me with its quality," he said.
At present, the centre's rooftop is converted into a garden, using potting soil compounded by Muc and Hao. Vegetables develop well without any fertiliser or supplement.
In 2017, the two students established INOS Nguyen Phan Company producing the product of potting soil named Taho. They received support from biology experts, Can Tho City College of Technological Economics, University of Technology and Youth Employment Centre in developing their product and marketing.
"Our company aims to create the 'duo-profit' for us and for seafood processing facilities who supply waste mud, helping them to reinvest into manufacturing operations," said Hao.
Taho potting soil is distributed to farms in HCM City and several Mekong Delta cities and provinces including Can Tho, An Giang, and Ca Mau at a good price, ranging from VND20,000 to 250,000 (US$0.88–11) for a bag of 2kg to 28kg.
Nguyen Van Phong, owner of a vegetable farm in Binh Thuy District, Can Tho City, said he has already noticed the effectiveness of their product.
"I am piloting using soil for a new type of tomato imported from the Netherlands. The plants have good growth with high nutrient content in fruits. In the future, I will use the product all over the farm," he said. 
In 2018, Hao and Muc will start to receive investment to expand their operation.
"Though we have several challenges of lack of experience and financial resources to head, we will continue to develop the product as it helps to improve the environment in Mekong Delta. We hope that it will inspire other youngsters to protect the environment by their initiatives and projects," said Muc. 
Source: VNS