Provinces yet to grasp green growth strategy
Last update: 14:24 | 05/12/2017
VietNamNet Bridge – Five years after a national green growth strategy was approved, there is still a lack of understanding, particularly at provincial levels, about incorporating it into local development plans.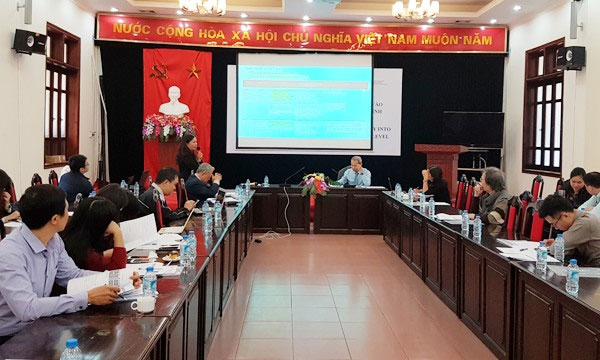 Experts said at a conference held in Hanoi on December 1 that this incorporation was crucial to ensuring sustainable development. — Photo baobaohiemxahoi.vn
Experts said at a conference held in Hanoi on December 1 that this incorporation was crucial to ensuring sustainable development.
Economic institutions should be steered towards "greening" sectors and areas in all localities, said Phan Duc Hieu, deputy head of the Central Institute for Economic Management.
There should be added focus on promoting research and widening application of advanced technology in production in order to reduce greenhouse gas emissions and improve the natural environment, he said.
A general greening of production, lifestyle and consumption should also happen, he added, explaining that an environmentally-friendly lifestyle should be built, gradually.
However, despite all the talk, green growth still received little attention from ministries, sectors and localities, he stressed.
Tran Dai Nghia of the Institute on Rural Development Policy and Strategy also said awareness of the importance of incorporating green growth into development plans of localities remained limited.
Meanwhile, there was overlapping between relevant ministries, agencies and localities as well as a shortage of human resources needed for the incorporation to happen, he added.
He proposed some measures for localities, like restructuring agricultural production towards green growth, increasing connection between production, processing and preservation industries, developing production models in harmony with the environment that match actual conditions in the locality.
Development interventions should be of high feasibility in line with available resources and development strategies of each locality, while leaders of relevant ministries and agencies need to allocate resources effectively and reasonably to localities, he said.
Le Viet Thai of the German International Co-operation Organisation (GIZ), suggested that technological solutions be applied to improve labour productivity and use natural resources effectively and economically.
Economist Nguyen Thi Kim Dung said community participation and capacity as well as financial feasibility should be paid due attention when implementing the national green growth strategy.
Other experts recommended that localities study and assess their environment situation, level of pollution and build roadmaps to deal with issues relating to waste treatment and production in line with green growth targets.
They should also invest tangibly in knowledge-building, communication and advocacy, accelerate regulatory action and promote environmentally-friendly consumer behaviour, they said.
Vietnam approved a national green growth strategy in 2012. The strategy, which has a vision until 2050,  identifies three key tasks – reducing greenhouse gas emissions, promoting clean and renewable energy, and practising environmentally-friendly production and consumption.
The meeting heard that five ministries and 30 cities and provinces in the country had formulated action plans on green growth and were implementing them. 
Source: VNS