Bac Ninh's people live with pollution
Last update: 07:08 | 26/08/2015
VietNamNet Bridge - Bac Ninh, in the north, is not only famous for the Dong Ky wooden fine arts craft village, Van Mon aluminum recycling, Da Hoi steel and Phong Khe paper villages, but also for serious pollution.
Part 1: Phong Khe paper craft village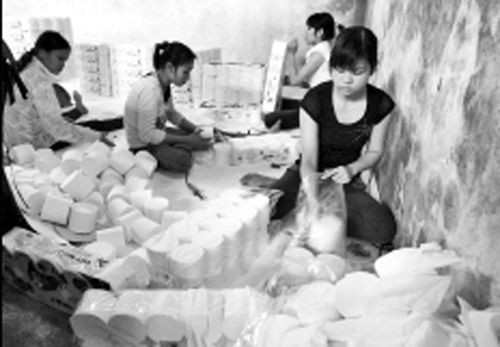 Phong Khe is quite different from it in the past. It remains a paper craft village, but larger.
From a do (do is a paper made from the bark of the Rhamnoneuron balansae traditionally produced in many villages in Vietnam) paper village which made paper manually, the village now produces paper of different kinds on a large scale with the support of machines.
There are two industrial parks in the paper village with the total area of 50 hectares, where 200 enterprises have set up 220 production lines and employ 5,000 workers.
Phong Khe is now listed as one of the most seriously polluted localities in Bac Ninh province.
The large country lanes in Phong Khe alternate with pitch-dark sewers which produce bad odors and make sick people suffer. 
The canals there have turned dull red because the water has been dyed with the cleansing chemicals from paper workshops. 
Phong Khe is always noisy because of the trucks going in and out from the morning till evening which produce noise, and smoke and kick up dust. While adults work at workshops, children play around the piles of scrap paper.
Pham Xuan Vu, 54, a local resident, said he has been living in Phong Khe since the day he was born, but now does not want to live there anymore.
"The environment is getting more and more serious. It is hot and muggy on sunny days and smells on rainy days," Vu said.
"Instead of using charcoal and firewood as fuel, a lot of households here burn garbage and rags to optimize their profits," he complained.
Vu is a member of the craft village's supervisory board. His duty is to find the people who burn rags and garbage illegally at midnight and fine them. Though culprits have been found and punished, the problem still cannot be stopped.
In 2014 alone, the local authorities discovered 383 tons of waste which paper producers planned to use in Phong Khe.
A report released by the Bac Ninh provincial authorities showed that Phong Khe discharges 5,000 cubic meters of untreated waste water to the canals every day. The concentration of suspended solid substances in the waste water is 4.5-11 times higher than the permitted level, while COD is by 8-500 times and lead by 5.5 times.
Thien Nhien