Vietnam faces shortage of 27,500 pre-school teachers
Last update: 14:34 | 29/08/2013
VietNamNet Bridge – Vietnam still lacks around 27,500 pre-school teachers, said Deputy Minister of Education and Training, Nguyen Thi Nghia.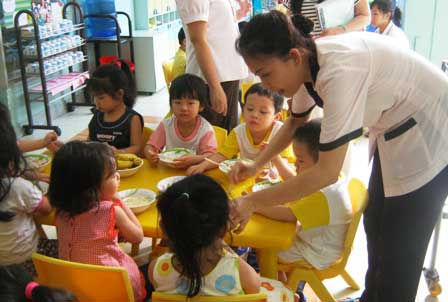 Many localities are facing with the serious shortage of pre-school teachers.
She presented the information at a recent online meeting to review the 2012-1013 school year and present new goals for pre-school education in the new year.
The localities of Nghe An, Thai Binh, Thanh Hoa and Bac Giang have the most acute shortage rates of pre-school teachers: 1,953; 1,909; 1,541 and 1,212 respectively.
In Lao Cai Province, students from teachers' colleges are sent to kindergarten schools to help spread pre-school education for five-year-old children.
HCM City also lacks roughly 1,200 teachers for the 2013-2014 school year, including 300 for pre-school jobs.
At the meeting, a representative from the southern province of An Giang said, due to the serious shortage of teachers, the province can only provide one teacher per class instead of the regulated two.
According to the Ministry of Education and Training's Pre-school Education Department, by the end of late March this year, up to 9,670 pre-school teachers failed to meet the required standards for the job.
The lack of classrooms is also a thorny problem for pre-school education. Many urban areas and industrial park management boards lag far behind what's required in terms of new kindergarten construction, forcing workers to take their children to unlicensed private kindergartens which do not ensure safety.
To date, 365 out of 11,124 wards and towns nationwide do not have a kindergarten, mostly in the provinces of Lang Son, Vinh Long, Kien Giang, Long An and Hoa Binh.
The level of consolidated classrooms is estimated at just 60%. As a result, many localities see a low rate of pre-school education, like Kien Giang with 4.8%, Soc Trang with 6.4% and An Giang 9%.
Source: DTriNews