Universities lower test scores
Last update: 11:26 | 08/08/2018
VietNamNet Bridge – Many universities have lowered their admission scores for the upcoming academic year, citing lower scores on the national high school graduation examinations this year compared to last year.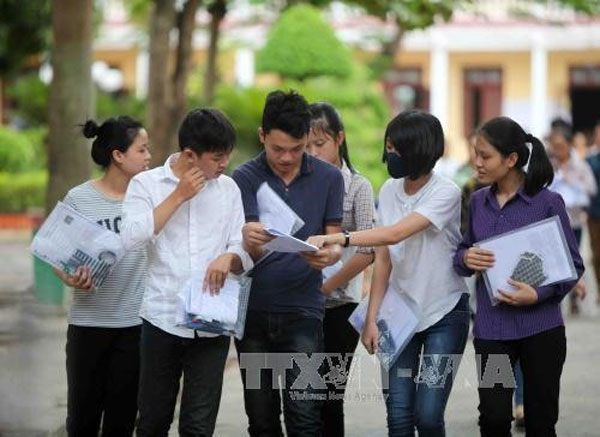 Students after taking the national high school graduation examination. — VNA/VNS Photo
Academies and universities that train new police recruits and military officers will enroll students with a score of nine points lower than last year. However, these institutions have the highest admission scores, from 16.5 to 27.15, in the country.
Universities in medicine and pharmacy have cut their scores by six points, a higher amount compared to universities in other fields.
The HCM University of Medicine and Pharmacy, for instance, this year has a maximum score of 24.95 for medical training majors, the highest admission score compared to its other majors. However, the score is 4.3 points lower than the one last year.
Member schools of Viet Nam National University in HCM City and Hanoi have reduced admission scores by between 4 and 4.75 points.
The admission scores of HCM City University of Science's 22 majors, for example, will be 16 to 22.75 points this year.
Top universities in the southern region such as Foreign Trade University and University of Economics in HCM City have set admission scores from 20 to 25, while universities in the central region are low, from 13-18.  
Prof Dr Nguyen Huu Tu, vice rector of Ha Noi Medical University, told Nguoi Dua Tin online that, compared to last year, tests for high school graduation were more difficult, leading to low scores.
The Ministry of Education and Training has reduced priority scores for students and ethnic minorities in rural and mountainous areas, Tu said.
Reduced admission scores would not affect the quality of students enrolled by universities, he said.
Dr Tran Van Top, vice rector of Ha Noi University of Science and Technology, said that admission scores of 14-15 are not low.
The scores on examinations are only a partial reflection of students'capacity, Top said.
According to the former minister of education and training, Tran Xuan Nhi, universities' scores do not really show the aptitude or capability of students.
Many people still prefer their children to study at universities so the rate of unemployed university graduates is high, Nhi said, adding that university study was not necessary for success in life.
Nhi also said that universities should pay more attention to the quality of training and should not admit too many students.
Source: VNS