Wheels of love bring scholarships for students
Last update: 10:24 | 10/06/2018
VietNamNet Bridge – Youth is the time to nurture ambitions and aspirations. For 24-year-old Tran The Tuan, his ambition is to constantly challenge himself and live a meaningful life by contributing to society.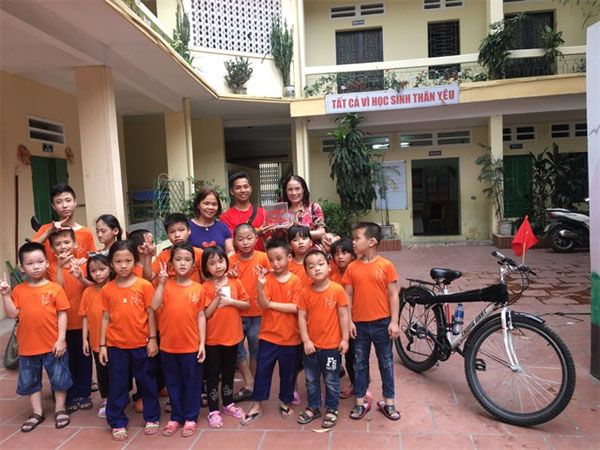 Gift of learning: Tuan presents scholarships to students at Nhan Chinh Deaf School in Hanoi. -- Photos courtesy of Tran The Tuan
To that end, Tuan came up with the idea of the Wheel of Love charity programme after studying and working in Japan for two years.
"One Japanese person once told me, 'Each Vietnamese is a diamond, and each Japanese is a clay ball.' Do you know what that means? It means every Vietnamese individual is clever, talented and creative, but they can hardly come together to create a solid block, supporting each other like a clay ball, unlike the Japanese," says Tuan, of Thai Binh Province.
"Through the Wheel of Love programme, I want to spread the spirit of solidarity that I have learnt from the Japanese culture as well as give the best to every Vietnamese, particularly children, who are the future of the country," Tuan adds.
Bringing smiles on a bicycle
Under the programme, Tuan has been cycling from the Lung Cu Flagpole in the northern province of Ha Giang -- the northernmost point of Vietnam -- to the southernmost point at Ca Mau Cape. Wearing a golden star, red T-shirt, along with a small box for donations at the back seat of his bicycle, Tuan plans to cover 29 provinces within three months by cycling for some eight hours every day.
During his journey, he has been eating, living and working together with the local people, while collecting donations for the charity from his acquaintances and local communities.
All the money collected is being used to buy gifts for poor students. Tuan will present the gifts as he crosses each province.
"I was born in a rural area and I saw many of my friends unable to pursue their studies due to financial difficulties. Those memories inspired me to start this programme to do something good for the community," Tuan says.
He embarked on his nationwide journey from the Lung Cu Flagpole on April 30, coinciding with the National Reunification Day.
He has carried with him simple items, including some T-shirts with images of national flag, a smartphone to take photos and several personal items.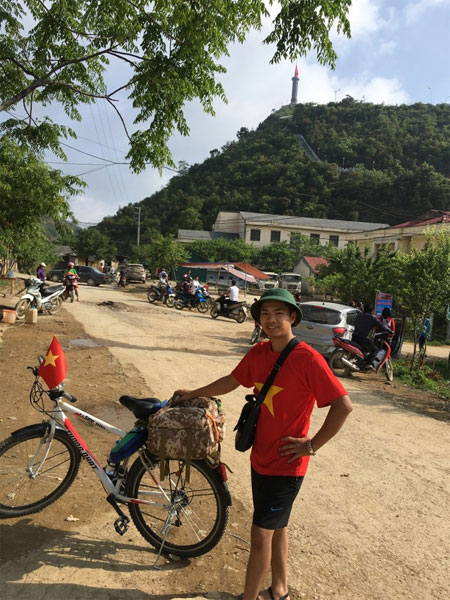 Ready, set: Tuan poses with his companion, his bicycle, on the foot of Lung Cu Flagpole, on the day he embarked on the Wheel of Love programme.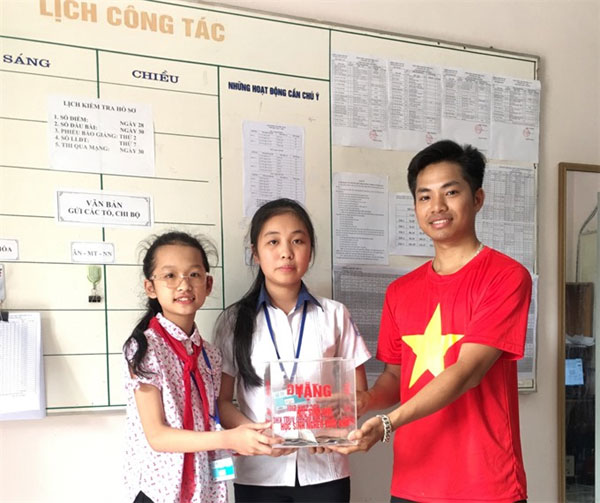 Selfless cycler: Tuan presents scholarships to disadvantaged students at Van Lang Secondary School in Phu Tho Province.
Tuan even quit his job and spent all his savings preparing for the unexpected expenses during the course of the journey.
"The most important thing is to train your body, not only physically but also spiritually to prepare for any challenges," he says.
"I did not tell my parents about my plan, but when they learned about it later on, they did not object but felt both worried and proud," he adds.
Help and encouragement all the way
Tuan says that he is grateful for all the help he has received on every path he has cycled.
His online journal contains a long list of benefactors who have invited him to their homes to rest and have meals, in addition to generously donating money for the programme. For example, Sinh Mi Nhu and Sinh Mi Chung helped fix his bicycle for free when it broke down in Ha Giang, or the doctor who helped to cure the pain in Tuan's legs due to excessive cycling.
So far, Wheel of Love has raised more than VND4 million (US$175), over half of which have been presented to 20 students in five provinces.
He has arrived in the central province of Nghe An, nearly half way through his journey. The searing summer heat has failed to slow him down as he has always received help from the local people.
Tuan is expected to finish his journey at the end of July, reaching the southernmost point of Vietnam -- Ca Mau Cape. But that will not be the end of his philanthropy.
As soon as the images of Tuấn's journey were shared on social media, they caused a stir, inviting words of encouragement from netizens.
"Many of them across the nation have sent me supporting messages and even try to meet me in person to contribute to the fund," Tuan says.
"Tuan arrived in my school on the seemingly hottest day of summer," recalls Ngo Tuan Anh, the principle of Le Quy Don Secondary School in the northern province of Tuyen Quang.
"He wished to offer some scholarship to poor students of my school, but unfortunately there were no students as it was already midday. I will hand over his gifts to the deserving students as I want them to know about the kind heart and strong will of an enthusiastic young man as Tuan. I wish him good health and a safe journey to continue to spread happiness," Anh says.
by Luong Thu Huong
Source: VNS